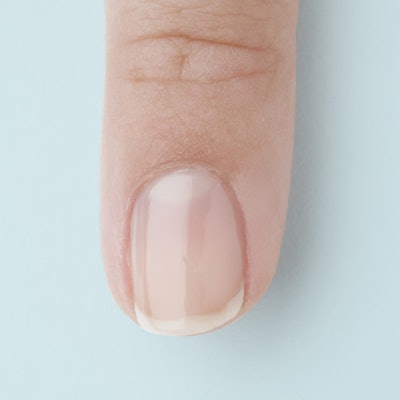 Healthy nails are the best foundation for any nail look—and there's a formula for every need.
Whether you're applying polish or enhancements—or working au naturel—you'll get the best results with healthy natural nails. "Any type of service always lasts better and longer with the use of treatments," asserts Linda Nordstrom, CEO of Famous Names in Las Vegas. "We can take any nail and make it more beautiful, but treating the nail from the inside out takes our professionalism to the next level." But what if your clients' nails are less than stellar? Fear not; strong, healthy nails can be achieved by prescribing the proper treatment for each client's needs—and ensuring that she keeps up with home maintenance (hello, retail opportunity!). Here's what you need to know to keep your clients' natural nails looking their best with nail treatments.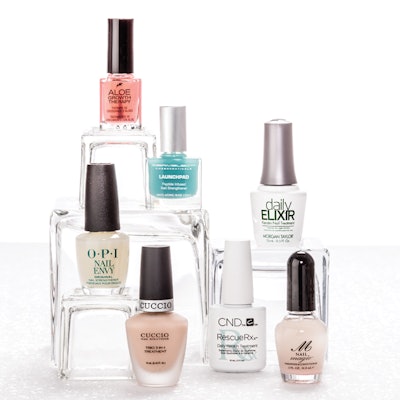 Booster Shots
There's a wide variety of nail treatments available: vitamin- and keratin-infused, traditional hardeners, and new high-tech formulas that promise to penetrate the nail and heal from within. Determining the right product for your client should always be part of the initial consultation. "With so many choices, research is key," says Melissa Pechey, CND education ambassador and owner of The Matrix Spa in Wareham, Massachusetts. "Knowing what they contain and how they perform allows you to use something that's prescriptive for each client." For example, she'll choose CND RescueRXx, a keratin treatment, to heal damaged nails, while a ridge filler helps smooth surface imperfections.Wearing traditional acrylic or gel enhancements can compromise the natural nail's integrity a bit, so MaeLing Parrish, dean of education for Hand & Nail Harmony, recommends bolstering nails with a treatment for 30 days before transitioning a client to gel polish or lacquer.
"Morgan Taylor Daily Elixir has a bio-complex of hydrolyzed peptides; the super tiny molecules easily penetrate the surface of the nail plate," Parrish explains. Plus, it's also a retail item the client can apply at home. "If nails need something more substantial, I apply VitaGel, a vitamin-infused gel, directly to the natural nail," she adds. Even for those who specialize in natural nails, treatments are a must for optimal results. Lisa Ann Bowles, owner of New Nail Creations in Clovis, California, uses the Famous Names IBX System at her salon. "If a client's nails are trashed or she can't get them to grow, I can help," says Bowles. "[The product] doesn't just sit on the surface; it actually penetrates the nail plate and bonds to itself, creating a healthier nail from within." And, by being certified in and personally using the product herself, she's able to speak with confidence about its benefits to clients.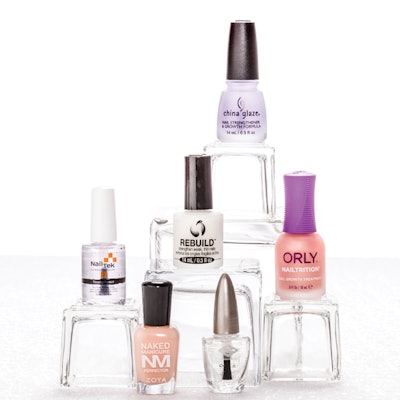 At Your Service
Establishing a solid foundation via treatments not only creates healthier nails and longer-lasting results, it can also boost your business thanks to add-on income, retail opportunities and improved client satisfaction and loyalty. But how do you successfully incorporate them into services? Bowles encourages clients to commit to a series, offering the first application for free when they book treatment manicures for the following three weeks. She also applies the product on one of her own hands, leaving the other nails untouched to demonstrate the difference. Nordstrom similarly advocates using the power of visuals to entice treatment trial.
"Frame a sheet in the salon showing before-and-afters, and post real-life results on social media," she recommends. "You can charge $5 to $20 extra for a treatment or build it into the price of a manicure, and showing people those changes really helps build your business."Pechey, who specializes in enhancements, creates customized services based on the client's natural nail state, typical activities and level of commitment. Her RescueRXx Manicure includes a bottle of the treatment for clients to take home, and she also sells the product in her retail area. "They can apply it twice daily in seconds," she notes. "Especially if clients don't commit to a regular nail care regimen and professional enhancement removal, it helps to repair any damage that might occur."
Don't forget your toes with these pedi pointers!
Nail Treatments aren't just for hands; they can also be used on toes year-round to promote nail health, especially if the client embraces the naked toes micro-trend or if she typically shuns pedicures outside of the summer season. "Neglect equals potential problems, so for damaged toenails, we recommend using products to repair between appointments," explains Melissa Pechey, CND education ambassador and owner of The Matrix Spa in Wareham, Massachusetts. "We stress to clients the importance of year-round care, and now we've built a reputation on creating healthier toes and feet."
-Tracy Morin
This article was first published in the August 2018 issue of NAILPRO