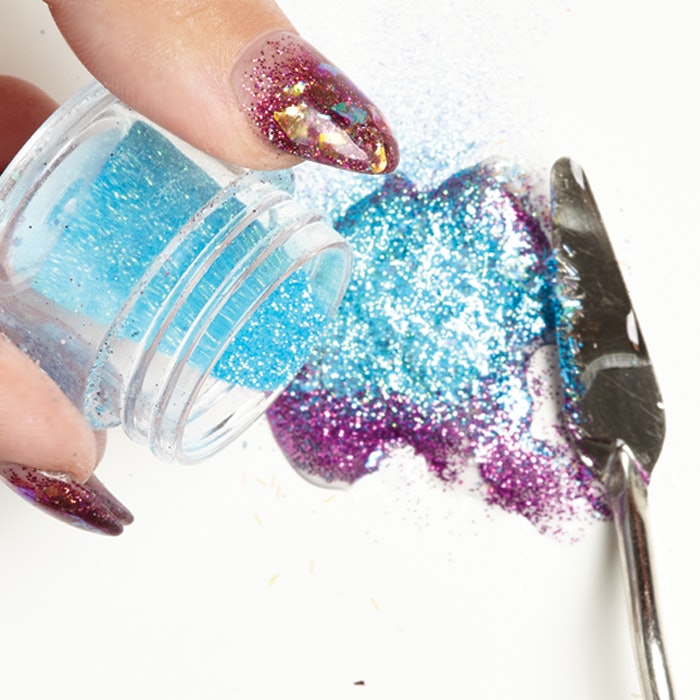 Learn how to encapsulate large glitter to ensure a smooth finish.
There's nothing more magical than mermaids (except, of course, unicorns!). These mystical creatures evoke all of the sparkle and shimmer you could ever want for summer nail art. And the best part? They're still maintaining their on-trend status. So encourage clients to add a little (or a lot!) of sparkle to their life with this mermaid-inspired look, courtesy of Los Angeles-based nail artist Sabella Snyder. She demonstrates how to encapsulate large glitter and Mylar pieces in gel for a catch-free finish.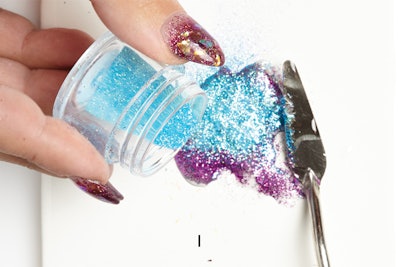 1) Create a glitter mixture by scooping clear builder gel onto a mixing palette. (The amount of builder gel should equal the size of two quarters.) Sprinkle pink, teal and blue micro- glitter over the gel, mixing it together with a spatula. To make sure the glitter is thoroughly combined, use the spatula to spread the mixture over the surface of the palette. The mixture is ready when the entire surface is covered in glitter.
RELATED: Nail Art Inspired by Summer Sunsets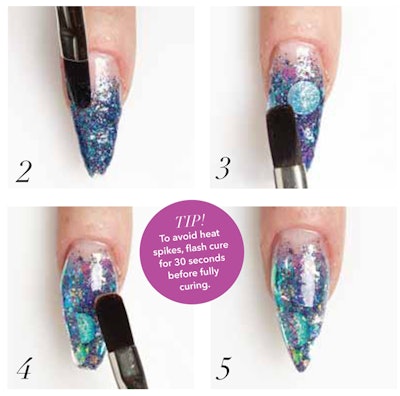 2) Prep the nail with base gel and cure. Then, apply the glitter mixture to the free edge. Turn the brush backward and push the glitter toward the cuticle to create an ombré effect; do not cure.
3) Sprinkle reflective Mylar glitter onto your work surface so it's easier to pick up with the brush. Pick up one piece of glitter at a time, placing them randomly on the nail. Cure for 30 seconds.
4) Apply clear builder gel over the entire nail to add structure and shape, encasing the glitter and Mylar. Cure for 30 seconds.
5) File to shape the nail, then apply gel top coat; cure to Finish.
RELATED: Nail Art Inspired by Eye-Popping Prints From the Runway
Recreate the look with these must-haves products.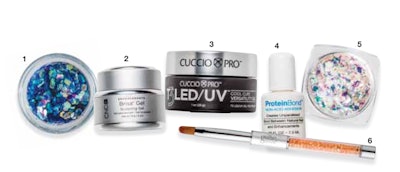 1) Christo Glitter 14
2) CND Brisa Gel Sculpting Gel
3) Cuccio PRO T3 LED/UV Gel
4) Young Nails Protein Bond
5) Mia Secret Metallic Flakes
6) Gelish Round Gel Brush
–by Dina Ciccarelli
[Images: Armando Sanchez and Brooks Ayola]