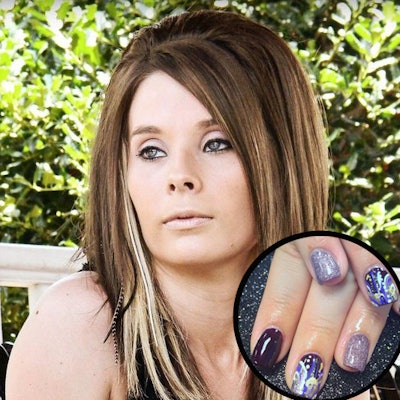 Welcome to NAILPRO's Nailed Down! where we "nail down" nail artists and technicians from our User Galleries and get to know them and their amazing work!
This week we visit Summerville, Georgia!
Meet KaCee Love:
Where do you work?
Pamper Me Salon and Tan.
How would you describe yourself?
I am stubborn, driven, and determined to succeed. I am married and we have one son named Channer who is 6. I absolutely love the nail industry. I think I may have a slight addiction and my wonderful husband has helped support that addiction lol. My family is my rock, they have stayed by me and pushed me when I felt like giving up. My clients are my second family and they are the reason why I push myself. I love the fact that they always walk out with smiles on their faces. I enjoy spending time with my family and watching my son play sports and being able to be involved with his school when I can. 
How did you get started in the nail industry?
I was almost in middle school, and after going to the salon with my mom and grandmother, I was fascinated by it. I would always get those kits from Sally's and attempt to do fills or full sets on myself. Obliviously as I went through school, ideas of your future job change a thousand times. I was always into hair and makeup and trying to keep up with trends and into being a bit different.  A few years after graduation, getting married, and having my son, I decided I wanted to go back to school for cosmetology. I always loved it and it's what came natural to me. Halfway through school, when we started learning about nails, everything that had to do with hair went out the window and it clicked. I was over hair, and even asked my teacher if I could transfer my credits to the nail tech program, even though it would take me longer and be more of a hassle. I stuck it out and got a job in a nail salon while I finished school and got my license. I stayed there for almost 4 years until I took a leap of faith last September when I went to work for myself. I will always be thankful for what I learned there and it's made me the person I am today. 
What/Who inspires your work?
Everything around me inspires me. It can be a fabric or a phone case that I get designs from. My clients bring in pictures, and all the awesome nail techs on Instagram and on Facebook inspire me. Social media is the best thing that has happened to our industry. 
Are there any tools you can't live without?
My cuticle pusher! I use it for every service, a clean nail plate is a must! Another thing I can't live without is my polish, paints, and nail art supplies. Without them, I couldn't create the nails my clients love. 
What is your favorite style?
I really don't have a favorite. I love it all. But right now, I am trying to convert some of my clients to the dark side of almond and stiletto shapes. =)
What is your funniest/craziest nail story?
There is never a dull moment with my clients. We laugh, crack up, and even cry together at times. I work in a hair and tanning salon so there is always something going on. 
What tip can you offer other nail technicians?
Do not give up! If you have the potential and drive, do it! Push yourself and go outside of your comfort zone. Practice and don't let any negativity effect you into giving up. Prove everyone wrong and do what makes YOU happy and never stop learning. 
You can find KaCee Love on the web:
In the NAILPRO User Gallery: My Nails
Facebook : facebook.com/polish.me0x
Instagran: @klove0x
Website: polishme0x.wix.com/nailsbykacee
Click here for more Nailed Down! interviews »
Would you like to be featured in NAILED DOWN? Post images of your nail art to our User Gallery. We'll be highlighting outstanding artists based on those submissions! (minimum six pictures to qualify for consideration) NAILPRO reserves the right to edit submissions for length, grammar and clarity.