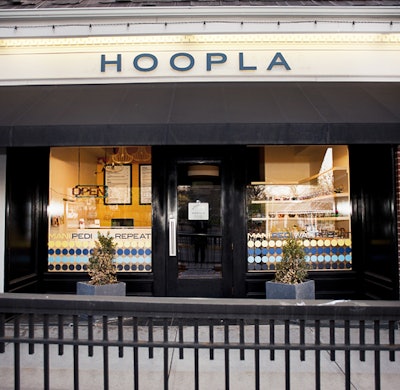 Learn what makes HOOPLA, a nail salon known for their own polish line, so successful, and get a few pointers for your own business!
Distinction
Clients get to handpick their own HOOPLA Mini-Polish for either mani or pedi services and take the leftover polish home for touch-ups! Once they've collected three mini polishes, they can bring them back in for a free Bonus Hoopla service (scrub, callus treatment, mask, French, extended massage) and the bottles will go to a glass recycler. HOOPLA is also a one-stop shop offering fantastic services, including manicures, pedicures, waxing, facials and massages. We do whatever it takes to make HOOPLA the best it can be.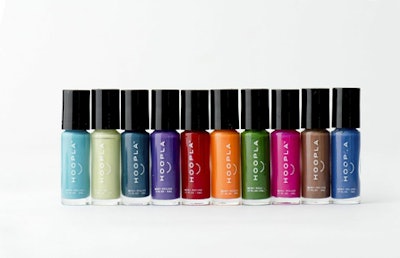 The Look
HOOPLA's modern decor is white, bright and fresh. The custom-made pedi bench provides a streamlined look for a relaxing and comfortable experience. The mani bar, also custom made, provides a fun place for customers to sit together and chat, or to view their favorite show on our big-screen TVs.  
In-Demand Services
HOOPLA's most popular service is our pedicure, aptly called THE HOOPLA. Customers pick their HOOPLA Mini-Polish to be used during the pedi, relax, and soak in our jet-less, sparkly-clean, stainless steel pedi basins. The customer is then treated to a nail trim, shaping, foot exfoliation, foot/leg massage and polishing. This service is approximately 45 minutes in length for $40.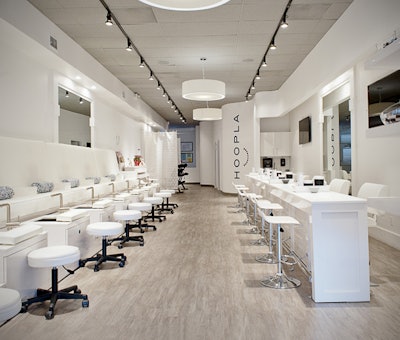 The Goods
HOOPLA Mini-Polish is used for manis and pedis, along with CND Shellac for Shellac services.  Additionally, HOOPLA's estheticians use Image Skincare products. Not only do we choose our products based on their excellent results, but also the preferences of our savvy customers, who prefer non-toxic and paraben-free products.
Inspiration
Primarily, HOOPLA's dedicated team members who are loyal to their customers and have great outlooks on the profession inspire us.
Retail
HOOPLA offers current, useful and well-made retail products, such as pedicure socks by Peeky Toes, aromatic candles, Mer-Sea room sprays and bath salts, and fun handbags from Maddy Nash. Our best-selling product is our own HOOPLA Mini-Polish, which can be purchased in the shop or online. It is sold individually for $8 or as a set of three for $22.50. The 42 available shades of HOOPLA Mini-Polish are 5-free, vegan, and proudly made in the U.S.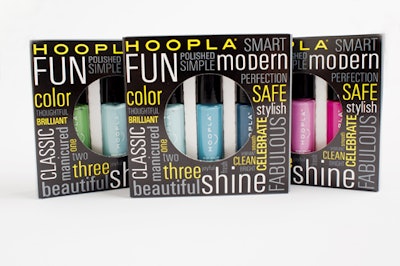 Social Media
HOOPLA utilizes Facebook, Twitter and Pinterest to promote our shop. We love to post about our newest HOOPLA Mini-Polish colors, special promotions and employment openings.  It's a fun and easy way to connect with many people and our customers like having up-to-date information about what's happening in the shop.
Praise
HOOPLA's best compliment has been–and continues to be–when a new customer is wowed by her experience and wants to come back again and again.
Tips
HOOPLA would advise to research, research and research! Know your market, state board guidelines, customer demographics and what you can deliver as a shop. Most importantly, run your shop as a business–while having a lot of fun!
Salon Name:  HOOPLA
Owners:  Molly Maxwell and Megan Thornberry
Year Opened:  2012
Address:  2708 West 53rd Street, Fairway, KS 66205
Phone Number: 913-777-5959
Hours of Operation: Tue. & Sat. 9-6, Wed.-Fri. 9-7, Sun. 12-5, Mon. – Closed
Website: hooplastudio.com
[Images: HOOPLA]