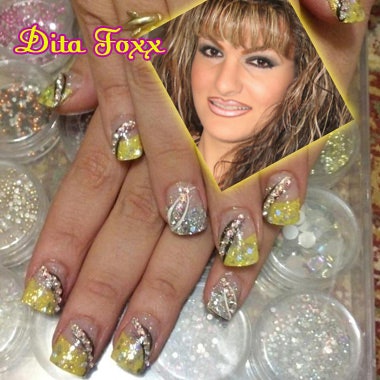 Welcome to NAILPRO's Nailed Down! where we "nail down" nail artists and technicians from our User Galleries and get to know them and their amazing work!
This week we visit Arizona!
Meet Dita Foxx:
Where do you work?
I am orignially from Bagdad, Iraq, but now live in Arizona, soon to be the owner of "Beautiful Bookta."
How would you describe yourself?
I'm very much a people person and outgoing.
How did you get started in the nail industry?
Well, about 20 years ago I wanted to be a cosmetologist, but my parent didn't allow me. I had to become a doctor or a lawyer. I do work in the medical field, but not as a doctor. Then I went back to school and became a cosmetologist. I really didn't want to touch nails at the beginning of my schooling. I always had my own nails done by a wonderful nail tech, David. He did amazing work. Unfortunately, he moved to California. While in school, they showed us how to do nails, so I started practicing on myself and my niece, Dina. I picked up the design from there. People started to know me as a nail tech, but I was really into hair and makeup. So I'm their bling-bling nail tech now! I love what I do. I can't even complain.
What/Who inspires your work?
My inspiration comes from art work by David, my nail tech.
Are there any tools you can't live without?
Stones. There are never too many stones! LOL
What is your favorite technique/style?
I love different finger art work. It shows my different artist way. It's me.
What is your craziest/funniest nail story?
I did a competition at school and did 10 girls' nails at once. It was crazy, but I sure did leave the school with a big huge bang! Always someone they will remember.
What tip can you offer other nail technicians?
Love your clients and enjoy what you love to do. Go after your dream and never hold back.
Anything else you'd like to add?
I love NAILPRO magazine. I'm truly honored to be part of the nail techs around the world. Thank you so kindly.
You can find Dita Foxx on the web:
In the NAILPRO User Gallery: Beautiful Bookta
Click here for more Nailed Down! interviews »
Would you like to be featured in NAILED DOWN? Post images of your nail art to our User Gallery. We'll be highlighting outstanding artists based on those submissions! (minimum six pictures to qualify for consideration) NAILPRO reserves the right to edit submissions for length, grammar and clarity.