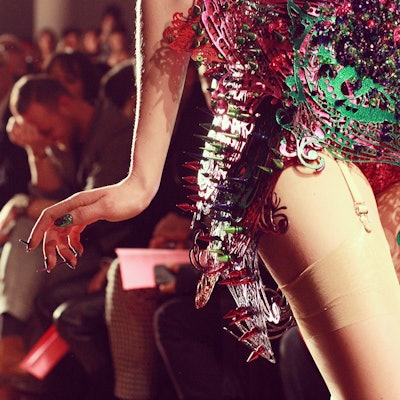 CND made another huge entrance at The Blonds for the Fall/Winter 2014 Fashion Show in New York!  Last year's show showed off an incredible array of embellished tips, but this year's nails went even above and beyond – incorporating almost every 3-D element and nail art style imaginable.
This year's catwalk was inspired by "good girl gone bad" villainesses who choose to walk on the dark (and sexy) side of life. Looks were taken straight from Cat Woman, Poison Ivy, and The Joker – from the bodysuits and leather boots to the fingertips.
Avant-garde nails were adorned with metallics, leopard print, rhinestones, sassy lace, graffiti, chains, spikes, the Joker's face, and more – all created using CND Retention+ Liquid & Powder Brisa Gel, Shellac, and VINYLUX. The planning that goes into each design is remarkable – we caught glimpses of sketches that had been done in advance of each intricate style. "CND continues to amaze us with nails that raise the bar each season," said The Blonds designers Phillipe and David Blond. "They bring so much passion and expertise to the table and the collaborative process is an inspiring experience. Each of our models walks down the runway showcasing two incredible looks – one on her body and one on her nails. You don't see that at other shows."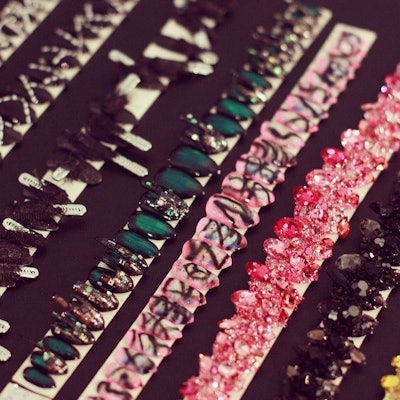 Graffiti nails, crystals, rhinestones, and more!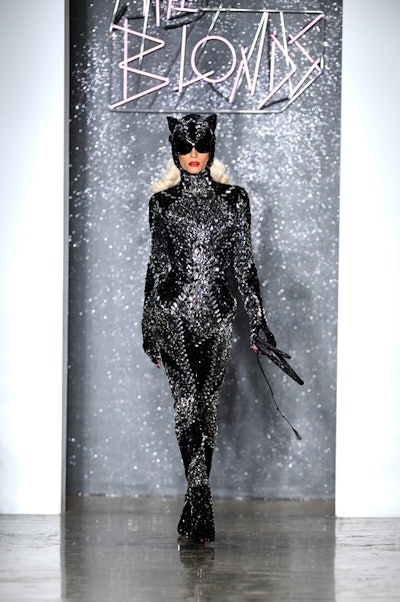 Cat Woman struts her stuff.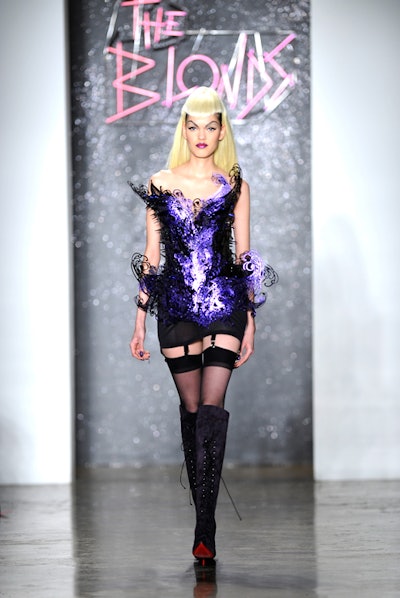 Glorious color!
The Joker's hand sculpted weapons, about to be applied to nails!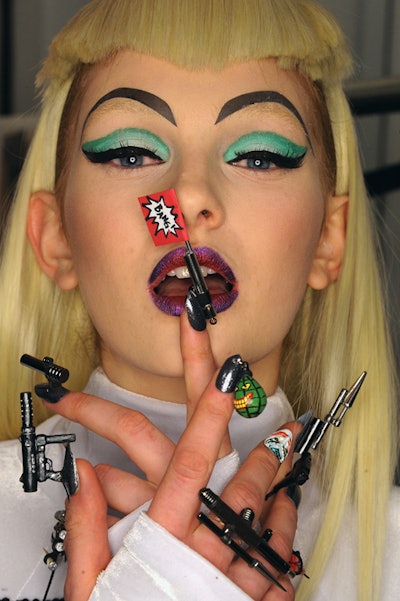 The Joker and all his weapons.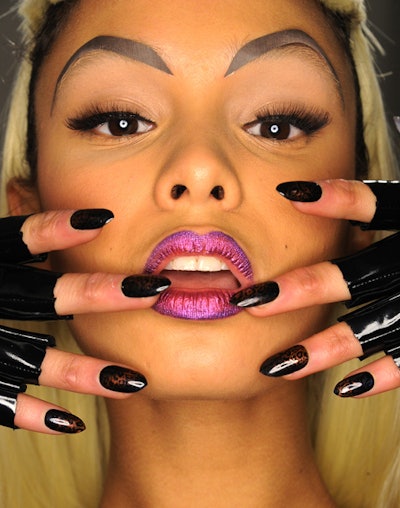 Sultry leopard nails!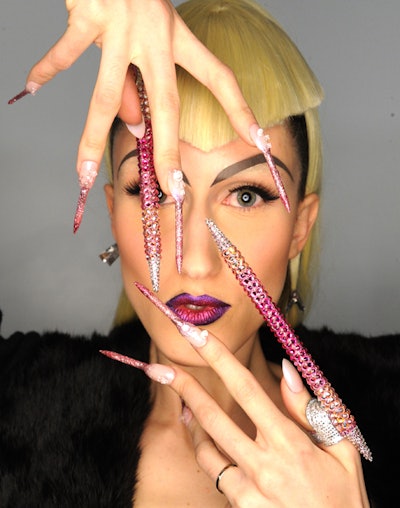 Nails like knitting needles!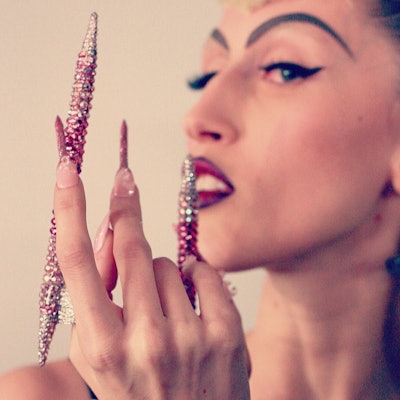 Diamonds are a girl's best friend — and great for self defense.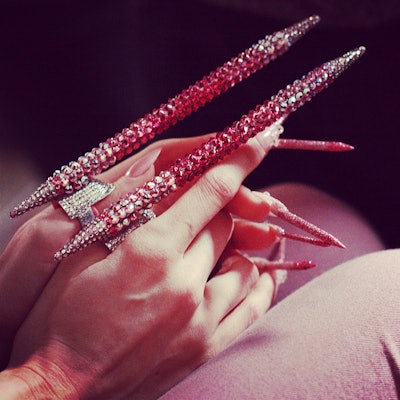 Armed and dangerous.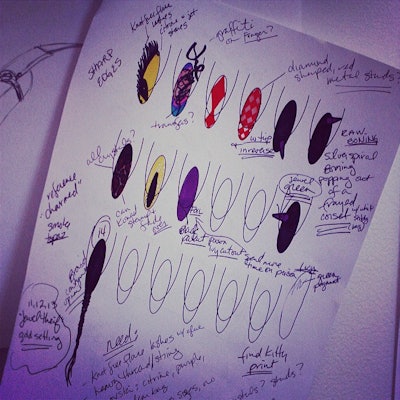 CND sketched their line of ornate tips before creating them!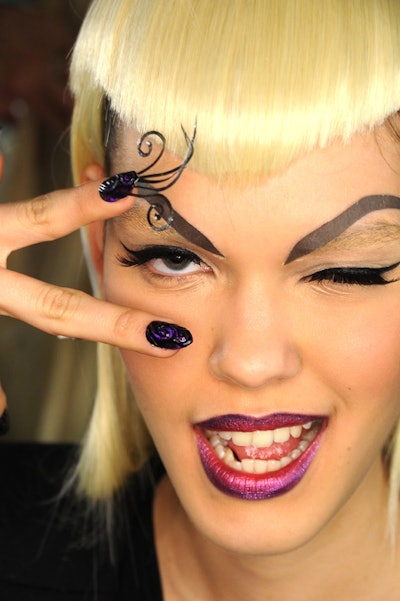 Nails like butterflies and an ombre lip.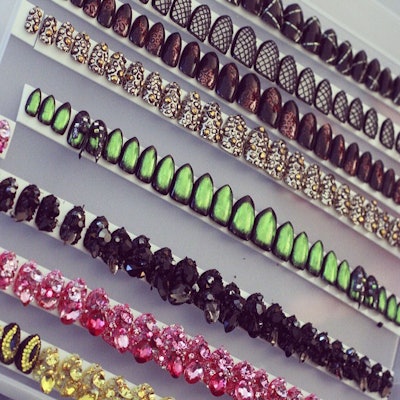 A sultry green metallic and opulent rock candy nails.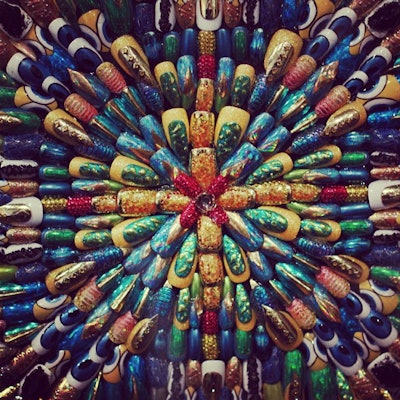 A final look at all the nails CND has created from the last 10 years of working with The Blonds.
[Images: CND]