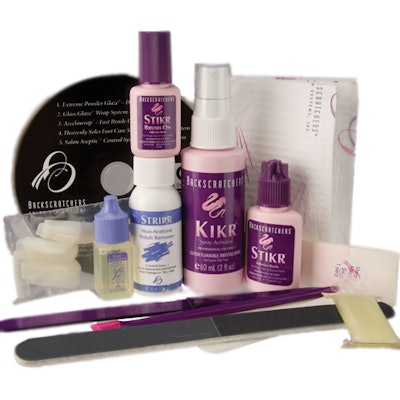 Celebrate with Backscratchers Salon Systems, Inc. as the brand turns 30!
It was 30 years ago that Backscratchers first introduced Glass Glaze Fiberglass and Silk Wrap Systems.
With nail technician's health in mind, then beauty school owner Jack Megna and his son Michael founded the company to help nail tech's health and well-being. "At that time, students and instructors were dealing with messy toxic chemicals. The more we learned about the health risks and the hassles of the nail procedures we were teaching, the clearer it became we had to find a better way," said Michael Megna, CEO and founder. Megna soon recognized the strength and durability of fiberglass, and engineered ways it could be used to coat nails.
At the time Glass Glaze was introduced, people tended to think of cars and boats when it came to fiberglass – not nails. However, when techs saw how beautiful nails looked with Glass Glaze, and heard how safe it was, they were instantly sold. In fact, Glass Glaze was named "The Greatest Product Contribution to the Nail Industry," and even today, Backscratchers makes more than 90% of the nail industry's fiberglass around the world.
To celebrate this year, Backscratchers will be offering discounted pricing, including special sales with low prices straight from 1984, and free shipping. They will also highlight loyal product users, and offer special events and nail art contests. Stay tuned throughout the next twelve months and don't miss any of it!
Visit their website: backscratchers.com