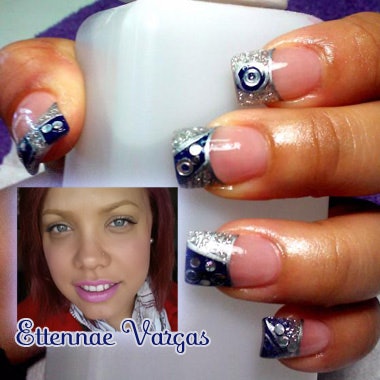 Welcome to NAILPRO's Nailed Down! where we "nail down" nail artists and technicians from our User Galleries and get to know them and their amazing work!
This week we visit Freeport, New York
Meet Ettennae Vargas:
Where do you work?
I live in Freeport, NY which is part of Long Island.

I own Pink Nails & More: 11 Atlantic Ave., Freeport NY, 516-304-1940
How would you describe yourself?
Latina, Boricua, wife, stepmother of 3 kids, and Christian with a passion for nails and an obsession with pink.
Tell us about how you got started in the nail industry.
Before doing nails a was studying graphic design and working as a graphic designer at a mortgage company. That company closed their doors and I ended up unemployed. I decided I needed a new career. Since I love doing my nails and that involves art, I enrolled myself at Instituto de Banca y Comercio en San Juan, Puerto Rico. Graduated in 2009 with High Honors, worked for other people for a while, and in 2011 moved to New York. In December 2011 we celebrated the grand opening of my nail salon Pink Nails & More with the help of my husband, Carlos.
What/Who inspires your work?
My work is mostly inspired by my customers needs or preferences. If they're celebrating their birthday, anniversary, prom, etc, my focus is on matching their nails to the occasion. My job as a Nail Technician and Nail Artist is, "Make their dream nails come true."
Are there any tool(s) you can't live without?
My Mani-Pro, CND Brush #10, and Nails Alive 6 Second Dry Drops (the drops cut my customers' drying time from 30 minutes to 5 or 10 minutes).
What is your favorite technique/style?
I do not have a favorite technique or style. The fact that every customer requires a different shape, design and conversation is what it makes me love doing nails. At my salon every day is totally different from the other, and does not feels like a job. It's like getting to do your favorite hobby every day.
What is your craziest/funniest nail story?
My customers are the ones who tell me the funniest and craziest stories. When they mention to people where they get their nails done, almost everybody knows Pink Nails & More. Recently, one of my customers told me this story, "I was at a cellphone store and this gentlemen told me he liked my nails. I just said thank you, but he continued talking to me saying, 'I took my wife to this amazing nail salon and she got some hot nails.' When I asked him what the name of the salon was he said, 'Pink Nails & More.' How crazy is that?" It makes me happy to hear their stories, and to see how proud they are of been part of the Pink Nails family.
What tip can you offer to other nail technicians?
Stay humble.
Anything else you'd like to add?
A lot of people do not consider doing nails a career. But doing nails means you are an artist, a business administrator and a psychologist. So work hard, never give up, and prove them wrong.
You can find Ettennae Vargas on the web:
In the NAILPRO User Gallery: PinkNails NY, October Nails by Ettennae and Last from 2013
Website: www.vagaro.com/pinknailsny
Facebook: PinkNail Ny
Facebook: Pink Nails & More
Tumblr: Pink Nails & More
Twitter: @PinkNailsNY
Pinterest: Nail Designs by Pink Nails
Instagram: @pinknailsny
Yelp: Pink Nails & More
Click here for more Nailed Down! interviews »
Would you like to be featured in NAILED DOWN? Post images of your nail art to our User Gallery. We'll be highlighting outstanding artists based on those submissions! (minimum six pictures to qualify for consideration) NAILPRO reserves the right to edit submissions for length, grammar and clarity.