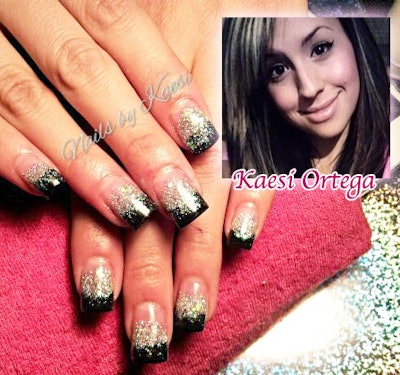 Welcome to NAILPRO's Nailed Down! where we "nail down" nail artists and technicians from our User Galleries and get to know them and their amazing work!
This week we visit Eagle, Idaho.
Meet Kaesi Ashden Ortega:
Where do you work?
Platinum Hair Salon LLC
3521 E Ustick Rd,
Caldwell, Idaho
How would you describe yourself?
Mommy of two boys. Three if you count the hubby.
I am a quirky Californian stuck on potatoes.
Tell us about how you got started in the nail industry.
Well, I tried to do the whole cosmetology deal: hair, skin, and nails. And the stress of cutting people's hair got the best of me. So I took a break, and as I was painting my nails for the 4th time in one week with strawberry nail art, I just thought, I want to be doing this for other people. So I went back to school, jumped right in, and haven't stopped since!
What/Who inspires your work?
Oh my gosh the list is endless! So many techs inspire me. A lot nail techs out of the area in California near where I was raised. Nails by Lysa and Nails by Elisa out of Merced. Mindy Hardy, Sarah Payne, the list goes on and on…
Are there any tool(s) you can't live without?
My size 14 acrylic brush, Electric file, oh and you can never have too many dappen dishes!
Do you have a favorite technique or style?
I love glitter! I love bringing together all kinds of texture and color combinations with different sizes and shaped glitters. Plus creating unique mixes with help from my clients.
What is the funniest/craziest nail story?
I can't think of any in particular off the top of my head, by my clients and I always have a blast!
What tip can you offer to other nail technicians?
Always try new things! Be creative and have fun! You're clients will love you for it!
Anything else you'd like to add?
I love acrylic paint, it is your friend 🙂
You can find Kaesi Ashden Ortega on the web:
In the NAILPRO User Gallery: November-December 2013
September-October 2013
Nails by Kaesi July-August 2013
Facebook: Nails by Kaesi
Instagram: nailsbykaesi
Pinterest: My Work
Click here for more Nailed Down! interviews »
Would you like to be featured in NAILED DOWN? Post images of your nail art to our User Gallery. We'll be highlighting outstanding artists based on those submissions! (minimum six pictures to qualify for consideration) NAILPRO reserves the right to edit submissions for length, grammar and clarity.