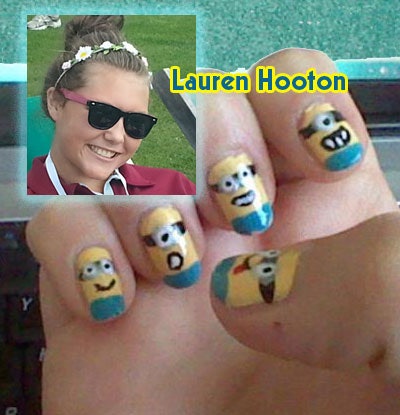 Welcome to NAILPRO's NAILED DOWN where we "nail down" the details of selected nail design artists from our User Galleries.
This week we visit England!
Meet Lauren Hooton:
How would you describe yourself?
A fun, bubbly person who loves to take the time and attention to paint my nails and amaze my friends and family with my new designs!
Tell us about how you got started in the nail industry.
I'm not in the nail industry but seeing pictures on the internet, it got me started on nail art designs! I sit for hours in my house painting my nails and looking at new designs and techniques. It is always worth it.
What/Who inspires your work?
I use the internet and others' designs and twist them to make a new design to fit what I like, even combining a few together.
What tool(s) you can't live without?
My nail art pens and rhinestone tweezers.
Do you have a favorite technique or style?
I love the gradient technique but also Aztec designs!
What tip can you offer to other nail technicians?
Be patient and constantly experiment. Get others' opinions on what to improve! If you don't like a design, take it off and do something else – or else it will annoy you.
Anything else you'd like to add?
Thank you for this opportunity. I hope to continue painting my nails and adding designs to the NAILPRO website 🙂
You can find Lauren Hooton on the web:
In the NAILPRO User Gallery: NAILS<3
Click here for more Nailed Down! interviews »
Would you like to be featured in NAILED DOWN? Post images of your nail art to our User Gallery. We'll be highlighting outstanding artists based on those submissions! (minimum six pictures to qualify for consideration) NAILPRO reserves the right to edit submissions for length, grammar and clarity.