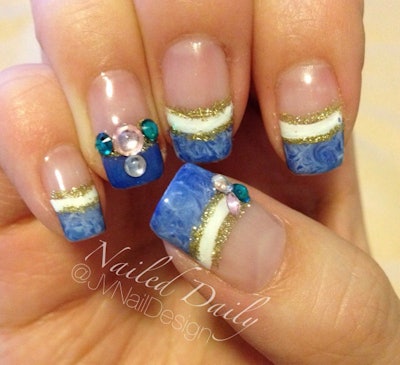 Are you looking for a cool new style to easily wow your clients and coworkers with? Jessica Vero's new take on a French manicure has a trendy marbleized tip and a bit of sparkle, but can be worn as an everyday style. See the step-by-step process for how it's done.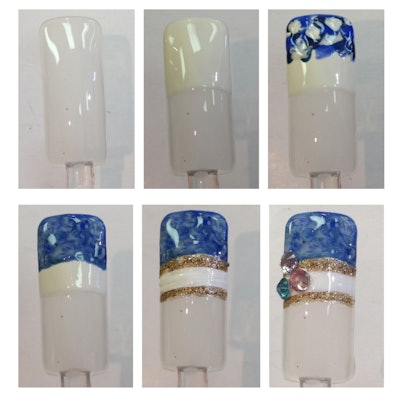 Step 1: Paint nails with soft pink base. This is Gelish Little Princess.
Step 2: Paint a deep white French with Gelish Sheek White.
Step 3: Paint random dots of gel polish on the upper half of French (Gelish Ocean Wave, Inseparable Forces and Sheek White).
Step 4: Using a dotting tool, swirl the colors together to create a marbleized look.
Step 5: Line the two smile lines with gold striping paint like Orly Instant Artist 24K Glitter.
Step 6: Finish with some crystals and top coat. Done!
Jessica Vero is a tech operating as Jessica Vero Nail Design in Richmond, BC. To see her latest designs, visit her blog, Nailed Daily; or follow her on Instagram @jvnaildesign.
For a limitless supply of Nail Art How Tos, click here!
[Courtesy of Jessica Vero]