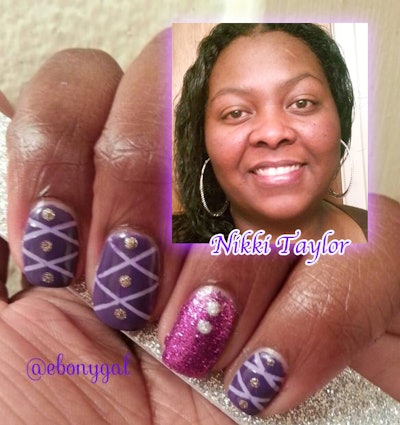 Welcome to NAILPRO's NAILED DOWN where we "nail down" the details of selected nail design artists from our User Galleries.
This week we visit Baton Rouge, Louisiana!
Meet Nikki Taylor:
Where do you work?
I am actually not a Nail Tech. I just love doing my nails! I currently work at Louisiana School for the Deaf helping deaf students. Although plans to open a nail salon in the future is on my list.
How would you describe yourself?
Well my friends say I have a big personality 🙂 I love to be fun and silly, trying tons of new and different things. I love working with my hands. Whether it's nails, hand-made crafts or cooking!
Tell us about how you got started in the nail industry.
I haven't always been a "girly girl," but I always loved having my nails done. When I was a teenager, my mom stopped paying for my salon needs (lol) so I learned to do it myself from watching the techs! I even talked my dad into getting me a small hand drill and acrylic. I've since stopped using acrylic nails and wear my nails naturally. I've only recently (about a year) been learning new nail art techniques!
What/Who inspires your work?
Just about anything can inspire me at times. I'll see a commercial or nature, fashion or even my favorite football team's colors and get an idea.
Do you have any tool(s) you can't live without?
I would say my brushes (of course) and my crystal (glass) file.
Do you have a favorite technique or style?
I love gradients/ombre! Although purple is my fave color, I simply love color and it's hard to pick just one sometimes, so I end up doing gradients quite a bit.
What is your funniest/craziest nail story?
A friend asked if I minded doing her cousin's "little girl's" nails for her birthday. I didn't mind one bit. When I got to my friend's place I'm looking around for a kid, when her cousin turns the corner with her huge Standard Poodle! She was a sweet dog though. 🙂
What tip can you offer to other nail technicians?
For clients with super sensitive skin who could possibly have a reaction to cuticle oil, try using coconut oil! It's all natural and organic and quenches dry cuticles! I LOVE the stuff! ?
You can find Nikki Taylor on the web:
In the NAILPRO User Gallery: Ebonygal's Nails ?
Instagram: Ebonygal
Click here for more Nailed Down! interviews »
Would you like to be featured in NAILED DOWN? Post images of your nail art to our User Gallery. We'll be highlighting outstanding artists based on those submissions! (minimum six pictures to qualify for consideration) NAILPRO reserves the right to edit submissions for length, grammar and clarity.