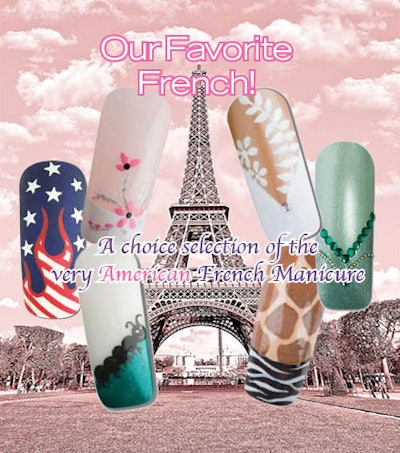 The term "French Manicure" actually was born of California nail entrepreneur Jeff Pink, the founder of Orly. In the 1970's, trying to find his way in the nail industry of Hollywood, Pink reached out to anyone he could find in the entertainment industry, asking them what beauty challenges they were facing. One person responded, complaining about how movie production would come to a halt each time an actress changed her wardrobe because her nails had to be stripped and repainted to match the new outfit. In an industry where time is money, Pink leapt at the challenge and Orly quickly featured polish for a "natural nail" look consisting of a nude base and white tips. The popularity soared, (with boosts from celebs like Cher and Barbra Streisand) but Pink realized "natural nails" wasn't a very hip name so, in returning from a fashion show in Paris, he dubbed the look the "French Manicure" and history was made!
Here we've chosen some of our favorite French Manicure nail art how to's. From traditional to wild, what defines a French Manicure today is up to the nail technician's imagination!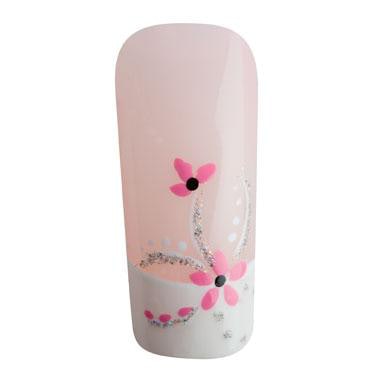 The French Manicure is still popular for women as it is neutral enough to match anything in their closet for the duration of the manicure, while also bringing an elegance to their hands that unpolished nails can't.
If you have a client who loves the traditional French Manicure, suggest additions like these flowers. The look still has versatility, but creates a unique and fun feminine flair as well.
For more French How To's, check out our
For more French How To's, check out our
For more French How To's, check out our
This is only one example of taking the 1970's definition of the French Manicure to new and creative levels.
Check out our French Manicure how-to pages.  NAILPRO's nail artists have been experimenting with this classic design for years!
For more French How To's, check out our Nail Art How To Gallery!