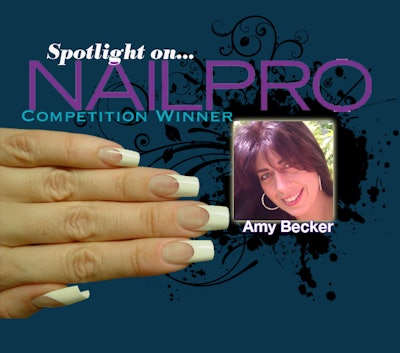 Welcome to Spotlight on… NAILPRO Competition Winners.
Here we interview outstanding Nail Artists who have placed in past Nailpro competitions and highlight their work.
This week we speak with Amy Becker, who most recently took home first place in the NAILPRO Long Beach 2013 3-D Veteran Game Pieces Theme category, and third place in the NAILPRO Long Beach 2013 Inspired Artistic Genius category.
Where do you live?
I live in Cedarburg WI. It's about an hour and a half north of Chicago.
What competitions have you won?
I've won all types of competitions from Pink & White Sculptured nails to nail art.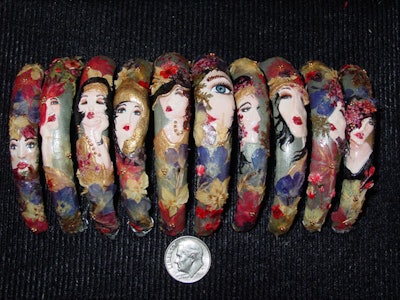 What was your first competition?
The Midwest Beauty Show in 1991, flat nail art. I placed 3rd!
What made you decide to compete?
People I worked with had competed and it looked like something I wanted to try.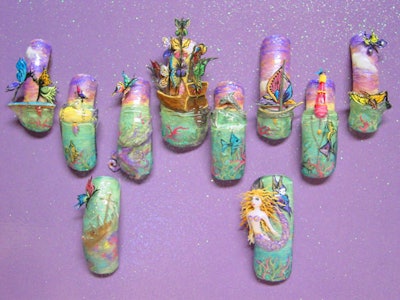 Why do you enjoy NAILPRO Competitions, as compared to other nail competitions?
I've competed in many different competitions and NAILPRO is by far the very best competitions around. Everyone at the NAILPRO Competitions has worked many years on their rules and regulations, judging, scoring etc… They are completely non-political. (I've judged for NAILPRO and seen this first hand) Jewel and Carla also listen to the competitors for suggestions and implement them in the following cycle. Because of NAILPRO's stellar reputation, top competitors from around the world compete in them.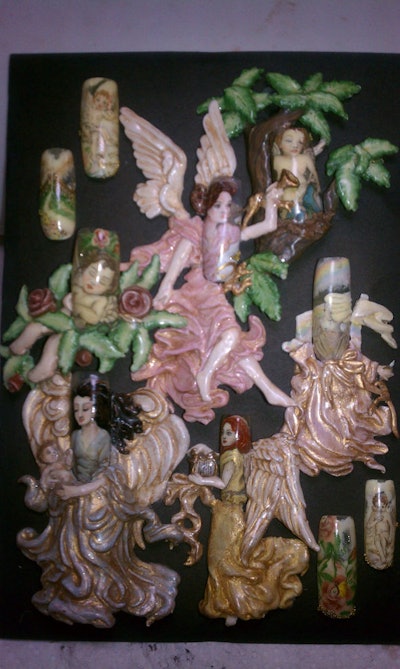 Where do you work?
I own Masterworks Salon in Cedarburg WI.
Tell us about how you got started in the nail industry.
I was looking for a union to join to do construction, but needed a job immediately. I applied at a nail salon as a receptionist and they asked if I would do nails instead. (I have a cosmetology license) I very begrudgingly said "Okay."
What/Who inspires your work?
Catherine Wong…crazy great! I'm floored by the Russian nail stylists. There really are so many. But my biggest inspiration is God. Sometimes when I'm creating a design, it's like I'm watching someone else's hands do the work.
Which tool(s) can't you live without?
My art brush and pin pen. I've recently found that Silly Putty is a must too!!!
What is your favorite technique or style?
I love the pipe.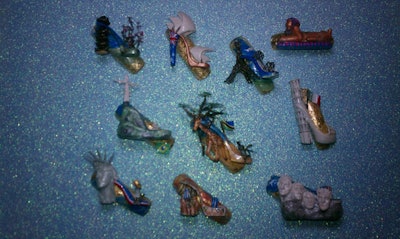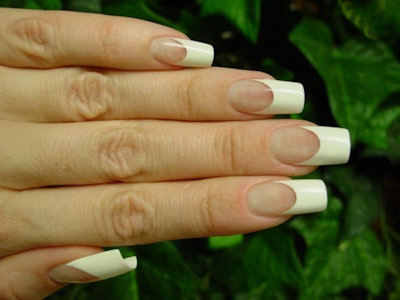 What tip can you offer to other nail competitors?
Think outside of the box, try something new and your #1 goal of competing should always be to do your own best set!
Anything else you would like to add?
Use competing as a opportunity to network with other nail stylists from across the country and around the world. Share what you learn. Always help others.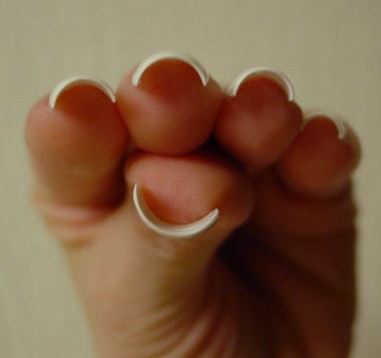 You can find Amy Becker on the web:
Website: www.masterworksbyamybecker.com
Blog: Masterworks by Amy Becker
Click here to learn more about NAILPRO's Competitions!
Nailpro reserves the right to edit submissions for length, grammar and clarity.