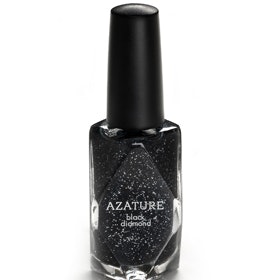 Just when you thought the price of gasoline was outrageous, Los Angeles-based fine jewelry designer Azature, known as "The Black Diamond King" recently created a nail polish valued at $250,000. Unlike the $130,000 Model's Own Gold Rush polish from 2010 which featured a diamond-studded lid yet ordinary polish inside, the single bottle of AZATURE Black Diamond polish contains 267 carats of powdered black diamonds in the polish itself.

The lucky lady to purchase the bottle will receive a visit from Azature himself and security detail for the bottle. Application of the polish will be done by celebrity manicurist Barbara Warner, who has developed a "tap and rock method" for setting the diamonds in place upon the nail.

Kelly Osbourne was already fortunate enough to be given the opportunity to wear a sample of the opulent polish for the 2012 Emmy Awards. Afraid to chip her manicure, Osbourne confessed to an E! reporter, "I couldn't believe it. I have not touched a thing all day."

For the rest of us, AZATURE has launched a glittery $25 version of the black diamond polish, which Jennifer Lopez recently flaunted. The $25 bottle of polish even contains a single black diamond, bringing the luxury of jewelry to the world of nails.