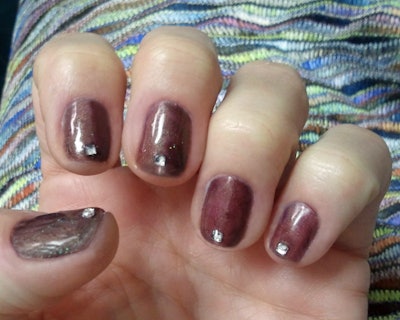 Happy Monday Everyone! Here's another "October Look."
This autumn style was created with two soak-off gel colors from Entity and nail art from CinaPro.
The gels I used are from the One Color Couture Bold Collection from Entity in brown Fashion Icon and shimmering Holo-Glam It Up. The art decals are from Cina Nail Creations. I chose the square gem rhinestones from their Crystal 60 collection, which also includes dots and teardrops.
I did this on Friday afternoon (three days ago) and have already changed my manicure. The pretty nail art from Cina Nail Creations lasted the entire weekend and the soak-off process was quick and easy with the Entity gels—which is a must since I change my manicure so often!
—Megan James