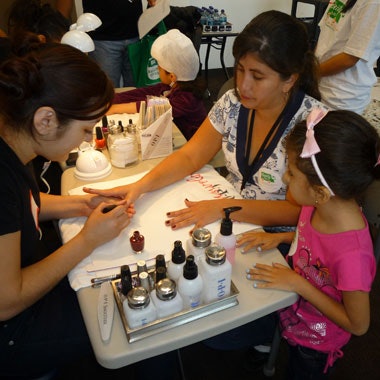 The Beauty Bus Foundation is a non-profit dedicated to bringing an uplifting gift of beauty to the terminally or chronically ill and their caregivers with free in-home beauty treatments. This organization, committed to enhancing the quality of life for those battling illness, appeared on ABC's one-hour alternative series, "Secret Millionaire", Sunday April 10, 2011. Following some of America's most successful self-made business people, these secret millionaires embark on a once-in-a-lifetime journey, going undercover within various communities and ultimately gifting unsung community heroes with hundreds of thousands of dollars of their own money.
"The Secret Millionaire experience was extraordinary. We were completely surprised and overwhelmed that ABC and our Secret Millionaire, Ali Brown, believed in our mission," remarked Wendy Marantz Levine and Alicia Marantz Liotta, Co-Founders of Beauty Bus Foundation. "We are so grateful for the support we have received and Ali's graciousness. Her donation put us in a position to hire our first employee and bring." They also added that with, "The gifts of 'Secret Millionaire' we are able to bring beauty home to more patients and caregivers."
Secret Millionaires come face-to-face with extraordinary people who place their own needs aside for the sake of their communities. At the end of the Secret Millionaires' journeys, they reveal their true identities and donate their own money to these community activists, changing lives and encouraging others to keep giving back.
"Meeting Alicia and Wendy from Beauty Bus was a powerful experience," says Ali Brown, Beauty Bus Foundation's "Secret Millionaire". "To experience firsthand how they help their clients touched my heart deeply because of my own father's illness. My mom worked around the clock to care for my dad in his last year of life, and a service like this would have been a welcome reprieve for both of them. I look forward to continuing to support their mission in whatever way I can!"
If Beauty Bus sounds like a cause close to your heart, mark your calendar for April 17, 2011. The Beauty Bus Foundation will host their 2nd annual Beauty Drive "green carpet" fundraising event in which they will honor Ali Brown for her contribution to the Beauty Bus Foundation on ABC, as well as her continued support.
Image Courtesy of Hit the Mark Public Relations
Related Stories: In Pink from SpaRitual • Farouk Shami Assists Joplin Tornado Victims • PBA | NCA Disaster Relief Fund Accepting Donations and Applications for Tornado Aid • CUT IT OUT Against Domestic Violence
---
Post your nail art in our Users' Nail Art Galleries » and share, vote or link from your own nail art blog! Don't miss our digital edition for step-by-step nail art » and check our website's nail art archives » for nail art you might've missed!
---