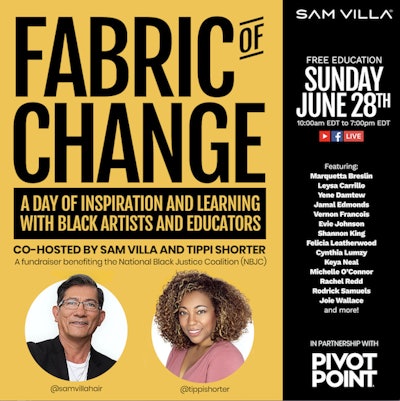 "Lasting change won't happen overnight, but we must continue to educate and work for equal representation!" says Sam Villa, who is co-hosting The Fabric of Change event on June 28 with Tippi Shorter, global artistic director for Mizani (co-sponsored by Pivot Point International). A talented roster of Black educators and influencers, including Marquetta Beslin, Leysa Carrillo, Yene Damtew, Jamal Edmonds, Vernon Francois, Evie Johnson, Shannon King, Felicia Leatherwood, Cynthia Lumzy, Keya Neal, Neeko, Michelle O'Connor, Rachel Redd, Rodrick Samuels and Joie Wallace, will awaken and inspire equality.  
Each artist will have a 30-minute segment live-streamed simultaneously on Facebook (@SamVillaPros) and YouTube (@SamVillaHair) starting at 10:00 am Eastern until 7:00 pm Eastern on Sunday, June 28. All are welcome to hit the donation button benefiting the National Black Justice Coalition (NBJC) to help support equality and end racism. Prizes from Pivot Point, Sam Villa, and others will also be awarded throughout the event!
"Inherent in my message has always been to respect and support each other. Now, more than ever, please let us extend that respect and support to the black community. We recognize that there's racial bias in our industry, and we're looking at our practices to ensure we continue to become more inclusive," says Villa.
"I've always made it a point to highlight incredible artists on my platforms and am honored to join Sam in celebrating these incredible stylists and moving the needle forward within the beauty industry," explains Shorter.
To RSVP and get notifications for when the event goes live, click here. 
RELATED: Listen to our podcast with Sam Villa
Goals of The Fabric of Change Event:
Change the perception that hair texture is directly linked to the race of the hairdresser—all hairdressers should embrace and be skilled in all hair textures.
Change the way education is provided to be more inclusive—black hairdressers and educators have been under-represented on stage and online. 
Please join to listen, learn and promote lasting change within the industry.
The Sam Villa brand supports Campaign Zero, Color of Changeand NBJC.
Campaign Zero identifies solutions, provides research and data to organizers and policymakers, and advocates to end police violence nationwide. 
Color of Change designs campaigns powerful enough to end practices that unfairly hold black people back, as well as champion solutions.
NBJC works to end racism, homophobia and LGBTQ/SGL bias and stigma.