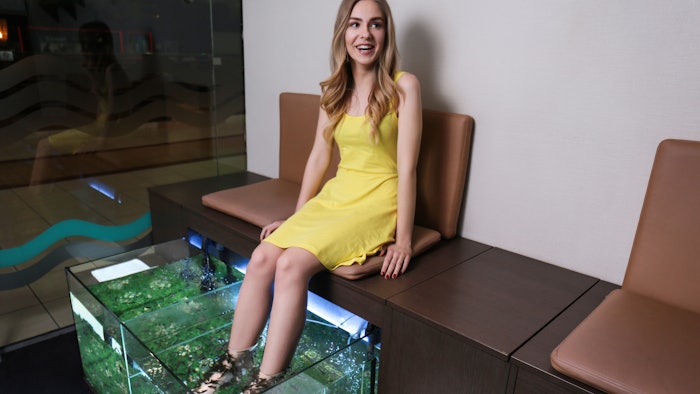 You have probably seen viral social media content showcasing the buzzworthy fish pedicure. Or maybe you recently had a client inquire about the eye-catching process.
The reality is that while this unique pedicure makes for a memorable salon visit, there is still a gray area surrounding the safety, benefits,  and in some parts of the United States, legality.
According to a recent healthline.com article, the pedicure consists of Garra rufa, aka doctor fish, eating the dead skin off the feet, which reveals "smooth, callous-free skin and cleaner-looking cuticles." The article goes on to say that the pedicure tickles but does not hurt; however, there are some safety concerns, including a risk of infection, loss of toenails and even a small chance of blood-borne diseases.
In addition to safety concerns, the pedicure raises ethical alarm bells. The article states that many fish die in transit as they are not native to North America. The fish reportedly only eat dead skin if they are starving, so they are not fed other food. Other issues include over-farming to meet the demand of the pedicure and the disruption of ecosystems if the fish are released into non-native water.
Currently, in the United States, numerous states have banned fish pedicures, including Texas, New York, New Jersey, California, Washington, Maine and Massachusetts.
For the full article, please visit healthline.com.