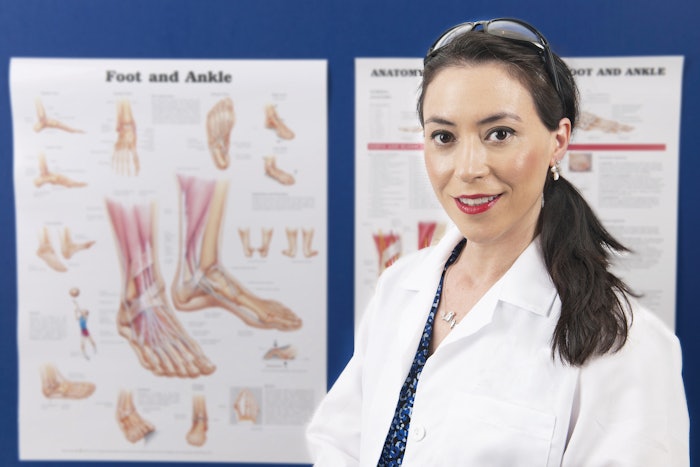 When people suffer from discoloration in their toenails (three in 10 people do), instead of seeing a physician, some people tend to go to traditional nail salons to ask for guidance. Now, there is nothing wrong with giving advice, but if you do not have a physician in place to refer your clients to, then you may not be helping your client. Specialized pedicurists are aware of the importance of incorporating a physician into the service, not just for liability reasons but also to ensure clients do what they are supposed to before their situations escalate.
A big difference between a state-licensed nail technician and a specialized pedicurist can be several things: certifications, advanced education, training, the environment of the establishment, equipment and technique. Sitting down for a traditional pedicure versus a specialized pedicure are completely different setups along with tools used for the service. Clients would generally not feel rushed and usually have more privacy as most specialized pedicurists work solo in their suites or within a physician's office.
Specialized pedicurists work well with podiatrists because they know what works and what does not work for each client. Not all clients who sit in your chair are qualified for all the services that are offered at nail salons. Some people do not need nail polish or exfoliation—whatever it is, specialized pedicurists are always on the same page with a physician so cosmetic opportunities do not get in the way of treatment.
What Is a Specialized Pedicurist?
A specialized pedicurist is a state-licensed nail technician who has advanced pedicure skills and certifications, such as the Advanced Nail Technician (ANT), Medical Nail Technician (MNT), Footcare Nail Technician (FNT) certifications, and incorporates a physician based off their observations. With this new term, be sure to not get confused with treating or diagnosing clients—with nail fungus, for instance—but instead view it as gaining access to a close network of physicians. It is important to refer clients who have abnormalities and stay on top of the client's paperwork to guide them in the proper direction for treatment or preventative maintenance. Giving an advanced pedicure should not feel like a standard pedicure inside a nail salon. These additional skills are taught to have more of a clinical approach, meaning it should feel like the client is receiving a pedicure at a physician's office versus a nail salon. Most services are performed in a private room with implements that have been sterilized in an autoclave, and referrals are made daily to local physicians by their observations.
Why Are They Needed in the Beauty Industry?
Specialized pedicurists perform advanced services such as toenail restoration or reconstruction, wellness pedicures and toenail correction services that correct the curvature of a toenail before it becomes painfully ingrown. It is not difficult to spot abnormalities in the toenails and refer clients to a physician, which is the most common referral. It takes a skilled advanced pedicurist to know what to say, to not diagnose, to have proper waivers and disclosures in place and to know how to incorporate the physician's treatment with the clients' foot care treatment plan.
Most specialized pedicurists perform waterless services—to prevent the transfer of waterborne pathogens that can be fatal for someone who has diabetes or any immune-compromising diseases. Whether you call it a waterless pedicure, wellness pedicure, soak-less pedicure, medical pedicure, therapeutic pedicure or a medi-pedi, they are all very similar as the pedicure is performed dry, and the risk of getting an infection is much lower. Performing dry pedicures allows all the unwanted skin to stay seen so you can work on reducing and exfoliating those targeted areas. When you soak your feet in water, the problem areas can get covered and be left unnoticed, resulting in a reduction process that is not as thorough. This field gives extra attention, love and care to people who need these specific pedicure services and is ideal for elderly clients or patients who have undergone foot surgery.
How Do You Become a Specialized Pedicurist?
Before working in this field, it is important to obtain certifications because you will be dabbling in a field where you will need to know more about the clients' foot conditions than they do. You would need to be educated on their condition where a physician is incorporated as well. All these steps are taught through online and in-person classes that offer advanced pedicuring or Advanced Nail Technician classes. When it comes to online classes, you can go at your own pace. If you focus with no distractions, you can get all your license and certifications within one to two years. This may include five to six months, depending on where you reside, to become a state-licensed nail technician; two weeks to become an Advanced Nail Technician; one month to become a Medical Nail Technician or Footcare Nail Technician, along with advanced training in specialty services such as toenail restoration or reconstruction, toenail correction services and wellness pedicures that can be done online at your own pace or with two-day classes.
The days of pick a polish, have a seat and close your eyes need to welcome a new era. It is time we have a conversation about feet. The specialized pedicure industry is still growing and evolving. It is time for the beauty industry to change the stereotype of nail technicians and give specialized pedicurists their identity, as they create their lane of awareness, growth and expansion to the clients looking for them. Diabetes and other immune-compromising conditions do not seem to be going anywhere. As such, it is crucial to build this field of specialized pedicurists to help people who have been looking for these trained techs who know how to guide them in the right direction. This is one step toward solving nail problems in the beauty industry that are constantly swept under a rug.
SPECIALIZED PEDICURE FACTS*

Becoming a specialized pedicurist starts with becoming a state-licensed nail technician and continuing to advanced pedicure education, including an Advanced Nail Technician certification.
A specialized pedicurist aids with the eradication of fungal issues by keeping the toenails short and unwanted skin and thick calluses reduced for proper absorption of medicated oils and creams.
Becoming a specialized pedicurist can help save someone's life by partnering with a physician.
Specialized pedicurists should have a system in place prior to working in this field.

*Source: Cleveland Clinic; American Academy of Dermatology, "Skin Conditions by the Numbers," aad.org
About the Author
Erika Allison is the owner of NuFeet Medical Pedicures®. She is a certified Advanced Nail Technician (ANT), Medical Nail Technician (MNT) and Footcare Nail Technician (FNT), co-owner of Podiatry Portal and is a member of Nailpro's 2022 advisory board.
This article was originally published in the May 2022 issue of Nailpro magazine.