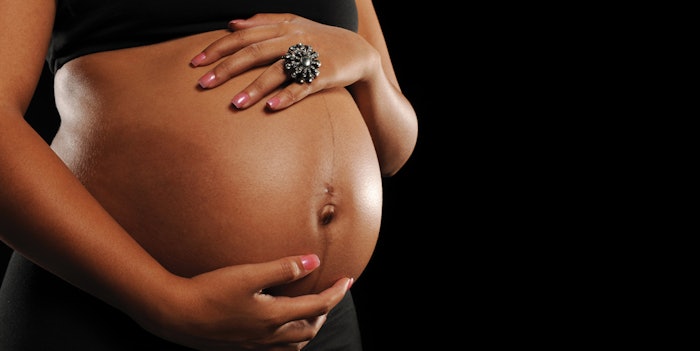 When you run a successful salon, the health and safety of your clients is always top of mind. Pile on a global pandemic, and you're even more cognizant of safeguards. Top that with pregnant clients, and paying close attention to the health and wellbeing of these special customers can really keep you onyour toes.
Moms-to-be will no doubt pay you visits looking for some much-needed TLC, which means you need to be prepared to meet the occasion. "My experience is, like everyone else, they just want nail grooming they can't provide for themselves—plus they love to share stories about how having their significant other try to help them isn't working out!" laughs Karen Hodges, cofounder of Nailcare Academy in Fort Myers, Florida.
Even if you don't offer any pregnancy-specific menu items, freelance nail artist Lynn Lammers says there's no need to worry; you can customize just about any service for expectant moms by adding a major focus on relaxation. Here, our pros run down the ways to ensure your moms-to-be enjoy their salon time, starting with publicizing safety measures.
Safety First
Sure, extra pillows certainly provide plenty of comfort for pregnant clients, but paying mind to their mental comfort ranks just as important—if not more so. The first step in putting expectant clients' minds at ease: Highlight your salon's focus on safety before they even settle into your chair, suggests Brian Cantor, founder and owner of Paul Labrecque Salon and Skincare Spa with locations in New York and Florida. "Make sure that the client is aware of any products that will be used in case she needs to run something past her physician prior to visiting and receiving a treatment or service," he says.
"We always recommend pregnant women check in with their physicians before booking any nail appointments because what we provide as nail professionals are high-touch, personal services," agrees Tran Wills, owner of Base Coat Nail Salon with locations in California and Colorado. Once the client has conferred with her doctor, you should be prepared to cross off the following from your salon's pregnancy checklist:
Is her pregnancy considered high risk?
Does she have allergy sensitivities to ingredients and chemicals?
Does she have sensitivities to massage pressure and/or cuticle care?
Does she have pedal edema (excessive swelling of the lower extremities) or other swelling?
Does she have any health conditions that would prevent her from getting a nail service safely?
Knowledge before the service is power for both your staff and clients—for staff so they know how to provide the best care and for your clients to create awareness, set expectations and quell any lingering worries.
It's the Little Things
After creating client awareness of your safety measures (see "Changes for the Better" on page 38 for more COVID-era precautions), focus your energy on being extra attentive and accommodating. With pregnancy hormones in a state of continual flux, the needs of expectant moms change minute by minute. These easy assists guarantee client satisfaction—and cost next to nothing.
Extra pillows. Keep cushy pillows on hand to help alleviate any discomfort.
Stand when needed. "The further along in a pregnancy, the more difficult it becomes to sit with your arms forward, so when it becomes uncomfortable I ask my client if she would feel better standing and we usually file the nails this way," says Shannon McCown, owner of Distinctive Nail Designs in Bend, Oregon.
Temperature check. "Always ask if they're chilly (almost never!) or if they'd like a fan directed their way (almost always!)," Hodges says.
Bathroom breaks. Overactive bladders are par for the course. Let your client know that she's welcome to use the restroom as often as she likes—guilt-free.
Tummy care. If you offer snacks and refreshments, Hodges suggests stocking saltine crackers and ginger ale to combat passing nausea.
Sugar boost. "Over the years, I've had a few clients roll in with low blood sugar. I offer a big spoonful of honey followed by a big scoop of peanut butter. Best combo I've ever come across to quickly settle blood sugar shakes," says Hodges.
Massage Measures
While massage can offer expectant moms instant relief, as a service provider you must be educated on proper massage protocol during pregnancy. "Most nail techs are not massage therapists, but they can take classes in foot and arm-orientated massage through their local massage school or college—and I recommend that you do so," says McCown. Hodges points out that, depending on the state you operate in, you might be required by law to be licensed in massage therapy in order to administer any manipulation of tissue; be sure to work within scope of what your state allows.
In order to perform the most scrupulous of rubdowns, reference that pregnancy checklist that your salon now employs.
For normal pregnancies: If the client reports a normal pregnancy with no pedal edema or swelling, Hodges recommends a traditional foot massage to provide relief. "Stick with a gentle, Swedish-style massage to help with blood circulation, but avoid deep pressure," says Rebecca Sawhney, owner of Berkeley, California-based salon Marlowe.
For high-risk pregnancies: If the client checks off "high risk" or "edema" on her form, you'll need to employ several modifications, starting with the massage. "In these situations, nail technicians should modify their movements to only the lightest of touches in applying moisturizing lotions or creams," Hodges says. With high-risk pregnancies, she notes that you'll need to limit the number of variables in the service in the event something goes wrong. "For example: no soaking, no massage, no aggressive scrubs—nothing to overdo any facet of the service. Conservative is best," Hodges says. The reason: You don't want your service to cause any pregnancy complications, and, according to Hodges, every action leading up to a complication will be scrutinized—best to reduce the variables that could compel it.
For all pregnancies: Why be conservative with your massage? Sawhney notes that acupressure in the ankle area (Achilles) at any point of the pregnancy can activate uterine contractions and potentially induce labor. If in doubt, Cantor says to look at what you're offering as a matter of foot massage vs. reflexology. "Foot massage is a general, relaxing treatment that all pregnant ladies can safely have. Reflexology, or shiatsu, that connects meridians and affects pressure points should be avoided during pregnancy," he concurs.
It's not just pressure that needs to be kept in check; be careful what you use for your massage medium as well. "I'm deeply concerned with nail techs who use essential oils in their services," Hodges says, citing unregulated essentials oils that are acidic, caustic or allergenic—highly problematic for any client, let alone a pregnant one. "Techs should know the difference between safely buffered and blended 'aroma' oils versus true 'essential' oils," she stresses.
Genius Offerings
Taking into consideration where your expectant mom is in her pregnancy journey—what level of massage to administer, her degree of discomfort and more—you can easily introduce that level of relaxation Lammers spoke about to your existing services with these smart tweaks.
For the full article, check out Nailpro's March/April digital magazine.
Author bio:
Karie L. Frost is a freelance writer and editor based in Connecticut.