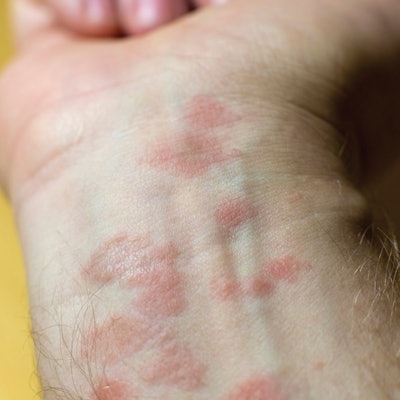 Your client's inflamed skin may be dermatitis. Here's what you need to know before you begin the service.
As a nail tech, you get up close and personal with people's hands and feet on a daily basis. That's why, if your regular client shows up for her biweekly manicure with evidence of dermatitis on her hands, you're going to notice. In fact, you've probably already seen many instances of these red, scaly and sometimes itchy areas on your clients' skin, because it's as common as it is noticeable. The good news about dermatitis is that it isn't contagious. However, it should never be ignored.
What is Dermatitis?
"'Dermatitis is a term that technically means 'inflammation of the skin,'" explains Amber Reck Atwater, MD, president of the American Contact Dermatitis Society and director of the Contact Dermatitis & Patch Testing Center at Duke Dermatology in Durham, North Carolina. "Most of the time, the word refers to eczema or a rash, and there are several skin problems that fit within the category." To help sort it out, Dr. Atwater cites the 2017 American Academy of Dermatology study "The Burden of Skin Disease in the United States," which singles out three of the most common types of dermatitis: contact, atopic and seborrheic dermatitis.
Contact dermatitis occurs as a result of actual contact with an allergen or irritant. "A good example of allergic contact dermatitis is a rash that develops after contact with the acrylates present in nail enhancement products or paraphenylenediamine (PPD) in hair dye," says Dr. Atwater. "In the case of allergy to nail polish, gel or acrylic, there may be a rash along the nail folds and even in places like the face, eyelids and neck. Allergy to massage oils and other mani- pedi products like lotions may result in a rash in the areas where the products were applied."
RELATED: Test Yourself July 2019 – Eyestrain
Irritant contact dermatitis, on the other hand, is the result of direct chemical damage to the skin. "Chemicals like acetone can cause an irritant contact dermatitis if they are accidentally applied to the skin," warns Dr. Atwater, who adds that even frequent handwashing can lead to irritant contact dermatitis.
Atopic dermatitis is another term for eczema, which is a complex skin condition with many potential causes, including environmental factors, the immune system, genetics and skin barrier dysfunction. There are eight subcategories of eczema identified by the National Eczema Association. Common locations for eczema in adults include flexural areas like the elbow folds and behind the knees.
Seborrheic dermatitis is what we commonly refer to as "dandruff." It's most often seen in areas where hair grows, such as on the scalp, eyebrows and beard. "It may be the result of the immune system's response to normal yeast on the skin," says Dr. Atwater. There's also a less common form of dermatitis called stasis dermatitis—it's often characterized by swelling of the legs and a rash on the front and inside portions of the lower leg—and is thought to be related to vein function.
Doctor's Orders
While red, irritated skin may indeed be dermatitis, if you spot these symptoms on a client's skin, don't assume that's what you're looking at. Physicians are generally able to diagnose the various forms of dermatitis via examination and medical history. Sometimes, allergy (patch) testing is used. "It's difficult to know if a red, scaly rash is dermatitis or a fungal infection," points out Dr. Atwater. "Fungal infections can also be red and scaly, and such infections are mildly contagious. This is another reason that referral to a dermatologist is important."
RELATED: Nail Clinic – Understanding Psoriasis
If you have a client who exhibits serious signs of dermatitis on her hands, arms, feet or legs, steer clear, warns Janet McCormick, MS, educator, author and co-owner of Nailcare Academy. "Frankly, most clients will not even come in for a mani or pedi if they have any type of dermatitis on those areas," says McCormick. "But if they do, they should be gently told that it would be best to wait until after the area is clear to receive a service."
Treatment depends on the type of dermatitis and its cause. Often, doctors prescribe a topical anti-inflammatory, as well as oral medications, such as antihistamines, and even antibiotics if infection is suspected. "Once a diagnosis is made and a treatment plan is in place, the client can then work with the nail technician to identify the best products for his or her nail care," says Dr. Atwater.
Take Care
Even when dermatitis symptoms are mild, techs should still proceed with caution. "The first thing I do with a client like that is check her health intake sheet if I'm not already aware of the situation," says Denise Baich, a Certified Advanced Nail Technician, Certified Medical Nail Technician and Certified Safe Nail Professional whose St. Louis-based nail care suite, The Pedicure Plus, is located next door to a podiatry center. Based on the intake information and the severity of the client's symptoms, Baich might defer the decision to her podiatrist neighbors. "I explain to the client that the possibility of a pedicure that day is slim and call the podiatrist in or text him a photo with a message," says Baich. "They usually respond quickly, and then the decision on whether a pedicure is to be performed rests with them, not me."
Whether you have a medical professional to consult or not, a health intake sheet is still key. "If the client has a chronic illness, such as diabetes, a minor irritation could be the precursor to an ulcer, which should not be pressed in any way," cautions McCormick. "Ask the client if she knows the cause of the irritation, and whether a doctor has approved the treatment."
When Baich encounters a client whose skin is just a little red and she isn't experiencing heat, pain or irritation, she relies on her training and experience to go ahead with the service. All of her pedicure services are waterless—a recommended modification for anyone suffering from skin irritation—and she takes care to avoid the use of any potential allergens or irritants. McCormick adds some caveats: "There should be no exfoliation and no massage over the affected area," she says. "Also, no heated mitts, paraffin or warm stones, and no lotions containing lactic acid." As always, when in doubt, refer the client to a physician and continue the service once her skin has healed.
Dermatitis Facts
Atopic dermatitis (eczema) occurs in approximately 7.3% of adults in the United States.
Contact dermatitis comprises 95% of all of the skin disorders that develop as a result of a person's occupation.
Clinically significant seborrheic dermatitis (dandruff) affects about 3% of the U.S. population, whereas mild to moderate cases affect about half.
Approximately 80% of contact dermatitis cases in the United States are irritant-based (20% are allergic).
Sources: American Academy of Dermatology, aad.org; Haz-Map, National Library of Medicine, National Institutes of Health, hazmap.nlm.nih.gov; Denis Sasseville, MD, FRCPC, uptodate.com; National Eczema Association, nationaleczema.org
–by Linda Kossoff
[Image: Getty Images]