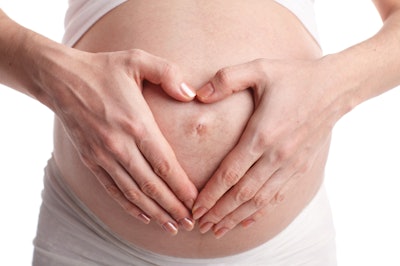 For many women, pregnancy is nothing less than a blessing. However, even the most enthusiastic mother-to-be must ultimately acknowledge that expecting has its challenges—not the least of which is learning how to make allowances for a rapidly changing body. Certainly, anyone who works in a female-driven profession such as nail care should know how to make accommodations for expectant clients. Just as important, pregnant nail techs have an obligation to care for themselves as they go about their daily work of tending to others. Here, expert advice for caring for you and your clients.
Prenatal Protection
It's always good for techs to know whether a client is pregnant, especially in that highly sensitive first trimester, when she might be experiencing frequent and unpredictable nausea and sensitivity to smells. Even in a properly ventilated salon, be aware that odors that barely register for you can prove overwhelming to a pregnant client. You might opt to use only unscented massage lotion, for instance.
The good news is, topical products used in manis and pedis are unlikely to pose any type of health threat to pregnant women. "So little of the product is actually absorbed into the skin," says Marjorie Greenfield, M.D., professor of obstetrics and gynecology at Case Western Reserve University School of Medicine in Cleveland and author of The Working Woman's Pregnancy Book. She adds, "Nails grow faster and stronger during pregnancy, so clients are likely to need more frequent services."
In serving the pregnant client, comfort is king, especially in the second and third trimesters. "Pregnant clients might need help getting into a pedicure chair, and most will appreciate a massage chair if it's gentle, but not vibration," says Janet McCormick, co-owner of NailCare Academy in Fort Myers, Florida, who adds that some clients may be coming in to relieve the stress that accompanies pregnancy. "They may feel tired and could be moody, so don't expect pregnant clients to be on an even keel at all times, and expect and forgive cancellations."
Once a client reaches her third trimester, a pedicure is truly necessary because "there's a point in the pregnancy when you can't reach your feet," notes Greenfield. Generally, there are no contraindications for pedicures unless a client is experiencing a high-risk pregnancy—information that a tech should glean prior to beginning the service. Even in the absence of risk,
McCormick recommends some best practices, such as avoiding the use of very hot water and abstaining from using deep pressure during massage due to unusually tender skin, muscles and feet. "Check clients' legs, ankles and feet for swelling," says McCormick. "For ordinary edema, a light massage, moving upward, can move the lymph out of the legs and aid in the client's comfort."
Essential Self-Care
As service providers, nail techs frequently postpone tending to their own needs. "Women—especially working women—tend to 'power through' pregnancy, but you really have to listen to your body," says Greenfield. "Think, for instance, 'What can I do to make my work environment more comfortable?'" Once that question is asked, the answers begin to present themselves:
Arm yourself against morning sickness. One way to ward off vomiting, say experts, is to eat small amounts of food frequently throughout the day. That means keeping a stash of dry snacks, such as crackers, at your workstation. If this doesn't work, there's an alternative: medication. "The truth is that you don't actually have to vomit when suffering from morning sickness," says Greenfield. "There are now anti-nausea drugs that are safe for pregnant women, so talk to your doctor." Just in case, bring a change of clothes, toothbrush and toothpaste to work.
Avoid getting dehydrated. A queasy stomach and frequent urination can conspire to dehydrate a pregnant woman without her realizing it. Keep a bottle of water nearby and take small sips throughout the day. If you can't hold down liquids, says Greenfield, "Talk to a midwife or doctor. You can even get IV fluids if necessary."
Get enough rest. Techs don't often have the luxury of taking time off or cutting their days short, but you can find workarounds. Go to bed early enough to get seven to nine hours of sleep, and consider tweaking your work schedule. "Pregnant women tend to get sleepy in the mid-afternoon, so it might be helpful to take a nap between 3:00 p.m. and 4:00 p.m., then work an hour later in the evenings," Greenfield says. "Your nail clients might like that, too!"
Move around frequently. Sitting for a long period of time isn't good for anybody, but it's especially bad for pregnant women, who are prone to backaches and swollen ankles. Schedule more short breaks between clients so you can get up and walk around," says Greenfield.
Dress for comfort. An outfit that's comfortable at the beginning of the day can turn into a tourniquet by 2 p.m. for someone who's pregnant. Leggings covered by a stylish tunic, or long, flowing dresses are safe bets.
Get your eyes checked. Vision can temporarily change during pregnancy, making nail work more challenging. "An optometrist can adjust your prescription, or it might be that you need to use readers for a while," says Greenfield.
Ask for help. Women are notoriously reluctant to request assistance from others, so Greenfield has a suggestion: "Be generous about helping the people around you when you aren't in need," she says. "Then you won't feel as uncomfortable asking for it when you need it." A nail tech in her third trimester might ask a coworker to trade a pedicure for a manicure, so as to avoid bending over her baby bump and straining her back. Or, she might make special arrangements with her supervisor. "Caring managers and owners will allow a technician who's experiencing morning sickness to come in later in the day, then go back to her regular hours when the problem passes," says McCormick. "Also, pregnant techs should receive help in lifting anything heavier than 10 pounds, such as a foot bath."
Maintain your professionalism. You might be moodier and more irritable during pregnancy. However, says Greenfield, "If you take care of yourself you won't tend to accelerate your own stress." Being mindful of how you feel (and when you need a break) is best for you and your clients.
—Linda Kossoff
What's your best advice for accommodateding a pregnant client? Tell us in the comments, below. 
[Image: Getty Images/evgenyatamanenko/istock]
This article was first published in the June 2017 issue of NAILPRO.