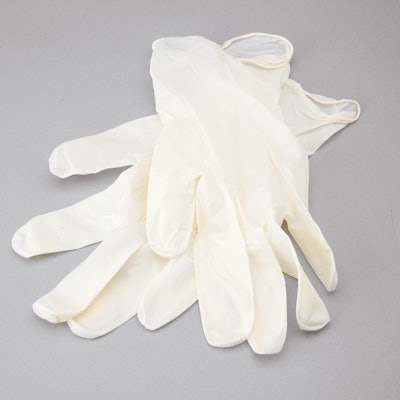 One thing is certain when it comes to handwear in the salon-everyone has a different opinion. Some technicians never wear them, others never go without, and some only wear gloves during certain portions of a service. NAILPRO asked technicians about the why and when of glove use. See if you agree.
Some Techs Can't Live Without Them
Just as there are those who are against the use of gloves, there are also those who couldn't imagine a service without them.
"I am 100 percent for using gloves, especially for pedicures," says Danielle Carr, owner of Nails by Danielle in Brandon, Florida. "I wear them primarily for sanitary reasons, but I find that it protects my own manicure as well. Filing the nails and the use of chemicals, whether it's polish remover or callus remover, are ways to potentially ruin my own nails in the process. My clients love that I wear gloves, and I can't imagine doing a pedicure without them!"
Christina Monroe, owner of Love Those Toes Mobile Nail Spa in Bowie, Maryland, agrees that gloves are a necessity when it comes to protecting her most important asset and the thing that helps to sell her services—her nails. "Pedicures are my specialty and I always wear gloves when performing them for my own safety," says Monroe. "Although I conduct a thorough pre-service consultation on each client, feet can carry all kinds of germs, dirt and bacteria. Therefore, I wear gloves to protect my nails and hands. After all, a professional nail technician's nails and hands should always be in pristine condition. Otherwise, it becomes rather difficult to market your services and gain new clients. In addition, my hands are in water so often, wearing gloves helps prevent swelling and wrinkling."
Some nail technicians wear gloves for every service, from a quick polish change to a pedicure. Included in this bunch is Tricia Abreu, owner of Nail Artistry by Tricia in Miami. "Wearing gloves is not only hygienic for my client and me, but it also helps protect my hands, skin and nails from chemicals used during nail services," says Abreu. "On several occasions I have tried to simply sanitize my hands and my client's prior to a manicure, but I have very dry skin, and hand sanitizers tend to dry my skin even more. Wearing gloves while working, just as most things in life, took some getting used to, but once I started wearing them regularly, it became normal and I was able to perform my service perfectly."
Some Techs Wear Them Occasionally
While gloves may not be needed throughout a service, there may be certain chemicals that a technician does not want to come in contact with.
Thus, they will leave the gloves off and only don them when appropriate. "I wear gloves when working with acrylics because my skin is allergic to the dust," says Jan Studesville, owner of Just Nails in Madison, Wisconsin. "I also wear gloves when filing fiberglass and gels to reduce the dust on my hands. I don't wear them for manicures or pedicures. Lack of good hygiene would be the only reason I can think of for wearing gloves during those services."
Most of the techs we spoke with who periodically wear gloves, do so when they are applying products that are a bit harsher, such as callus softeners. "I do not wear gloves during pedicures or any other service in its entirety," says Melody Hand, licensed nail technician at Tickled Pink Salon in Clayton, North Carolina. "I've been doing nails since 1989 and have not had any issues arise from not wearing gloves. I inspect my client's feet prior to beginning a service so I know whether or not I should continue the service. I wear them during certain parts of particular services, such as a callus treatment where solutions are used to soften calluses. But other than that, I do not wear them. I don't like the feel of them on my own skin. Also, a massage is very uncomfortable for the client when the provider is wearing gloves. And I'm a tactile person, so with gloves on I can't feel what I'm doing."
Still, other technicians find that the products they use are able to absorb better if they wear gloves. "I find gloves especially helpful during product application," says Christy Brown from N2U Mobile Salon in Richmond, Virginia. "The gloves allow all of the product to be used on the client and not absorbed into my skin, plus it provides 'slip' for the massage." Brown notes that if she has a new client who has broken skin, or if she has broken skin herself, she will use gloves. "Depending on the type of service (medical versus spa pedicure) gloves can enhance the perception of safety, or impede the idea of relaxation," adds Brown. "As the service provider, it's up to us to determine the expectations of our clients, and balance those expectations with both the client's and our own safety. If I choose to wear gloves and the client questions me, I say that I have a cut that I need to protect; no one has ever taken offense at this reasoning as most of us know how uncomfortable a paper cut can be if you get it wet."
"Wearing gloves is not only hygienic for my client and me, but it also helps protect my hands, skin and nails from chemicals used during nail services."
Some Techs Never Touch Them
Nail and body services will always be seen as skin to skin treatments for some, which is why many technicians choose to avoid gloves altogether when working on clients. "I've been a licensed technician and instructor since 1998, and it's been my experience through the years to not wear gloves during pedicure services," says Cindy Heidemann, owner, administrator and instructor at ABC School of Cosmetology, Esthetics & Nail Technology in Lake in the Hills, Illinois. "Students are instructed in the proper application of all chemicals so that both they and their clients are safe. Unless there is a medical condition, it has been our experience that our clients do not like the idea of the technician wearing gloves." Many techs feel that as long as both the nail technician and the client wash their hands with soap and water before the service begins, gloves are not necessary.
Should I Try Gloves?
If you're on the fence about wearing gloves but are willing to try them, consider testing them during certain portions of your pedicure that involve harsher products such as callus softeners. You may discover that this clears up some lingering dryness you've been experiencing.
The Environmental Protection Agency (EPA) warns that skin can easily and quickly absorb certain solvents, which may damage skin by removing natural oils that lead to dryness and/or irritation, making it even easier for other ingredients to enter the body. Because of this, the EPA recommends that nail technicians protect their hands with gloves made of nitrile, as latex and vinyl gloves are permeable to many nail products and do not offer the needed protection.
Are Gloves Enough?
Always inspect each client before performing any service—manicure or pedicure. Simply wearing gloves is not enough to protect you or your clients from spreading bacteria and infections. Think of all the tools, polishes and footbaths that you are sharing. Complete a thorough consultation and do not perform a service on anyone who has open wounds or an infection. Above all, always sanitize your tools after each and every client.
– Liz Barrett