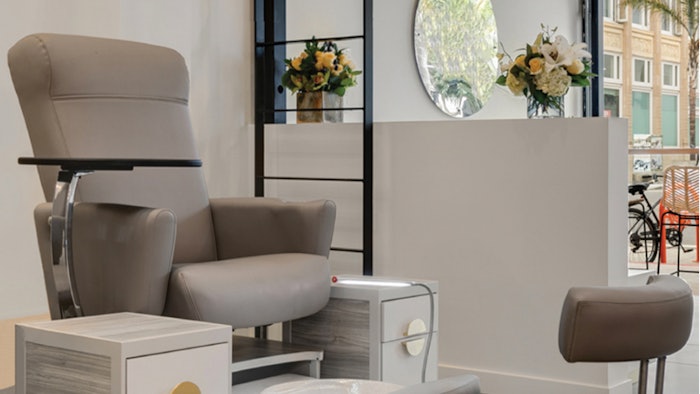 What factors should you consider when selecting a pedicure chair that provides comfort for both customers and nail technicians?
Nailpro talked to the experts at Belava, US maker of pedicure spa chairs, and found out what to look for when choosing a pedicure chair for your salon.
To provide satisfactory pedicure services and create a comfortable work environment, it's crucial to invest in a reliable pedicure chair. 
Choosing the right one from the many options available in the market can be daunting, but by focusing on key features, you can narrow down your choices and select a chair that meets everyone's needs.
Plumbing or No-Plumbing
Determine which type of pedicure chair is best for you. Plumbing chairs are connected to the salon's water supply and drainage system, but they require professional installation and may be more expensive to maintain. Chairs without plumbing have a built-in foot spa that can be easily filled and emptied manually. Such chairs are easier to install and require less maintenance.
Functionality
The chair should have a variety of functions, such as a reclining and swiveling seat, an adjustable footrest, a professional foot spa with Belava disposable liners, and even a rotating manicure table that allows for two procedures to be done simultaneously. All these options will not only allow the technician to easily control the chair but also provide the client with an unforgettable experience during the procedures.
Comfort
Pedicure services can take anywhere from 30 minutes to an hour or more, so it's important to choose a chair that will be comfortable for the client to sit in for an extended period. The chair should have a soft seat and backrest, recline back, and have built-in heating and vibration. The foot spa massager should maintain the water temperature to ensure client comfort throughout the entire procedure.
Look
Choose chairs in a modern style that will match the decor of your salon and create a pleasant atmosphere for your clients. You can choose a chair with an elegant design or a more traditional look, depending on your preferences. Take your salon to the next level by exploring the exceptional design of the Belava Pedicure Chairs, renowned for its ability to elevate the ambiance and aesthetics of any space.
Reliability
You need a chair that will serve you for a long time and withstand intensive use. Look for a chair made of durable materials, with a warranty of at least a year, and manufactured in the USA - this will allow you to rely on it for maintenance.
By taking these factors into consideration, you can choose the perfect pedicure chair that will provide a comfortable and enjoyable pedicure experience for your clients and technicians.