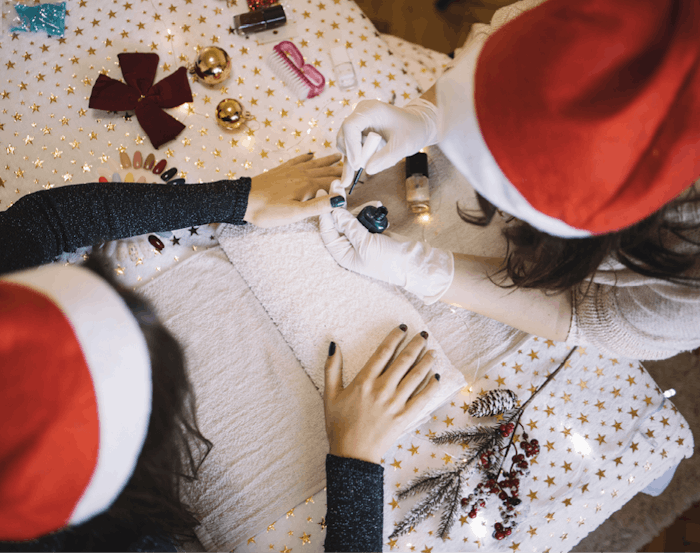 The holiday season is truly upon us. I don't know what weird thing happens to space and time as I get older, but it seems to come around quicker year after year.  Fear not, fellow traveler, you've got this. There are a few simple ways you can do to make your holiday salon style easy as (pumpkin) pie. 
Deck the Halls
Look around your salon. What color palettes and themes do you notice? Do you keep a cozy warm workspace, or are you more sleek and minimal? As beauty professionals, clients look to us for style inspiration and appreciate a space that reflects that and makes them feel as though they are a part of your world. As a sidenote, co-workers and clients come from all different walks of life, so be open to suggestions and feedback as you navigate holiday décor.
Once you've established your vibe, take note of how much space can you spare for holiday décor without encumbering emergency exits and client comfort. Most of our clients are looking for respite from high-stress dinners, holiday travel or family encounters, so it's important to make sure they aren't feeling cramped, cluttered or stressed in your space.  You'll also want to keep a cleaning schedule in mind when making your décor selection—a small tree or figurine on your nail desk seems like a great idea, until you have to clean dust and glitter off multiple times a day. 
Once you find your perfect décor, it's one less thing on your plate the following year. My salon has a funky and eclectic vibe, so we opt for a pink holiday tree with a mirrored disco ball and gold glitter ornaments in our waiting area and a cute wreath on our door. The tree goes into storage at the end of the season, not to be thought of again until the following year.
The holidays are also a great opportunity to customize the client holiday experience, adding that little something special that keeps you at top of mind into the new year. Our goal is to make clients feel special while keep our costs of operation reasonable. 
Jingle Bell Rock
We like to work holiday music into the rotation at the salon by creating a playlist mix of holiday and non-holiday music that we love.  Keep it upbeat and stay away from anything too serious. My best strategy is one holiday tune for every four non-holiday songs—or just throw it all in there, hit shuffle and let the algorithm decide.  As a bonus, if you create your playlist on a common streaming platform like Apple Music or Spotify and share the link with your clients, so they can take a little bit of your salon essence with them on the go. 
More Peppermint, Please
Adding seasonal lotions and scrubs is a low-cost way to exhibit high-impact thoughtfulness. Your clients' eyes will light up when you give them the choice between regular lotion or the cinnamon pumpkin lotion, to get into the holiday spirit! Pick up some flavored syrups and a box of herbal tea with holiday spices to offer clients if you have a coffee or tea station. 
Mistletoe Mood
Take some time to create a display of your go-to holiday and client-favorite nail looks and colors. Grab an acrylic display board and showcase your collection where clients can see. It's a great way to add to the ticket and help clients visualize what they want. Be sure that your go-to colors and art supplies are quickly accessible. As I mentioned earlier, clients depend on us to guide their style and will appreciate this. Keep the displays and use them year after year, storing when the season ends and adjusting as trends change. 
Merry and Bright
The last big holiday tip I have for you may be the most important one yet: take care of yourself. January is a notoriously slow season for nail salons, and that pressure to perform over the holidays is very real. Be sure to take breaks, stay hydrated and set aside time to eat and stretch. I personally love the Wrist Wand for a good stretch. Make an effort to stay away from your phone when you get home so you can truly disconnect and rest. Keep your space tidy, and don't procrastinate on cleaning and disinfecting your tools at the end of the day. 
I wish you all a healthy and prosperous holiday season!
Be sure to tag @nailpromagazine with the hashtags #nailproholidaystyle to show off your holiday décor, tips and nail art.
About the Author: Rachel Messick (@rachel.messick) is a salon owner, industry educator and session manicurist with a passion for natural nail care and innovative nail art. When not on set or in studio, she enjoys spending time with her family, attempting to garden and hanging with her menagerie of pets.