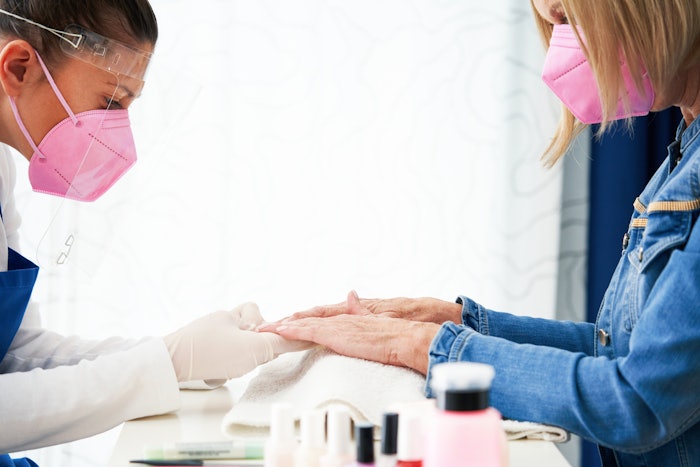 Ana Cage is a passionate nail artist and uses spare time to write and inform people about beauty treatments based on her experience. 
Here is Ana's take on catering to clients:
When window shopping for the best nail salons, clients consider more than your expertise in manicure and pedicure services. They want a salon that will actually cater to them: a salon whose management understands their pain points, fears, diversity in personalities and need for convenience. They want a salon in which they can relax and be pampered optimally because the end does not justify the means in this line of business. The experience a client goes through right from the first contact they make with your nail salon, through their appointment in the salon, to your after-service services will determine the success or failure of your salon.
With that in mind, how can you create a nail salon that caters to clients?
1. Ensure that the booking process is as painless as possible
Many salon clients are working people. Between their regular 9-to-5 jobs or small side businesses and family, people do not always have time to wait at your nail salon for an appointment. They also may not want to have to call your receptionist or salon within your business hours just to book an appointment. What they want is a simple, flexible, seamless and straightforward booking procedure that allows them to contact your business, access your schedule and make bookings at any time and in the most convenient way. You can give them exactly what they need by investing in and integrating online booking software into your social media pages, Google My Business profile and website. That will make it possible for clients to make appointments and payments from the comfort of their homes or offices.
There are many more benefits of integrating salon software into your appointment management. For starters, it makes your salon look professional and sophisticated. Many clients love the prestige of being associated with a modern, trendy nail salon. Secondly, advanced software makes it convenient for clients to share information with your salon. They will gladly tell you (through the booking platform) what their expectations are, their contacts and every shred of information that you might require when shaping your service routine. When clients tell you how they want to be served, it becomes a lot easier to cater to their needs. Thirdly, the software will make it easy for clients to share feedback with you. Honest, timely feedback will help you improve your services to the benefit of future clients.
2.
Create a clean and comfortable atmosphere in the salon
Catering to your clients extends to caring about their health. There is not a better, more effective way to do this than to ensure that your salon is clean and regulated. Ensure, among other things:
That your salon equipment is thoroughly cleaned and sanitized before using them on a client.

That your employees are tidy and that they always wear gloves and other PPEs when attending to clients.

Your furniture is ergonomic and comfortable so clients (or techs!) do not strain their backs too much during appointments.

The lighting and mirrors brighten the place up, both for added aesthetic beauty and increased clients' safety. Poor lighting in the salon can be a safety hazard.

The ventilation in the salon is top-notch.

The nail products you use are ecofriendly and nontoxic.
3.
Mind their safety and security
This boils down to your salon's location. You will want to keep clients' safety in mind when choosing your location. You want your clients to feel confident and ready to schedule appointments any day, any time without worrying about the safety of their cars or their own personal safety. And even when the neighborhood is safe, your clients may feel even safer if you install an effective surveillance system.
4.
Personalize your services
Modern clients expect a bespoke and personalized experience right from when they first make contact all the way to your after-service services. They want you to address them by their name when they reach out on social media, when they walk in the door and when you send out marketing material to them. They want to feel safe talking to you about their family or their job, and they want you to remember previous conversations every time they visit. Personalization also entails remembering how they like their nails done, how they like their coffee and their favorite products. Sounds hard, right?
Well, personalizing your services is not hard when you have a client management system. This system would allow you to create a database where you save the data you collect from clients, notably their product preferences, contacts, purchase history and payment information. You can easily access this information when preparing for upcoming appointments, which enables you to make clients feel like old friends or family. 
5.
Redefine luxury
Borrow a leaf from top nail salons around the world, and redefine luxury in your nail salon. If you look at top nail salons in big cities such as London, New York, Los Angeles, Tokyo, Manchester, Beijing, etc., they do not just focus on hands and feet. They add complimentary (luxurious) services to their service routine as a way of making their clients feel royal and exclusive. Visit any top nail salon in Manchester for a manicure or pedicure, and you will likely get a complimentary foot massage, for example. Others will give clients scalp or neck massages while their nails are getting done. Such simple things redefine luxury and create memorable experiences for nail salon customers.
6.
Be generous with information
Do not force clients to dig deep for information about your business. Do not allow other internet users to control your business narrative. You should always be available to answer questions from clients—be it on social media or via direct emails/SMS. Use your social media handles to advertise your special offers, discounts and loyalty programs. Ensure that your business hours, location and charges are available on your business website, social media pages, Google My Business profile and other online platforms. And speaking of a business website, ensure that the website is professional and easily accessible even to clients with special needs, e.g., the visually challenged. If you serve a multilingual clientele, ensure that your web content is translated into as many languages as possible.
7.
Consider special offers 
Catering to clients may also look like rewarding them for their loyalty. Why not make someone feel special? Make your loyal clients feel appreciated and wanted by potentially rewarding them with special discounts and special offers. You could, for example, offer them a stamp card that gives them a free service every now and then. You could sell them their favorite products at a discount. You could offer one of their friends or relative a free service for their first appointment. Any reward is fine as long as it shows clients how much they mean to you without hurting your profitability.
Building a trusted and happy client base is all about satisfactorily catering to every client's needs. You have to give them the best experience possible with five-star pampering. The seven tips above will help you do just that and ensure that your salon environment is all up to scratch.