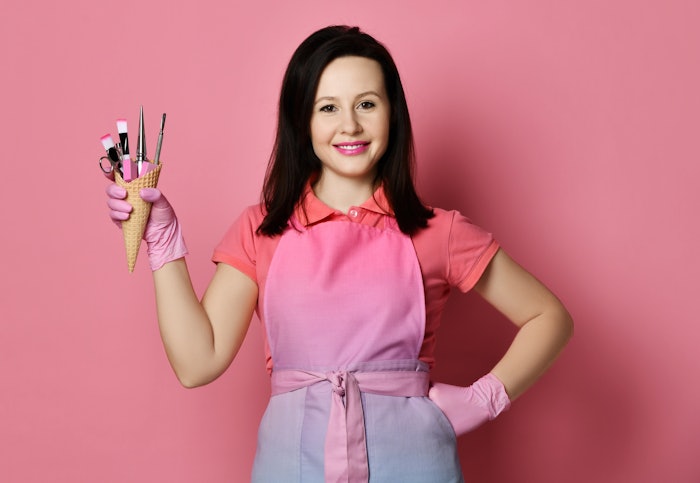 Want to show off your nail art skills in front of a large audience of your peers? Want to be involved in a high-energy competition that will push you out of your comfort zone? Want to test out top-of-the-line nail products from the industry's biggest brand names? Registering for the Nailpro Master Challenge will give you these opportunities and more. 
On Aug. 21-22, 2022, during the Nailpro Nail Show, at the San Jose McEnery Convention Center in San Jose, California, the Master Challenge will consist of four live competitions: Hand-Painted Nail Art, Gel Polish, Sculptured French Acrylics and Gel Design. Nailpro has partnered with brand sponsors to provide identical kits of products, tools and equipment—shifting the focus to a competitor's talent rather than their resources. You and your fellow competitors will be surprised with a kit full of everything you need to create perfect nails. Although you will not know which brands or products are in your kits until the competitions begin, prepare to bring your energy and expertise, and you will dazzle the judges.
5 Reasons These Competitions Are Unique
1. We are providing the products and tools
We get it: Being a nail tech can get expensive, and using personal products for a nail competition can get costly. That is why all equipment, tools, products and supplies to be used for the competitions will be provided by Nailpro. All you need to bring is your time, effort and talent. 
2. We are providing the models
Traveling to a nail competition, whether you are 10 miles away or 10 hours away, is a commitment. Attempting to coordinate with a hand model can quickly make it a challenge. All participants will have a hand model waiting for them on-site at the beginning of the competition. 
3. Everyone will be using the same mystery kit of products (provided by our sponsors, The GelBottle Inc., Apres Nail, ILLI Nail Supply, Designed By Tony Ly and Gehwol Footcare)
In order to keep all participants on a level playing field, Nailpro is putting together identical kits of nail products; however, competitors will not know what is in the mystery kit until the competitions begin. While the contents will be a surprise, the kits will be the same across the board for each competition.
4. The competitions will be a key part of the Nailpro Nail Show where attendees can marvel at your work live and on-site
Get ready to be the center of attention at the nail industry's biggest event! Show attendees can watch and cheer you on as you create your nail sets during the competition. 
5. We have an MC, Temeka Jackson
As if the excitement and energy of a live competition was not enough to get you pumped up, we are honored to have Temeka Jackson as the competition MC. She is a successful celebrity nail artist and the owner of Custom Nails by Temeka in Los Angeles. Unique to the Nailpro Master Challenge, Nailpro wanted an MC to engage with the audience and interact with competitors as they work. (Note: The MC will not play a role in the judging process.)
You can register now and find more info, including the Rules and FAQ, at nailproshow.com.