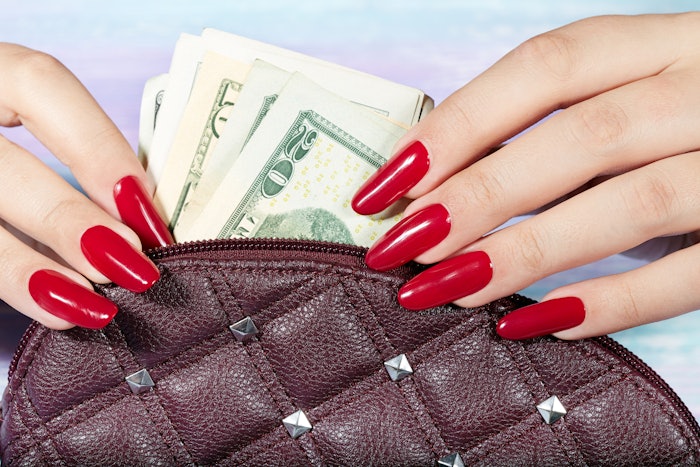 Whether you consider yourself financially savvy or have been feeling the urge to tighten the purse strings, staying on top of your finances is vital when it comes to running your salon.
Knowing where to start with managing money can feel overwhelming and daunting. Nail technician and salon owner Tanya Momi has broken down the process into five steps that will get you and your business off to a solid start.
1. Develop a money-saving mindset
Always remember you are an educated professional, you paid for this education and you deserve to get paid in return. Top tip: Find your worth, and pay yourself first.
2. Embrace forward-thinking strategies
"Living within your means will help you save for retirement and sick days," Momi states. 
3. Begin meal planning
Bring your coffee, lunch and dinner with you to the salon, Momi advises. "Buying coffee every day quickly adds up and can become a major yearly expense. Planning your meals and snacks in advance helps keep life simple and budget-friendly. Using an Instant Pot or Crockpot is an easy way to make your meals in bulk. Stick leftovers in the freezer, and take them out throughout the month as needed."  
4. Stick to a budget
For those who have never mastered the budget game, Momi suggests the following:
Create a monthly spending list.
Consistently balance your checkbook.
Keep track of business expenses in a spreadsheet.
Open and build up a savings account.
Build an education budget.
Make a charity budget.
Keep a list of gifts to give each year.
Record what you receive from clients as gifts.
5. Time and money management go hand in hand
When it comes to managing finances, it goes beyond balancing a checkbook or scrolling through your budgeting app. Staying on top of your time management, activities and mindfulness will take you a long way. Momi suggests prioritizing exercise, a healthy diet and mental health as a way of tackling financial stress.
If you stay on top of all these basic tips, you will be on the path to financial success. If you get off the path, it is OK. Gather yourself, return to your financial plan and refocus on living within your means.