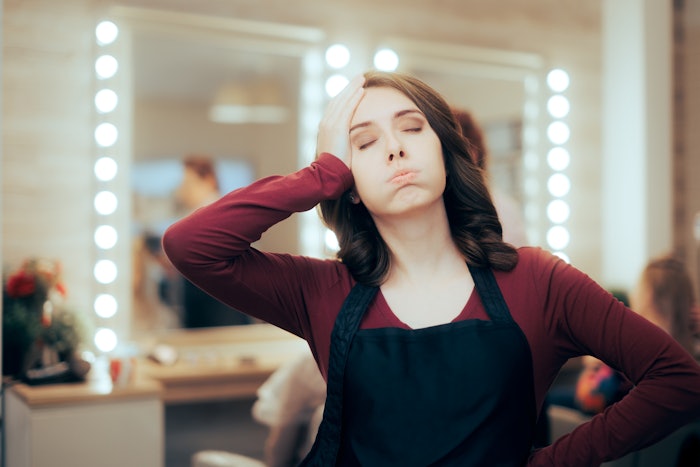 Mental health has been such a buzzword in the last few years. We have heard it used when discussing healthy relationships with coworkers, romantic relationships and relationships with family members and friends. You have also heard the term mental health regarding the workplace. In this article, I want to put an emphasis on the importance of creating a healthy work/life balance to maintain your mental health.
What Is Mental Health?
What is mental health exactly, you may ask? According to The Center for Disease Control, mental health includes our emotional, psychological and social well-being. This means anything that affects your mental, emotional, physiological and social well-being affects your ability to function and your mental health.
The Nail Tech's Mental Health
When it comes to being a nail professional, we sometimes forget to take care of our mental health. We usually don't consider our mental health when we are booking appointments, organizing store hours or even planning events to grow our business. We allow the demand of the business to take control of our lives in an unhealthy way. Very often, there are no boundaries between you, the salon and your clients. Often, you are saying yes to things that you should be saying no to more often. This needs to be changed!
Create Boundaries
Although we don't realize it when we are overbooking ourselves or taking clients during our lunch break, we are not prioritizing our health and certainly not our mental health. But when we do realize that we have neglected our mental health, it's usually too late. We usually notice it in the form of being overwhelmed, anxious, irritable with our loved ones or even a bit disconnected from our reality and the things that need our attention the most. Don't worry! There's hope in the form of creating boundaries and putting systems in place that effectively prioritize your mental health and well being.
Let me remind you that you run a for-profit business, not a non-profit. We are able to turn away customers at our own leisure and discretion. Do not feel obligated to take every customer that wants to see you whenever they want. You have the final authority. After all, it is your business!
Set Your Days and Hours
The first thing you need to do is create your schedule based on the most in-demand days and hours. Then, only allow clients to book appointments during those specified days and times. Set your hours and appointment parameters and stick to what supports your mental health. If that means not taking clients after 8 p.m., then don't! If that means not working weekends, so you can be with your kids, then do that too. If you are coming to your salon space or suite whenever a client wants an appointment, you are working backwards. You are chasing clients and not building a system that has clients respecting your boundaries and working in your favor.
Standard business hours allows clients the maximum flexibility to book with you within your boundaries. You set the hours that you will allow them to book, and you gain maximum control of your availability. This will free up time in your personal life for you to plan things, get organized or spend time with your loved ones.
Adjusting The Schedule
As your schedule fills, you can consider adding more days. Only do this after you notice a demand for more availability. Otherwise, you are becoming a slave to your business, and it's not cost effective nor time effective for you to be running back and forth for one or two appointments scattered throughout the week.
Client Accomodation
If the client can't make it during your scheduled availability, apologize to the client and say "unfortunately, I am not available on that day, but I am available on these days." If that still doesn't work for the client, you can say, "I apologize for the inconvenience this may cause, but I do hope to be able to see you in the future as your schedule permits." If this client really wants to see you, they will find a way to fit into your schedule. If not, you just made room for a client who can! You can even take it a step further and say, "If anything changes in my schedule, I will be sure to let you know." This way you leave the door open for future opportunities with this client. As I mentioned, if this client is serious about scheduling with you, they will become available during your working hours.
Do not feel obligated to see every client who wants to book with you! If your schedule does not work for that individual, don't worry. You just freed up space for the client who is available for that appointment and is willing to book.
Online Booking 
Have an online booking system! This allows clients to book you at their own convenience within the parameters you set. This also puts professional space between you and your customers. Removing the ability for your clients to directly contact you helps keep your mental health intact. Their emergencies don't become your emergencies. You won't get a text in the middle of the night about a broken nail. No more disturbing texts in the middle of your day off about a nail appointment. Having a booking site also gives you the opportunity to create client contracts, set your working hours and keep all correspondence with clients in one central location. Clients are able to see pricing and make all the necessary decisions in order to book their appointment with you.
Once all of your business details, including hours, services, prices, booking buttons and client agreements or contracts, are set up on your booking site, you take all of the manual labor out of conducting your business. You also are establishing yourself as a serious business, and prospective clients will begin to take you seriously. Not having to manually enter or keep track of your clients' appointments will free up your mental space to handle other important tasks in your business. No one should be texting you for an appointment! They should be sent to your booking site to secure their appointment at their most convenient time. You should only be responsible for managing your system and staying on time for your client appointments.
Manage Cancellations and No-Shows
Think of your booking system like your secretary or personal assistant. It is there to make your life easier. A booking system can also help with managing the difficult task of collecting payments for no-show clients and late cancellations. Some of the stress of running your nail business comes from the anxiety of collecting payments. Most booking systems can help you with that. You can set up payment protection in the form of deposits, no-show fees and late cancellation fees. No longer do you have to explain your policies or pricing because it is available for your clients to see prior to booking. Your booking site can make your clients well aware of your policies.
Have Some Me Time
Finally, once your systems are in place, you can create time for yourself. Add your lunch break to your schedule. Clients will not be able to book during that time. It will allow you the freedom to take a breath, get up and stretch as well as eat, so you can comfortably continue your day. You can schedule time for your personal errands and tasks now that you have parameters for your appointments. There's nothing worse than a burnt out nail tech! You won't be able to provide your best to your customers. We are in the service industry, but the first person you need to serve is yourself. That starts with creating boundaries and not putting our customers before our own needs and desires. Our precious mental health is worth it. Now, it's up to you to maintain the boundaries and stay committed to maintaining the boundaries that serve you best.
About the Author:
Candice Idehen (@candiceidehen) is the founder/CEO of the Bed of Nails Brand, which includes Shop Bed of Nails, Bed of Nails Academy and Bed of Nails NYC. In her 12 years of experience in the nail industry as a nail technician and business owner, she has traveled the world doing nails and has led fashion week shows in New York and Paris as well as working at shows in London and Milan.