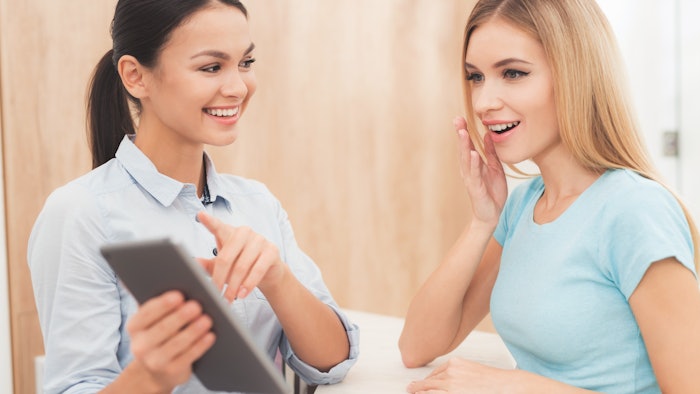 By Shanalie Wijesinghe, Director of Education, Boulevard
Though circumstances have improved since the initial stages of the pandemic, most business owners are still grappling with a challenging economy, one where costs are rising and margins are tight. Fortunately, we have more tools available to combat those challenges than ever before. This is especially true for salons, where forward-thinking owners are turning to more efficient payments as a means to transform their businesses.
Is Good Enough Still Good Enough?
When faced with headwinds, the instinct is often to seek the safety of the status quo. After all, your software is good enough, is it not? Your payments strategy is good enough, right? Maybe, maybe not. 
But are those even the questions you should be asking? Or should you instead be asking, in an environment where dollars are tight and competition fierce, if good enough is still really good enough?
The reality is the vast majority of salons are still not taking full advantage of everything modern technology makes possible, especially when it comes to payments. With that in mind, let us examine four ways more efficient payments can transform your salon. 
1. Driving Operational Efficiency 
The best way for a salon to combat economic uncertainty is to run at peak operational efficiency. You simply cannot do that if you are still relying on an antiquated payment system. Modern payment processing capabilities are core to the operational efficiency of salons, allowing payments to seamlessly integrate with booking and checkout on the front end and payroll and reporting on the backend. As a salon owner, the simpler you can make things for yourself at the front desk and in the back office, the more time and energy you can devote to creating a great experience in the chair, and the more efficiently you can operate your salon. Now, maybe you do not mind the manual processes and other inefficiencies of your legacy payment system. After all, you are used to it. But you know who does mind? Your clients and your staff. 
Nothing frustrates staff members (and while we are at it, account departments) more than error-prone payment systems. Your staff is passionate about providing great service and helping their clients look and feel their best. They are far less passionate about reconciling payments between disparate systems, rolling back accidental or incorrect charges, or pretty much any other payment-related difficulty you can imagine. Simply put, the more efficient your checkout and payment process, the happier your staff. 
2. Keeping Up With Liquid Expectations and Boosting Client Satisfaction 
Salon owners today are increasingly challenged by the concept of liquid expectations. The idea behind liquid expectations is simple: Customers expect experiences to be fluid across industries and service providers. Once a customer is treated to a certain experience in one industry, they expect it in every industry. 
When it comes to payments, everyone has grown accustomed to the Uber experience. Enter the car, receive the service, leave the car, never touch your credit card. Consumers have grown accustomed to setting up their payment method once and never having to think about it again. They are accustomed to never having to stop and wait while payment is processed, especially with service providers they regularly frequent. Not only are they accustomed to it, they expect it, and they expect it everywhere, including your salon. 
If you are not equipped to meet this expectation, client satisfaction will inevitably suffer. And not just because you are creating a perceived inconvenience, but because antiquated payment processes leave your recurring clients feeling unloved. They are coming into your salon over and over, and you are still asking them for their credit card every time. You are still asking them how much they want to tip every time. You are telling them, in essence, that you do not know them.
3. Growing Subscription Revenue 
Subscription revenue is already vital to most salons. But we are only scratching the surface. As consumers grow more accustomed to subscription models in other areas of their lives, they will carry those same expectations and buying patterns with them to the salon. 
A more efficient payment strategy can help salons grow subscription and membership revenue, and just as critically, maintain it. Subscriptions are at their stickiest when a client can provide payment information once and never think about it again. Consider all the TV streaming services to which you are currently subscribed. Now imagine you had to re-enter your credit card every month to renew each one. Chances are you would start asking yourself if you really need all of these services. 
The less time a client spends thinking about the cost of their membership or subscription, the more likely they are to maintain it. Subscription revenue is thus dependent on recurring payments that are automated, seamless, and entirely hands-free.
4. Building a Gateway to Innovation 
Modernizing your payments can serve as the tip of the spear that helps you continue innovating. In that sense, you should not think about payment technology as something that simply helps you do what humans do, only faster, but rather as a source of intelligence, something that provides you with insights for running your business that you might not identify on your own. Software that helps you get things done today but does not help you innovate for tomorrow is only doing half the job.
Cloud Changes the Game
Part of salon owners' hesitance to invest in new technology is lack of awareness, part of it is past experience, and all of it is completely understandable. Most salon owners are working 16 hours a day and are not exactly flush with time to think about new technology. Moreover, when they do think about it, their frame of reference takes them back to when they last installed new software, likely five or 10 years ago. They assume it will be time-consuming and painful, because 10 years ago, it was time-consuming and painful. 
What most do not know is how dramatically cloud has changed the game. Cloud-driven innovations have made software more intuitive and accessible than ever. If you are not as familiar as you would like to be, it is a great idea to talk to others both inside and outside the salon industry. Learn how they are leveraging new technology. Ask them about their experience getting off the ground. 
Remember, technology is not about maintaining the status quo. It is about uplifting your business. For salon owners, more efficient payments can be a simple and attainable way to do just that.  
About the Author
Shanalie Wijesinghe is the director of education at Boulevard, where she lends her industry and platform expertise to both in-house staff and partner salons and spas. A salon industry veteran with more than 14 years of experience working for high-end luxury salons such as Sally Hershberger and BENJAMIN, Wijesinghe was previously a sales engineer for Boulevard and blends her knowledge of the beauty and technology industries to help put the company's partners and employees on the path to success. A Bay Area native and first-generation immigrant, Wijesinghe is a graduate of the Paul Mitchell School specializing in cosmetology, styling and nail instruction.