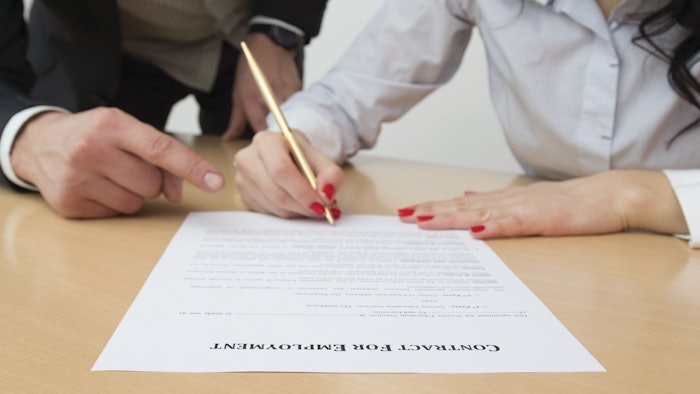 By Karen Hodges
Employee handbooks are immensely helpful tools in fostering smooth operations of any business—in the nail industry, they are often overlooked because so many salons are owned by experts in nail technology rather than having education and training in business management. Running a business is a whole other career—colleges offer degrees in business management! So, how can nail salon owners implement this extremely vital management tool? Let us explore this question.
Using a Template
There are many sources for prewritten templates, but the best ones incorporate input from legal experts. For example, there are certain Department of Labor rules in every state which must be followed and some practices which are forbidden.
One common practice is when items are illegally deducted from employee paychecks. Backbar fees are more common with hair services but are not unheard of for nail services. Also, credit card charges are sometimes deducted from payroll checks. The issue is that according to the IRS and the Department of Labor, all the risks and expenses of the business must be fully absorbed by the business, and employees may not share in that burden. Such deductions are illegal, and in all instances, your handbook cannot set aside your employees' rights. Their signature is not valid to waive any of your responsibilities or their rights. Legal aspects of employee handbooks can be checked when using websites like LegalZoom.com and RocketLawyer.com.
Companies that provide common business documents are good tools as well. One example is FormsBuildr.com.
Another specialized resource is the Society of Human Resources Management. They have a free template and a purchased premium template on their website at SHRM.org.
Writing Your Own
A very good guideline for writing your own employee handbook can be found at Indeed.com when you search "how to write an employee handbook." This comprehensive exercise takes you through a checklist of considerations for creating a document that makes sense for your business.
Check with the Small Business Administration for input about what can be legally done in hiring and managing employees at SBA.gov by searching "hire and manage employees."
Another great resource for nail salon owners is SCORE, which offers assistance in many facets of running your business. The "How to Create an Employee Handbook for Your Small Business: The Ultimate Guide" article at SCORE.org is full of great advice for good employee handbooks.
If you do write your own handbook, be sure to have a locally based labor attorney review it for you. A few hundred dollars spent now can save your business later if you miss an important mark.
Using an Ongoing Handbook Software
A relatively new innovation is a provider which hosts your employee handbook as an easily editable project on their website. Seattle-based Clean Catalog, a higher education niche provider for colleges and universities, has launched a separate website for hosting employee handbooks for any business, small or large. Their site EmployeeHandbookSoftware.com provides login access to your employees and even monitors their time spent reviewing the latest version of your handbook. Their technology features compliant ADA accessibility for an unlimited number of users as well. This option is ideal for larger salons or spas or those with more than one location.
Tips for Good Employee Handbooks
Keep in mind these tips as you create or adapt an employee handbook:
1. Get your new hires on board. New employee candidates should review and sign off in agreement to be governed by your employee handbook prior to working their first hour.
2. Start with your mission statement and business culture. Your employees need to know immediately what their mandate is as participants in your business. Describe your culture and expectations for them to maintain professionalism within that culture.
3. Keep it simple. Cover all the bases, but instead of trying to outline and describe every possible action and reaction, set up a structure of even enforcement of the rules. One common progression might be: The first time a policy is violated, a verbal warning. The second time, a written statement. The third violation requires remedial training.
4. Use the handbook as your communication go-to. Include a statement to the effect that each situation will be discussed with the handbook in mind. "What does your employee handbook say about this?" This works if you set up No. 3 above with good outlines for how rules and violations will be handled.
5. Use tabbed sections. Divide the document into sections that can easily be accessed such as:
A. [Business Name's] rights and responsibilities to you
B. Employee rights and responsibilities
C. Business hours and duties
D. Benefits
E. Rules of conduct
F. Legal considerations and disclaimers
G. And so forth
6. Show appreciation to your employees. Thank them for joining your team, and ask for input. Maybe set up an anonymous suggestion box.
7. Make it engaging. Use modern fonts and visuals to convey the message. A good photo can tell the story of a topic much faster than words.
8. Allow it to be a living document. Keep it flexible and relevant with updates and edits over time.
Continue reading about the common employee handbook pitfalls and the groups that are not subject to the rules of the employee handbook in the September/October 2021 issue of our digital magazine.
About the Author
Karen Hodges, co-founder of Nailcare Academy, has a degree in business administration, and her first 20-year career was in the corporate environment. Her second career in the beauty industry spans 23 years as a nail technician in day spas, a salon worker, a booth renter, a sole proprietor and salon owner. Her background also includes many years as a freelance writer and educator.