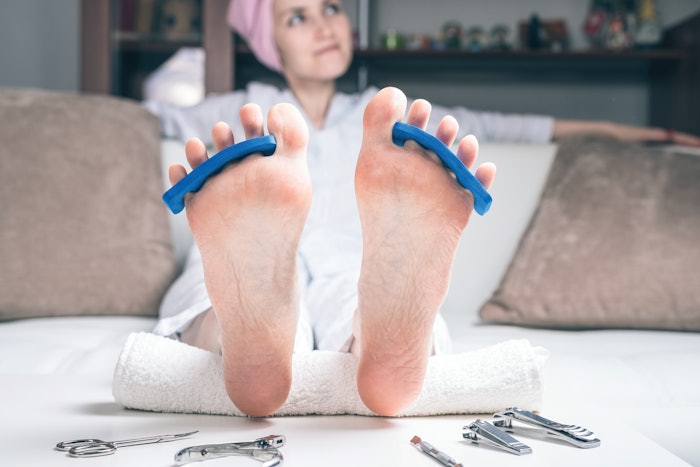 1. Vidar Svendsen, nail technician, Oslo, Norway
Oslo, Norway-based nail technician Vidar Svendsen first performed a pedicure when he filled in for a medical pedicurist who was on vacation.
"My job was to service her clients and perform cosmetic pedicures until she was back in the salon," says Svendsen. "One of my first clients requested a simple trim and polish. I remember she was so embarrassed by her thick, discolored toenails, and I wanted to give her a really nice pedicure so she felt confident for sandal season." As Svendsen started trimming down her nails, he decided to smooth down her big toenail with an e-file. After 30 seconds of e-filing, the nail started to look much better, but then, the e-file caught on something, and the client's big toenail detached and flew across the room. "I was so shocked and embarrassed that it took me a minute to look up at my client," he says. "Here she was hoping to get help, and I just filed her nail off. I looked at her in horror, and she just stared back. Suddenly, she laughed and said, 'That happens all the time.' I didn't know if I should laugh or cry, but I managed to give her a nice pedicure—minus a big toenail—and she left happy. It took me a week to get over my first pedicure."
2. Nooneh Khodaverdi, nail technician, Iran
Iran-based nail designer and technician Nooneh Khodaverdi says this story is "one of the most embarrassing moments" of her career. Not long after starting her first job as a nail technician, a client requested sugar nail art with her pedicure.
"I wasn't really down-to-earth. I did apply sugar, but the effect was so messy when I applied the top coat," says Khodaverdi. "I had no choice but to hide my mess by redoing it again. Since then, I have not forgotten the rules with sugar powder."
3. Becca Downham, @becca_the_salon, nail dresser at The Salon, Aston, Derby, England
With 13 years of nail industry experience, Derby, England-based nail dresser Becca Downham asked her client of seven years to choose her pedicure color, to which she normally responds with, "You choose." However, this client has chosen her own nail shade the last few services.
"This particular time, my client burst into uncontrollable laughter and told me that the last time I chose bright purple for her, she hated it so much that she removed the polish as soon as she got home, before she went on her trip," says Downham. "She told me that she felt so bad that she kept it to herself for a year. We were both in fits of laughter, and I playfully said, 'Well, it's back to me choosing then, as I know your colors best."
4. Destynee Dreher, @beautybydestynee_, Bellezza Avanti Spa Salon, Wadsworth, OH
Wadsworth, Ohio-based nail tech and hairstylist Destynee Dreher shares a story from one of her first pedicure services.
"While giving a pedicure, I clipped my client's toenail, which flew onto my lip and stuck to my lipstick," she says. "I felt embarrassed and kept it there, trying to nonchalantly get it off of my lip while still servicing my client."
5. Sara Clark, nail tech, Morgantown, WV
Morgantown, West Virginia-based nail technician Sara Clark once worked at a high-end luxury salon where clients would change into robes for full-spa services.
Normally, clients leave their undergarments on; however, Clark serviced one client, an older lady, who took everything off. "During her pedicure, I was staring straight into the 70s hair between her legs," says Clark. "She was super friendly, but every time I tried to gently cover her up, she would flick the robe off her legs. I eventually accepted my fate and tried my best not to look up unless I needed to."
6. Charlotte Herberts, @beautyspace_charlotte, nail artist based in Skegness, Lincolnshire, England
United Kingdom-based nail artist Charlotte Herberts formerly worked in a salon where the pedicure stations sat higher than the nail technicians' seats.
"When I sat on my stool, this older gentleman's feet were level with my stomach, so I placed his foot on my knees to cut the overgrown toenails down. As I cut one, the nail flew onto my top and into my cleavage," says Herberts. "I just pretended I didn't notice, and after I finished the pedicure, I went to the bathroom to remove it. Since that day, I have only worn Polos."
7. Xiomara Burrell, Nail Glam By Xiomara owner, Deltona, FL
Deltona, Florida-based Nail Glam By Xiomara owner Xiomara Burrell services her longtime client, Tiffany, every two weeks for a gel manicure, nail art and a pedicure.
"Our time together typically consists of catching up," says Burrell. "I like to start with her pedicure so her toes can dry during her manicure. Our pedicures are pretty routine—Tiffany is extremely ticklish." Burrell starts the pedicure with nail cleanup and prep, then callus removal. "Whenever I scrub her heels with a foot file, she grips my hand with her toes and makes the funniest I'm concentrating-on-what-you're-saying look," she says. "I do my best to distract her. We manage to finish her service, but it's definitely hard to forget when she does it during every pedicure. Needless to say, she is one of my favorite clients-turned-best friends."
8. Bethan Taylor, @bethantaylorbeauty, beauty therapist, Penrith, Cumbria
Penrith, Cumbria-based beauty therapist Bethan Taylor once worked in a luxury spa, which focused on spa services and pedicures.
"While clipping a client's toenails, her big toenail flew onto my bottom lip," says Taylor. "My client noticed and felt mortified, but I pretended like everything was fine. To this day, I still don't know how I remained professional."
About the author:
Angelina Lewis is a freelance writer based in Jacksonville, FL.