In response to the effects of COVID-19 on the beauty industry, OPI is launching a series of initiatives designed to help salons survive extended closures and accelerate their recovery. The Bounce Back program includes a multitiered approach to address both the professional and direct-to-consumer markets. As a top professional nail brand, supporting the professional remains paramount in these efforts, while continuing to excite, connect with and retain consumers.
RELATED: Salon Sanitation Tips from OPI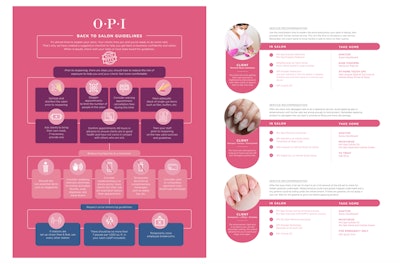 OPI has introduced a $200,000 grant to Hairdressers At Heart, supporting beauty professionals including nail techs, salon owners and educators with relief checks during the pandemic. The company has also helped connect nail techs and salon owners to government agencies for COVID aid relief via the OPI brand channels. OPI is working with nail techs to sell take-home kits to their clients for DIY nails to make the most of the downtime. Additionally, the brand is​ hosting weekly virtual education sessions taught by OPI educators and started the #StayAtHomeChallenge, a response to OPI fans' desire for normalcy and escape, OPI shared different nail challenges for their followers to try at home and share on social.
"OPI has weathered many storms in its nearly 40 years in business. We band together, get creative and focus on the core products and values to get through the hard times," says OPI co-founder and brand ambassador Suzi Weiss-Fischmann. "We will continue to support the salons and professionals through safety and by reassuring and exciting consumers."
Quickly adjusting to changing professional needs, OPI has completely revamped its education resources. New COVID-conscious sanitation tools and education will expand on the extensive O​PI sanitation protocols, in place since 1981. ​A sanitation checklist and guide ensures client safety post-lockdown and reopening FAQs cover the top sanitation concerns and guidelines. Education will be paired with essential products. Goodwill recovery kits will include free essential items (masks, gloves, antibacterial hand wash gel) to support nail professional partners with reopening efforts. Sanitation products and tools will be heavily discounted throughout the year to ensure professional and client safety. A free toolbox will be offered to salon partners with materials for them to implement, designed to reassure clients and share new safety measures through email templates, sample social media posts, and sample salon video tours.
Bounce Back Plans
Looking to the future, OPI will expand the growth of its ecommerce and education efforts. Third party sales platforms including Amazon will drive growth outside of the salon, while new opi.com modules, YouTube videos, and Facebook and Instagram Lives will offer education and attract traffic to the brand platforms. New education will also include tailored mobile assets for mobile nail technicians.
"While the professional market has been badly hit, we've found that there are other opportunities for recovery," says OPI global director of color collections Jill Bartoshevich. "We've seen growth with direct consumer sales channels like opi.com and Amazon, and the tools and care products have had a boom as women turn to DIY manicures and pedicures."