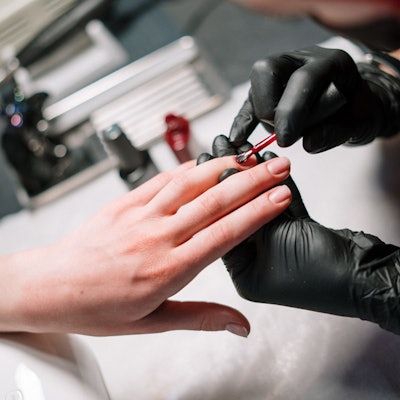 We've all been out of the studio for a while, and most of us have likely been dreaming and anxiously awaiting the day we could return to our studios, or clients who missed us, and of course, our reliable income.
But as the regulations and restrictions around the pandemic begin to ease up, it's important to realize something truly important—the virus itself has not eased up. And while we're thrilled that salons are legally allowed to open and we can all get back to a semblance of the lives we had to leave behind for a while, it's vital that we're not forgetting the virus is still out there, it's still a risk, and it's still putting people in danger.
That's why it's so important to do everything in your power to protect yourself, your clients, your staff, and everyone else around you as you reopen your nail salon and return to a fraction of normalcy.
But how exactly do you do that—and more, where exactly do you start?
We've got you covered. We've laid out a list of some of the must-dos before your nail salon opens back up to the public. Tackle a few of these points early and you can bet you're going to be in good shape when your salon opens back up to the public.
First Things First—Check Your Local & State Policies & Regulations
One of the reasons the coronavirus pandemic has been so confusing is because each and every state or local government has been handling it differently—it's very much been up to each state's discretion, which has proven to be hard to keep up with for nail technicians and stylists everywhere.
Our best advice? Before you even think about opening, check (and then double-check) your state and local regulations and policies. Unfortunately, this burden is going to fall on you to know what's happening, when it's happening, and what's allowed versus what is not. If you have the all-clear to open, by all means, open—but don't check your regulations once and then move on.
This situation is constantly evolving, meaning it's going to be your job to keep up with the ever-changing policies, regulations, and restrictions. Do the best you can to keep up with these daily guideline changes!
Implement New Policies & Make Sure Your Staff Is On the Same Page
Appointment Only—Nix Walk-Ins. For now, get rid of walk-in services. It can be tough to take this facet of your nail salon away, but it's important to be able to control the number of people in your salon at any given time—when you enforce a policy that only allows for appointments, you can control the number of people in your nail salon at every point of the day. When you allow walk-ins, you run the risk of having a lot of unnecessary germs make their way in and out of the salon.
Occupancy Limits
Your state and local governments probably already have a set limit on how many people you can allow in your nail salon at one time—we encourage you to abide by that. That being said, if you're uncomfortable with the pre-determined limit, feel free to adjust to an even lower occupancy rate. Make sure that you're balancing social distancing practices (leaving six feet for everyone) and not filling up your salon to capacity—this can be super tempting given the time its been since you last saw clients.
PPE & Protective Gear
Have your staff wear masks and gloves and invite your clients to do the same (if you feel very strongly about this, it's perfectly within your right to require your clients to do this in order to come into your nail salon for their appointment). Set up guards between you and your clients if needed. Make sure that whatever PPE policy you implement, you're being clear with your staff and your clients—if you feel strongly about PPE, then enforce this rule in your space. Don't be afraid to require staff and clients to abide by these policies.
No Waiting Rooms
We know you've probably gone to great lengths to make your nail salon a comfortable, welcoming space—you know, a space where people don't mind waiting for their turn—but right now, it's important to limit the number of people in a single space to the best of your ability. Try to nix the whole waiting room idea altogether. Have your clients call you when they arrive to see if you're ready for them—if you're not, have them wait outside or in their cars until you are ready.
Sanitize Everything—Then Sanitize Again (and Again)
It's safe to say that now is the time to be overly cautious—and then some.
Look, we're not interested in freaking anyone out or fear-mongering, but we are interested in the facts, and the fact is, sanitizing, disinfecting, and keeping things as clean as possible can help to reduce the spread of the virus.
Because the virus spreads through direct transmission (coughing, breathing, talking, etc.) and fomite transmission (infected surfaces) it's hugely important that you're consistently sanitizing and disinfecting everything before clients come in, in between sessions, and after they leave, too.
Make sure your clients are aware of these policies, too. Explain your procedures, give them room to ask questions, and be as transparent as possible. The more honest you can be with your clients about your process, the more comfortable they'll feel coming back.
It never hurts to get re-certified in proper sanitizing and disinfecting practices, either. This could be a quick certification your staff tackles before you reopen just to ensure that everyone is on the same page with proper disinfectant and sanitizing practices.
Look, we get that the next few months might feel like a non-stop sanitization task, but trust us, staying on-point with this can be a huge help in keeping your staff, yourself, and your clients healthy and safe.
Protect Yourself to the Best of Your Ability
If the coronavirus pandemic has taught us anything, it's that the most unlikely, outlandish, and unprecedented of circumstances can happen at any moment—it's not a reality we love, but it's a reality we all live with every single day.
While professional liability insurance can't directly protect you from the coronavirus, it can protect you from other unlikely, outlandish, and unprecedented circumstances that could also happen at any moment. Protecting yourself, your salon, and your employees with professional liability insurance shows that you're prepared, you're ready for anything, and that you care so deeply about your future and your career you're going to do everything you can to safeguard it.
Now that you're re-opening, check-in on your liability insurance. Do you need to re-up? Do you need a new policy that's tailored to fit your specific needs? Before opening up again, reevaluate your insurance needs so you're positive you're taken care of when push comes to shove.
Opening up your nail salon again is going to—likely—bring in a flood of emotions. You're happy to be back where you love to be, working with the staff you cherish, providing services to the clients you've missed—but if you're feeling scared, unsure, and stressed, know that you're not alone.
It's important to remember that even though we're all returning to our lives piece by piece, we're not returning to normalcy—it's OK that this doesn't feel normal, because, well, it's not!
But, bit by bit, we'll get there, and by doing everything in your power to protect yourself, your salon, your staff, and your customers, you're taking those vital next steps toward getting back to the everyday normal we know and love.
Check out Elite Beauty Society to learn more.