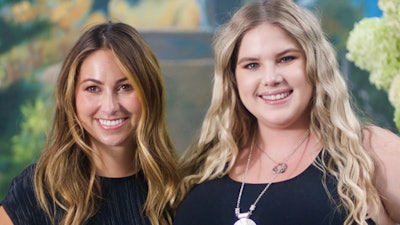 Morgan Haile and Taylor Daniel, The dynamic duo behind the Morgan Taylor brand, share their experience partnering designers on the runway.
For a long time, beauty on the runways was relegated to hair and makeup only. But as nails and nail art began to garner more attention, so too did fashion designers want to incorporate them into their runway looks. Today, nails are often an extension of the designers' seasonal designs. Taking part in the movement? Morgan Taylor. The brand has participated backstage at a number of notable fashion week shows from New York to London to Paris. Here, Morgan Haile and Taylor Daniel talk about how nails play a part.
What is the best part about partnering with designers for fashion week?
The best part by far is the collaboration, creating such great runway pieces together. The hair, makeup, nails and outfit might all look different, but when everything comes together it's magical. The hardest part is when we want to go overboard with the nail look, but we have to keep in the mind how realistic it is to create nails backstage!
Morgan Taylor has been working with Rodarte for a long time now, most recently for the spring 2020 look book. How did that partnership come about?
It started about four or five years ago at New York Fashion Week. We were their nail sponsor, and we bonded over our similar businesses—Rodarte's Kate and Laura Mulleavy are sisters who run a fashion business, and we're also a family business. The Rodarte style is breathtaking, and Kate and Laura always consider how the nails fit into the complete look. We tried to create nails that really incorporated their look and inspiration to make some- thing special. It's really important to work with a partner that understands this.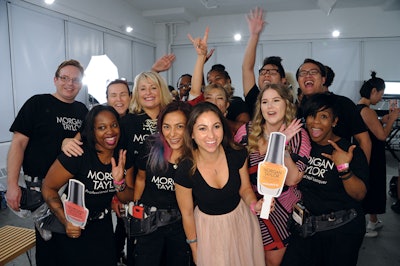 In lieu of a traditional fashion show, Rodarte has done an unconventional "look book" to display their spring 2020 fashion looks. How do you think this style lends itself to showcasing nail designs and nail color?
Look books are fun and different. They give the flexibility of being able to focus on individual looks. For a runway show, there's only so much time backstage; we usually only have time to create one nail look, maybe three. For this look book we created multiple nail looks for each outfit. The inspiration was like a Greek garden—almost like brining the past and present together.
What was your favorite nail look?
This is tough! Probably the iridescent look with the pearl detail. It's such a timely design that can be easily created. Layer Morgan Taylor Adorned in Diamonds and Izzy Wizzy Let's Get Busy, then add small- to medium-size pearls on top. It's a classic look for any occasion.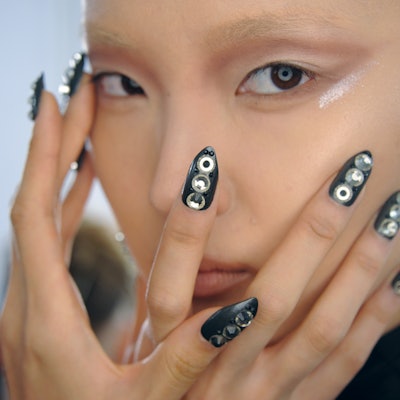 What other shows had really standout nails?
A memorable show for us was The Blonds—the designers are so creative! For this one we created about five different futuristic styles, from multiple stones to geometric shapes to metallic fades. Each set of nails was matched with a different hairstyle, makeup look and outfit.
For more information: http://www.morgantaylorlacquer.com
[Images: Courtesy of Morgan Taylor]