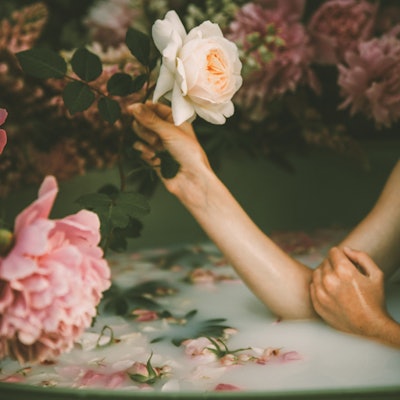 One upon a time, the word "wellness" conjured images of green juice and yoga. But times, they have a-changed: According to the Global Wellness Institute's (GWI) Global Wellness Economy Monitor, wellness services and products pulled in $4.2 trillion in 2017, with the personal-care, beauty and antiaging sector generating the most revenue, at $1,083 billion. It's an area full of potential. The GWI reports that the spa industry is the largest revenue growth leader (9.8 percent) among all 10 wellness markets analyzed—meaning nail salons would be smart to incorporate wellness into their business models. Plus, employing wellness touches in the salon has the happy benefit of inspiring loyalty. "When you consider the overall well-being of your clients from the moment they walk through your door, they're definitely going to leave feeling better about themselves," says Nadine Abramcyk, co-owner of Tenoverten, with locations in New York, Los Angeles and Austin, Texas. "That typically means they'll recall that feeling and come back more often—and possibly even recount that positive experience to others, spreading the word about how special your nail salon experience is."
Wellness Defined
If it isn't just green juice and yoga, what exactly is wellness? According to the National Wellness Institute, wellness is an active, holistic process through which people become aware of, and make choices toward, a more successful existence, and encompasses lifestyle, mental and spiritual wellbeing, as well as the environment. Once faithfully followed by a health-conscious subset of society, wellness has now gone mainstream—so much so that seeking a more balanced, healthy life is a part of day-to- day reality for many individuals. "Wellness today has become imperative, a priority and a daily conversation about how to incorporate more self-care and wellness touch points into our lifestyle," says Shel Pink, founder of SpaRitual and slowbeauty.com, and an early proponent of mindful beauty. Such awareness makes sense, says Amy Ling Lin, CEO of Sundays nail salon in New York. "I think we're busier at work these days, and at the same time we want our life conditions to improve," she says— which makes us active seekers of ways to foster self-care.
Wellness, What Is It Good For?
Naturally, taking care of oneself—right down to our nails—falls within the realm of self-care. "From a professional perspective, I've always seen spas and salons as 'wellness outposts'—spaces where people can access wellness touch points and support that contribute to their personal, sustainable self-care practice," says Pink. Sadly, a large swath of the nail salon industry focuses on volume over experience; wellness simply isn't baked into the business model. "Often, the nail salon becomes a very busy place where the focus is on getting people in and out as quickly as possible, and clients come to expect a nail salon to deliver on this promise of a quick fix," concedes Pink. "If nail salons were to set a tone of calmness and self-care from the moment the client arrives, then people would understand that they have another outlet to tap into for their wellness needs." She recommends reflecting wellness in as many aspects of the business as possible: the scent, decor, client greeting, products used, quality of service, events held and resources offered. Of course, a good amount of research goes into bringing wellness into your salon. Here's a primer to set you up for success.
Vet Your Products
Look for clean formulas and companies that emphasize self-care. Do a salon inventory check and focus on products that promote mind and body wellness as well as spark joy in your clients (i.e., nail art).
Familiarize Your Staff
Educate staff on wellness-aligned products being used during services, and make sure they pass on this knowledge to clients to drive home the
wellness mission. "During services, the nail technician has an opportunity to speak about the features and benefits of the product she's using and how to continue self-care and wellness practices at home between appointments," explains Pink.
Spell It Out
Highlight clean formulas with simple signage to reinforce your salon's wellness bent. "If your service uses paraben- and phthalate-free lotion, call it out on the menu, mark the lotion on the table with a label, be sure to retail the lotion, and create signage in the retail area so that people can read the entire ingredient list and take a little piece of their manicure home with them," says Abramcyk.
Build Your Service Menu
In addition to clean ingredient call- outs, your menu should spotlight any wellness components in the service. Pink suggests combing the spa community—and its trade events—for trending wellness ideas and menu workshops. Since the spa industry adopted wellness early, Pink says they often have highly developed wellness menu items that you can personalize for your nail salon—think: breathing and stretching rituals, aromatherapy add-ons and guided meditation services with headphones.
You can also broaden your offerings to provide a more comprehensive approach to wellness. Chillhouse in New York recently introduced Chill Face facials in partnership with Dermalogica, which complement the nail salon's massage services and café serving drinks spiked with adaptogenic wellness powders. "We listened to our customers, and we know they deeply value inner and outer health, which is why we're thrilled to officially dive into skin health," says Chillhouse owner Cyndi Ramirez.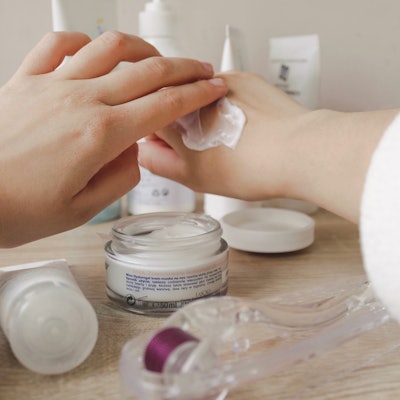 Spread the Wellness Word
Hammering home your salon's wellness components—services, events and products—will resonate with clients. Pink suggests announcing new wellness services, as well as their features and benefits, through Instagram and e-newsletters. "Come up with a hashtag that embodies your effort to represent safer nail salons," suggests Abramcyk. Or, hashtag the service, as Ramirez did with #restingchillface for the Chillhouse+ Dermalogica Chill Face facials.
Bring In the Experts
Wellness is holistic: Taking a 360-degree approach to self-betterment involves more than beautification. Host local wellness experts at your salon who can speak to your clientele about similar topics, like mindfulness, fitness, sleep hygiene or healthy eating.
Offer Wellness Perks
Keep complimentary nutrition bars or fortified juices on hand. Or, incorporate ways for clients to spread wellness. "We offer a complimentary polish recycling program that our guests love and is good for the Earth; it reflects how we do business on the whole," Abramcyk says. Cross-promote with other wellness providers. Think outside the box—and outside of beauty—when seeking wellness-oriented businesses with which to partner for local events, social media promotions and more. Lin has run promotions with companies like Flywheel (fitness), Careof (supplements) and Inscape (meditation) to help build community and awareness and support her salon's wellness message.
Above All: Be Authentic
Rather than use wellness as a ploy, lean on authenticity. "Wellness is not a tactic; otherwise, clients might question your intentions," says Lin. This means that you should not only understand the philosophy, concepts, tools and resources of wellness as it pertains to your business, but also stand behind these practices. "If you don't believe in the idea of self-care to help your overall wellbeing," says Abramcyk, "then that feeling of authenticity won't translate down to your guests."
–by Karie L. Frost
[Images: Unsplash]
This story first appeared in the January issue of Nailpro magazine. To receive the magazine, click here to subscribe.