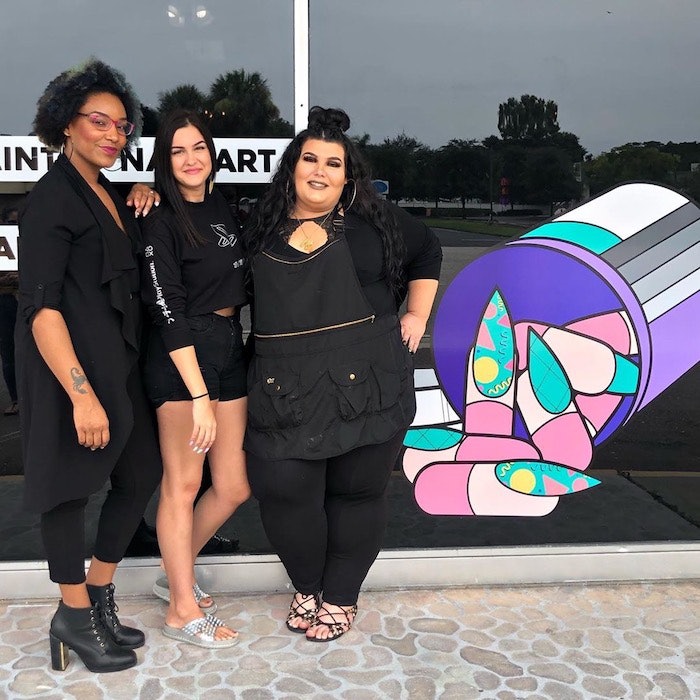 View this post on Instagram

 
Largo, Florida-based freehand nail artist Devin Strebler recently announced the opening of her 90s-inspired nail salon Nail Addicts with the help of former beauty school classmates Courtney Sequoya and Melissa—AKA Meli Cured.
RELATED: Savvy Salon Pamper Nail Gallery, Fremont, California
 

View this post on Instagram

 
Strebler best describes her salon as nostalgia-meets-nails. "It's packed full of nostalgic collectibles, toys, four selfie spots and a big screen that constantly plays old school music videos," she says. Photographs of celebrities from the 1990s through early 2000s hang on the walls throughout the salon, which also feature hand-painted murals courtesy of Strebler herself.
RELATED: Savvy Salon Paintbucket, Brooklyn, New York
 

View this post on Instagram

 
The appointment-only salon serves as a place for clients to escape and travel back in time. Strebler wanted to create a space reminiscent of a time "when the music was better and days were carefree." When designing the space, Strebler focused on girly, chic-meets-edgy, retro. She thrifted and refurbished most of the furniture, desks, tables and decor herself and even created a space for skincare, facials and waxing.
RELATED: How to Host a Grand Opening to Generate Buzz
 

View this post on Instagram

 
Specializing in unique hand-painted gel nail art, Nail Addicts carries high-end professional products Presto, Vetro, Bio Seaweed Gel, Kokoist, Young nails and more. So if you find yourself in the Bay Area, stop by to soak up some 90s nostalgia, where inspiration and nail art abound!
 

View this post on Instagram

 
—by Angelina Lewis