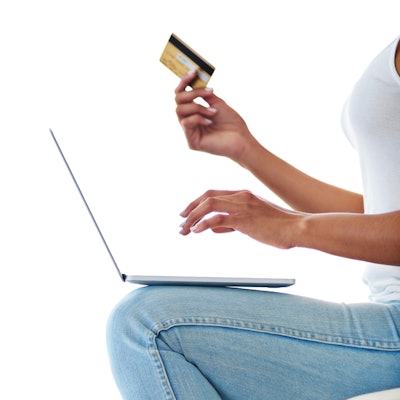 Give your customers what they really want: online retail.
Whether you're ready to sell your own line of nail polish to the masses or you want to share an edited mix of your salon's faves and raves with clients, working e-commerce into your business model not only ensures that you'll increase the chances of getting your retail into consumers' hands, but also that you'll boost profits and reinforce your brand. Although taking the leap into online retailing can seem daunting—the technology, the inventory, the overhead, the maintenance—it doesn't have to be. There are myriad e-commerce options available that make e-tailing as easy as a finger-tap or mouse click.
The Accessibility Factor
When Olive & June founder and CEO Sarah Gibson Tuttle saw her salon business gaining traction via both traditional and social media, she realized retail products would give those who live beyond her salons' Los Angeles locales a taste of her brand's DNA. The way to get it to them? Online. "Not only were we getting requests from all over the world via direct message and email, but women also wanted to be able to experience Olive & June where they lived. We realized the big opportunity in nails was for retail at-home." she says.
With online retail, miles don't deter a customer from buying your goods. "It's all about accessibility, so we recommend selling everything, everywhere," Gibson Tuttle says. "We want consumers to have the ability to purchase anywhere they feel comfortable doing so." That means: at home, at work, at brunch, wherever, whenever–whenever being key, as salons that offer retail purely through their brick-and-mortar storefront become bound by business hours: once the doors shut for the night, all retail sales cease until opening hour the next day. And, really, who doesn't like to surf the internet late at night for e-tail therapy? Without diving into online retailing, those midnight shoppers become missed opportunities. By offering online retail, you also differentiate your salon from the 10 others who don't–and clients notice this fact when they're in need of a shopping fix.
RELATD: Tips for Managing Your Business While You're Away
The Revenue Boost
Naturally, when you can reach all corners of the country or globe, your consumer base expands–as do your profits. "If a business isn't employing a website or e-commerce avenue, then it's missing out on a large portion of potential revenue," says Jamie Feldshuh, vice president of business and retail at Côte, with two salon locations in Los Angeles and New York. She should know: When Côte debuted, it only had a brick-and-mortar location that retailed the brand's 10-free polish line (also exclusively for Côte salon services); expansion into online sales happened a year later. "When we started our e-commerce component the jump in revenue was remarkable," she continues. In fact, Feldshuh reports that Côte's online shop generates approximately 50 percent of its overall revenue. What the team had failed to appreciate in the very beginning–that consumer buying habits had changed–they quickly realized. "Purchasing online has become such and accepted, even preferred, way of shopping," says Feldshuh.
Celebrity hairstylist Ted Gibson, who recently opened Los Angele–based "smart" salon Starring by Ted Gibson with husband and business partner Jason Backe, also took note of how clients purchase product. "The consumer doesn't necessarily like to shop for product in the salon anymore," he says, citing that 80 percent of clients leave the salon without purchasing product, only to then buy the recommended product within 48 hours of leaving the salon–typically online. Why not have the salon, where clients count on their beauty provider's advice, offer a trusted online destination for them to shop?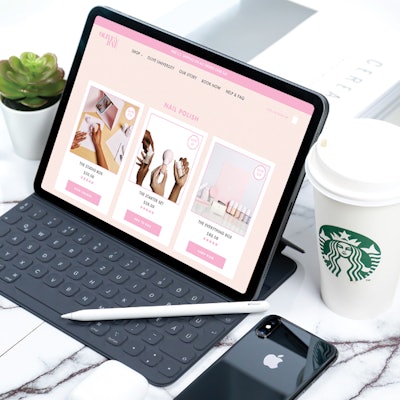 The Brand Reinforcement
While Olive & June and Côte both sell their own polish and treatment lines online, they also utilize e-tailing to expand their offerings beyond manicure musts, showcasing carefully chosen items that speak to their brand story. Olive & June offers strappy sandals and speciality teas, both of which Gibson Tuttle had a hand in creating, and both of which echo the brand's friendly, approachable vibe. On Côte's site, you can access the "Bungalow" shop, which features third-party items (think: face masks, pet bowls and handbags) handpicked to support the brand's lifestyle bent. While Feldshuh admits Côte offers a lot of products on the site, everything is manageable. "The advantage we have is that our products are generally small, so they're easy to fulfill and ship." Her advice: Do an honest assessment of what you can physically handle from the fulfillment standpoint–space for stock and packing and shipping–and then sell that amount. "E-commerce fulfillment takes time in terms of pulling products, packing and sending the shipments off with different carriers," warns Shedshuh. "It's important not to bite off more than you can chew when establishing an online retail presence."
RELATED: The Benefits, Types and Costs of Owning Life Insurance
The Right Fit
If space for inventory and increase overhead, like shipping charges, packing materials and purchase orders, give you pause, don't worry: There's an e-commerce platform that takes care of that. If you don't have a webiste and only market through Facebook, that's OK, too! Concerned that you don't offer a line of branded polish and nail treatments, and therefore don't need online retailing? You can also throw that objection out the window. Even if you're an independent nail artist who doesn't believe e-commerce can serve your needs, you, too, can benefit. Thanks to the wide variety of e-tailing platforms available to enterprising salons and freelancers, it's possible to set up shop online easily and affordably. Here are three to consider.
Shopify
Offering a drag-and-drop store builder for the tech-adverse person, Shopify has more than 70 free store templates that can be customized to your whims. Mobile-optimized, it also gives you analytics on sales, orders and audience; built-in SEO; automated marketing; and educational tools to help you grow your business. "We use Shopify because of how easy it is to navigate as a consumer and how supportive the back end is," says Gibson Tuttle. "We want—and need—the experience for both sides to be seamless. The analytics portion of the platform is extremely useful, as it gives key insights on our consumers' habits and preferences, as well as how we're attaining the business."
Great for: Salons offering unique items, like branded polish.
Inventory: You house your inventory; Shopify ensures that numbers are synced across all of your sales channels (Instagram, Facebook, etc.) at all times.
Shipping: Offers calculated shipping rates and discounted United States Postal Service shipping labels through the platform (saving up to 40 percent on postage); sends customers automatic tracking updates.
Fees & Commission: Basic Shopify plans start at $29 per month and go up to $299 per month for Advanced Shopify. The budget-friendly Shopify Lite ($9 per month) allows you to sell on Facebook Shop.
Square Online Store
Extending beyond a point-of-sale platform, Square has added Appointments, which not only brings together booking and purchases, but also offers the mobile-optimized and customizable Square Online Store to sell goods—including across Instagram and Google. "It provides a professional and customizable e-commerce website with integrated tools like shipping, in-store pickup and more," says Devon Meyer, Square product manager. "The Square Online Store keeps Square items, inventory, product modifiers, prices, orders and sales in sync, automatically, across multiple business locations. This way, sellers can spend less time on spreadsheets and more time growing their business."
Great for: Independent nail artists and salons looking to integrate appointment booking, purchasing and e-tailing in one place.
Inventory: You house your inventory; Square automatically syncs all inventory numbers for both in-person sales and online.
Shipping: Sellers have the option to make retail items available exclusively online—which involves shipping—or to be picked up in person (no shipping involved!), or both.
Fees & Commission: As part of Appointments, the entry- level plan is free to set up with no monthly fee; the salon or tech pays a processing fee of 2.9 percent, plus 30 cents per transaction. Three paid plans with additional features, like savings on shipping rates, range from $12 to $79 per month.
Amazon Local Associates
Want to sell established nail polish brands, but don't want to invest in a major purchase order? With Amazon Local Associates, you— and, if you have them, your employees—can create a "storefront" (linked on your website and social media channels for multiple entry points) of recommended products available through Amazon. The referral program allows you to expand beyond what you sell in-store—or to eschew carrying product in your salon all together.
Great for: Independent artists and salons that don't want the hassle of shipping items, nor the risk and cost of ordering and storing inventory; salons that want to encourage staff to sell without pressure; salons and artists that are savvy at promotion.
Inventory: Amazon Local Associates acts as your warehouse, eliminating overhead for sellers. "For our hair salon, it not only frees up tens of thousands of dollars we can use for other stuff, but it also cuts back on hourly employees needed to maintain the inventory and keep the products looking dust-free and organized," says Gibson.
Shipping: Amazon ships directly to your clients—and even suggests opt-in automatic purchase renewals so clients are never left wanting your recommended products—and you continue to rake in money.
Fees & Commission: Free to create (though you do have to be approved by Amazon for inclusion); a fixed commission is paid on every purchase you refer to Amazon, with product categories earning different "fixed standard program fee rates." For example, beauty items earn 6 percent while apparel and accessories earn 7 percent.
With a variety of fuss-free options available that hit upon different need bases, salons and nail artists seeking to add e-commerce to their business can truly do so without too much tech know-how or monetary investment. All you need is a computer, an idea of what products you want to sell and a desire to increase your revenue streams!
–by Karie L. Frost
[Images: Getty Images]