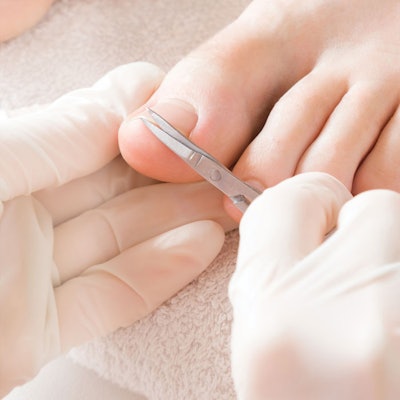 Waterless pedicures boast a bevvy of benefits, including longer-lasting polish, softer skin, increased product performance and a more sanitary—and eco-friendly—service. Audrey Maxwell, studio manager for Austin, Texas-based Lacquer and 16-year industry veteran, focuses on providing her clients with safe, hygienic and superior services, which are some of the primary reasons she offers only waterless pedicures. "When clients ask why we went waterless, we explain the soakless service benefits," says Maxwell. "Clients love being informed on what we do and why we do it."
One of those benefits is that polish stays on natural nails longer. Soaking nails in water for at least 60 seconds causes the nail plate to bloat and expand. Upon drying, the nail plate contracts, causing lacquer to chip and lift. "Performing pedicures sans water leaves skin feeling softer and more hydrated," says Maxwell. "And since skin cells aren't already holding onto moisture from soaking in water, products are able to fully absorb." Think of your skin as a sponge; no amount of product can penetrate waterlogged cells.
Waterless pedicures also provide clients—and nail techs— with sanitary safety, by limiting the opportunity for spreading water-born pathogens. "Soakless services remain the most hygienic pedicure approach while still pampering clients," says Letisha Royster, owner of Waterless Medi Pedi Spa in Atlanta. "It reduces the risk of cross-contamination that comes from not properly cleaning basins and jets between clients, and it helps sanitation-conscious clients feel safe during a pedicure, even if they're suffering from a high-risk disease like diabetes."
In addition, going soakless is cost-effective because it saves techs time and reduces equipment and labor costs as well as water consumption, making it an ideal practice for eco-friendly salons. When Carmel, California-based Precision Nails owner Jaime Schrabeck decided to make the move to offering only waterless services, the equipment changes mandated reconfiguring the salon's layout, but Schrabeck says the renovation actually yielded more space and flexibility in the design. All of Precision's equipment and furniture is now movable and private. "A waterless setup provides adaptability and eliminates unreliable equipment, permits, plumbing and labor," she says. After switching, Schrabeck's water consumption dropped by 90 percent—saving thousands of gallons of water otherwise used to perform pedicure soaks—and her time spent with clients increased immeasurably. She now uses the time she spent cleaning to provide extras like extended massage. "Transitioning between clients in less than 60 seconds maximizes the time I get to spend with each client," she says.
RELATED: Memberships Can Provide Salons with a Reliable Source of Income
Interested in converting to a waterless-only salon? While you may be concerned that clients will object, explaining the benefits will make the transition easier. It's Schrabeck's hope that eventually clients will ask, "Why are you using water?"
The Waterless Pedi Process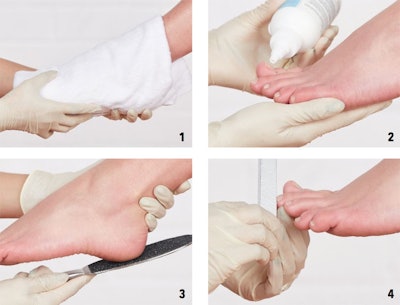 1. Cleanse clients' feet using a natural antiseptic and warm towel. Examine the feet for any cuts, bruises or abnormalities. If safe, proceed.
2. Apply cuticle and callus softener. Wrap the client's feet in a warm towel for up to five minutes, allowing the product to absorb.
3. Perform callus care, then exfoliate the legs and feet with a salt or sugar scrub. Wipe the client's feet with a clean, hot towel, and ensure that all product is removed.
4. Prep and shape the nails. Continue your pedicure service usual.
Upcharge Tip: Finish the service with a soothing massage.
RELATED: Public Relations Tips to Capture Media Attention and Generate Buzz
Soakless Service Essentials
Perform expert waterless pedicures with these products.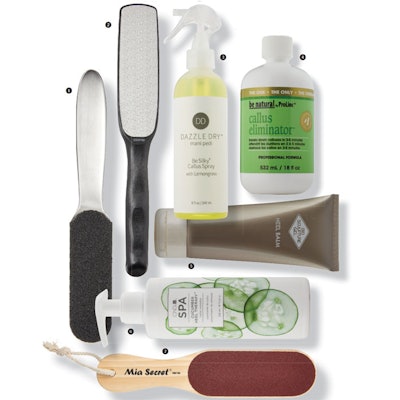 1. Cuccio Naturalé Pedicure File
2. Chéci Pro Autoclave Foot File
3. Dazzle Dry BeSilky Callus Spray
4. ProLinc Callus Eliminator
5. Bio Sculpture Heel Balm
6. CND Spa Cucumber Heel Therapy
7. Mia Secret 100/180 Grit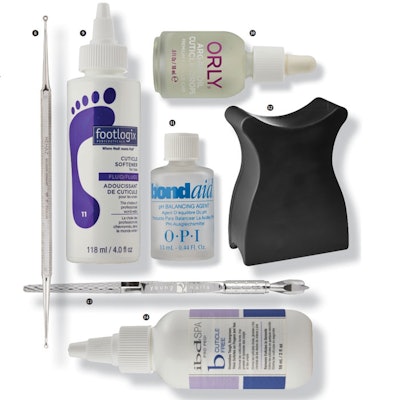 8. Mehaz Professional 107 Pro Curette Nail Cleaner
9. Footlogix Cuticle Softener
10. Orly Argan Oil Cuticle Drops
11. OPI Bond Aid pH Balancing Agent
12. DL Professional Pedicure Foot and Leg Rest
13. Young Nails Magic Wand
14. ibd Spa Pro Pedi B Cuticle Free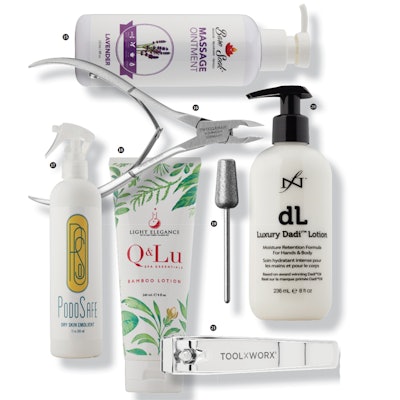 15. NuRevolution Bare Soak Massage Ointment Lavender
16. Tweezerman Cobalt Stainless Cuticle Nipper 1⁄2 Jaw
17. PodoSafe Dry Skin Emollient
18. Light Elegance Q & Lu Spa Essentials Bamboo Lotion
19. Kupa Diamond Pedicure Bit Medium
20. Famous Names Luxury Dadi' Lotion
21. Tool Worx Straight Edge Toenail Clipper
–by Angelina Lewis
This story first appeared in the May issue of Nailpro magazine. To receive the magazine, click here to subscribe.
[Images: Courtesy of Armando Sanchez; Getty Images]