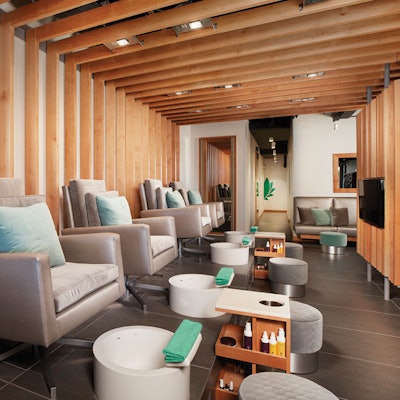 Promoting frequent, recurrent client visits is the goal of every nail salon owner, and from prebooking guests at checkout to offering loyalty rewards for repeat visits, there are a number of approaches entrepreneurs can take to realize this goal. Some nail salons, however, like Paintbucket in Brooklyn, New York, are adopting a more direct approach to acquiring regular visits: encouraging clients to join membership programs that offer a variety of enticing perks. "From a business standpoint, we love the memberships because they guarantee a fixed amount of income each month," says Paintbucket founder and CEO Kristin Pulaski, who estimates that the salon has acquired around 40 members since opening in 2017.
Paintbucket offers a Basic Membership and a Luxe Membership (higher- end services and products) that include a set number of monthly manicure and pedicure services, along with unlimited express services and touch-ups. Both plans offer clients a significant savings over the salon's á la carte menu prices. Along with each membership, Paintbucket gives clients their own toolkits, which are stored at the salon and include a nail clipper, cuticle pusher and cuticle nipper—all sanitized and disinfected after each use.
RELATED: Online Salon Booking Apps to Manage Your Business
Another nail salon utilizing a membership model is Prose, a new franchise business with current locations in Phoenix and Scottsdale, Arizona, and planned openings in a dozen of other states. "Customers today frequent their salons consistently, and because their hands and feet welcome continual care, the membership program is a perfect fit," says Prose founder and CEO Dave Crisalli. Prose offers several membership options that allow clients to save on service prices: two, three or four services (manicures or pedicures or both) each month and a group membership for families."Because consumers want flexibility, members can use their services at any Prose location in the country and can transfer their services to family and friends at no additional cost," says Crisalli.
The membership model may not be the right fit for all salon businesses, admits Crisalli, so it's best to talk to clients about their needs before jumping in. "As with any new product or service, you really want to listen and learn quickly to harmonize how the service fits," he asserts. "You also have to know when to say 'what we're doing isn't working well and be willing to change." Case in point: Paintbucket refined its initial approach to memberships by giving clients the option to purchase a package of services that can be used over the course of six months as an alternative to a monthly membership, and now boasts 115 series members. "After chatting with clients and figuring out what would benefit them most, we started to offer packages as well," says Pulaski. "I find that customers use their full series before the six months are up and then purchase another one. We like having both options for our customers because each woman is different, and we want to be able to cater to everyone."
RELATED: Public Relations Tips to Capture Media Attention and Generate Buzz
Beyond providing businesses with a reliable source of income and allowing regular clients to save on services, memberships can also help build a sense
of community within a salon. Creating an appealing atmosphere where clients enjoy returning to time and again, asserts Pulaski, is part of that community- building process. "[Our space is] a true escape, and we do our best to always make sure our clients leave with amazing nails and maybe a new friend or two," she says. "After being open for a year, our staff and loyal customers now refer to Paintbucket as a sort of 'girls club,' which says a lot about the kind of vibe we've been able to set in the space."
–by Lotus Abrams
This story first appeared in the March issue of Nailpro magazine. To receive the magazine, click here to subscribe.
[Images: Courtesy of Prose]