When Amy Ling Lin opened her New York City nail salon after earning her MBA at Columbia University, she was working 60 to 70 hours per week like any other dedicated new business owner. "I started paying attention to the smell in the salon," she says, an aroma that didn't sit well with her. A review of the products she was using prompted her to launch her own line of 10-free nail polish. "I started from the product perspective," she says. As her business evolved and her customer base expanded, she sought to introduce more services that appealed to her urban eco-conscious customers. From there, Sundays, a wellness-oriented natural-nail salon, was born.
Similarly, industry leaders Tenoverten and Côte were founded on the premise of providing clients with a clean beauty experience focusing on personal wellness in a bespoke setting. "It's the cornerstone of what we're building," says Côte cofounder Leah Yari of her Los Angeles- and New York-based salons. "Our initial mission was to find a clean and chic alternative to the nail care experience. It's what differentiates us in a world of a million nail product choices, and it's what we stand for at our core."
Natural-nail salons like these are paving the way for a new kind of salon experience, swapping enhancements for revenue-boosting wellness perks, like meditation, hot stone massage and modern decor. Here are six areas where natural-nail salons are making an upgrade.
1) Promoting a Relaxing Environment: Sustainable oak flooring from Stockholm and modern leather seating from Blu Dot are some of the elements that have helped turn Lin's salon into a wellness sanctuary. "The whole space is actually quite minimal in design, but we use a lot of wood to give people a sense of warmth," she says. Traditional whirlpool baths have been replaced with pipeless freestanding bowls. "The jets can contain bacteria if not cleaned properly every time, and in many cases they aren't cleaned until the end of the day," explains Lin.
RELATED: The Pros and Cons of Operating in a Salon Suite
Côte's mission to encourage relaxation is exemplified in its decor. "Our inspiration behind the design of the space was to bring a beach house to the city," says Yari. "It feels like the South of France meets Malibu with a touch of the Hamptons. Everyone is rushing from point A to point B all day long, so why not come in and be taken away while you treat yourself to a service?"
Tenoverten cofounder Nadine Abramcyk adds that ventilation is also a priority for her salons, with locations in New York, Los Angeles and Austin, Texas. Even without offering gels or acrylics, Tenoverten's Fulton Street salon in New York has special wall fans that help circulate the air, and individual vents are built into each of its Austin-based manicure stations.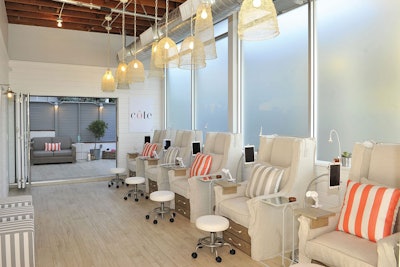 2) Building a Mindful Service Menu: Sundays offers a two-in-one treatment that includes its Signature Manicure combined with a guided meditation from Inscape and an essential oil treatment. "It's common for clients to paint their nails at home," admits Lin, "but going to the salon is about so much more than that. It's a self-care experience." Massage and waterless manicures round out the elevated Sundays menu. Likewise, Côte promotes self-care by offering extras like hot stone massage to promote stress and tension relief, and finishing off some services with an application of SPF. The salon's new Healing Crystal Pedicure, offered at the Los Angeles location, provides a soothing and restorative experience.
In addition to its menu of natural-nail services, Tenoverten offers waxing and sugaring as well. "We love sugaring because there are no paper strips," says Abramcyk. "It's just a ball of wax, so there's less waste. For us, it's so much about leaving a smaller carbon footprint." To that end, Tenoverten also offers a free nail polish recycling program. "Nail polish has hazardous materials, so if it gets disposed of improperly, it pollutes our waterways," she explains. Making the drop-off program free for anyone has also proved to be a great way to earn new customers.
RELATED: Celebrities Stun in Essie at 2019 Grammy Awards
3) Creating a Community: Staying true to its mission of mindfulness, Sundays gives back by offering clients a sense of community, as well. Bimonthly book club meetings focusing on wellness and empowerment have become a popular perk among customers (latest reads include Marie Kondo's The Life-Changing Magic of Tidying Up and Jen Sincero's You Are a Badass: How to Stop Doubting Your Greatness and Start Living an Awesome Life). Lin alternates the book clubs with a bimonthly movie night—Amy Schumer's I Feel Pretty was a recent hit. The biggest crowd pleaser, though, is the free wallet- size card with a message of self-care that each Sundays customer receives at the end of a service. "It's a little [touch], but people love it," says Lin.
4) Providing One-of-a-Kind Experiences: "Occasionally, when we really believe in something, we have more luxurious services available," says Abramcyk. Currently on the menu is a Christian Louboutin manicure and pedicure complete with a full shoulder and leg massage. Other specialty offerings include a massage with Lord Jones CBD products and a color collaboration with The Class by Taryn Toomey. Given these upscale additions, Tenoverten dismisses the traditional upsell, for example asking clients if they would like an additional 10-minute massage or quick-dry top coat. "That just doesn't enter into our practice," says Abramcyk.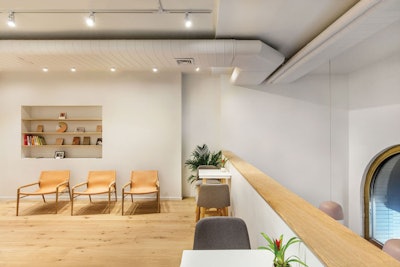 5) Offering Clean Beauty Products: Retail products for any salon can generate a profit margin of 50 to 60 percent or more, and top natural-nail salons have taken note. Like Sundays, Côte (10-free) and Tenoverten (8-free) have both created their own clean beauty lacquer lines. "It really came from our own trouble finding 'better-for-you' nail polish options that we thought had really nice, elegant colors," says Abramcyk. Customers can also find natural deodorant, toothpaste and lotions on Tenoverten shelves.
Sundays wholesales its line of nail polishes, available in 50 on-trend shades, to 100 salons and boutiques across the country. Another source
of revenue: a curated selection of fair-trade, eco-friendly products, like pottery from Portland, Oregon-based Pigeon Toe Ceramics, is available for purchase on its website.
6) Tending to the Details: Lin admits the attention to detail and care required for each client can add to the workload and cost of the services. For example, Sundays uses organic lemons to soak the cuticle. "It's really time consuming to go out and buy the fresh lemons, prepare them and keep them fresh," she says. And Tenoverten has a dedicated housekeeper on the floor so technicians can focus on their clients. Still, these natural-nail services are a luxury clients are willing to pay for in exchange for peace of mind. "It takes the question out of whether what you're doing for yourself is safe for you and the environment so you can truly have that moment to relax and really have a break from your day," says Abramcyk. "That is the ultimate luxury in wellness."
–by Theresa Gonzalez
This story first appeared in the February issue of Nailpro magazine. To receive the magazine, click here to subscribe.
[Images: Courtesy of Tenoverten, Côte and Sundays]