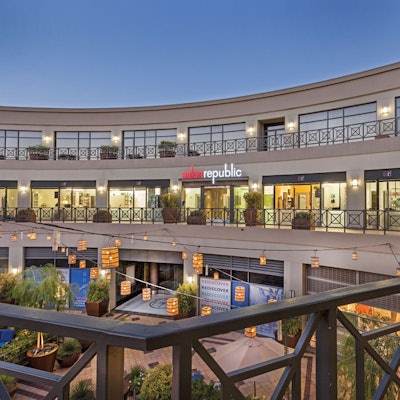 For nail techs eager for independence, but not quite ready for the responsibility and expense of traditional salon ownership, salon suites offer a great turnkey alternative. These "studio apartment" salons typically offer everything a tech needs, from a receptionist to electricity, to launch a successful nail business, and many suites include an array of amenities, like business training and childcare, to help along the way.
So why isn't every tech doing it? Like owning any business, launching and running a revenue-generating salon suite isn't easy. It takes careful planning and hard work. "You're going to first spend some time and money making the space yours," says Ken Maxie, director of The Collection Salons in Columbus, Ohio. "From there, the keys to being successful are making sure you have the clientele and the finances to achieve your goals. Confidence is also important—confidence to create a vision and see it through."
Not all techs may be at a point in their career where a salon suite makes sense. Here, we cover the pros, cons and steps involved in launching a suite business, so you can decide for yourself if the suite life is for you.
The Pros
Salon suites are attractive to techs for a number of reasons. Unlike renting a booth in a traditional salon, a tech working from a salon suite is free to decide every aspect of her business, from service pricing to product lines to operating hours. In fact, this freedom is the main reason many techs choose the suite option.
Arguably the biggest advantage, however, is financial. An established tech in a salon suite will earn a greater profit margin for each service (the amount earned after expenses) than a commission-based tech because revenue isn't split with a salon owner. For the same reason, suite techs also make more money off of each retail sale as well. Indeed, the NAILPRO 2018 Gold Book survey found that 75 percent of nail tech respondents working from a salon suite earn more than $450 a week compared to only 54 percent of techs working in a conventional salon. Another finance-related plus is the ability to write off supply expenses, therefore reducing taxes. (As a W-2 employee, the salon gets the tax advantage.)
Also, techs (and clients) enjoy the privacy a suite offers. No one is eavesdropping on conversations or constantly "borrowing" supplies. Other pros vary depending on what's included in the suite's lease. For example, some suites offer extended or even 24-hour access, enabling techs to set business hours literally any time, day or night. "I have several clients whose work schedules aren't always accommodated by traditional salon hours, so being able to be more flexible and available to them is appealing," says Melissa Robillard, owner of Fresh + Filed in Margate, Florida.
RELATED: Celebrities Stun in Essie at 2019 Grammy Awards
The Cons
Unfortunately, salon suites see very little, if any, foot traffic— which means techs can't rely on walk-in appointments during down times. Most techs mitigate this risk by ensuring that their book has an adequate number of regular clients who can be counted on to move to the new suite location and refer new clients. What's an adequate number? "I don't know that there's a specific number," says Maxie. "Look at your normal living expenses and your book. Put the numbers on paper. You should leave yourself a cushion for bad weeks and vacation," he says. Maxie also recommends looking into short- and long-term disability insurance to cover an unexpected illness or injury.
Another disadvantage is time. A common misperception is that operating a salon suite will require less of a time commitment than working in a tradition salon. Not so, says Paige Schneider of Polish Me! Boutique in Columbus, Ohio. "When I worked in a traditional salon, I went home and didn't think about nails until the next time I had to work," she says. "Now, I would say I spend 5 to 10 hours a week getting supplies, answering texts and managing my books."
In addition to the increased time spent on business activities, such as inventory and purchasing, marketing yourself is now a constant requirement. "I use Instagram as my website and I owe a lot of my success to it," Schneider says. "Ninety percent of my clients found me there. Instagram is almost like having a second job, but it's how I maintain my business."
Finally, like booth renters, salon suite operators are self- employed. This means a slight increase in taxes because an employer won't be covering half of the social security and Medicare tax bill. However, some of this increase can be offset with writing off salon expenses.
Sharing a Suite
Many suite locations will allow techs to share a suite. In some cases, this means the suite has two workstations. While in others, the techs will rotate service hours. This has the obvious advantage of saving expenses, as products and rent can be split. "We encourage shared spaces," says Ken Maxie. "The key is making sure that each person has a steady book as well as a personality match," he says. Conflicts are sure to arise from time to time, so making sure you can work with the person is critical.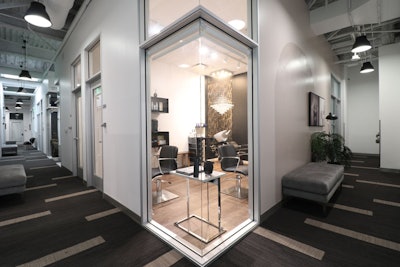 Features and Services
As competition in the salon suite space increases, companies are increasingly motivated to provide unique and innovative amenities to attract new salon professionals. Here are some of the suite amenities that may be included in a suite lease and/or may be available to suite renters for an additional fee.
RELATED: Public Relations Tips to Capture Media Attention
Suites
Gas, electric and water utilities
High-speed Wi-Fi
Custom lighting
Cabinetry/storage
Sink
Retail shelving
Nail and pedicure stations
Insulated walls for sound reduction
Audio/video connection to reception area
Custom signage
Common Areas
Concierge during regular business hours
Reception area/bathrooms with daily cleaning
Complimentary water/ coffee
Kiosk directory
Security system
ATM
Dedicated maintenance staff
Business Support
Start-up mentoring and business training
Marketing/promotion
Online booking system
Accounting software
Professional liability insurance
Customized suite website
On-site professional education
Credit card payment processing
Convenience/Extras
Meeting space for parties or events
Childcare for suite operators and clients
On-site laundry and/or cleaning/towel service
Dedicated staff lounge and restrooms
On-site supplies for purchase
–by Leslie Henry
This story first appeared in the February issue of Nailpro magazine. To receive the magazine, click here to subscribe.
[Images: Courtesy of Salon Republic]