We often picture disasters as they're portrayed in the movies: roiling cyclones or blazing fires. But the truth is, catastrophes come in massive and minor forms, and if you don't have a backup plan in place, their negative impact could have a costly effect on your business. Even if you haven't experienced one or more of the following disaster scenarios, you'll want to prepare for each situation with a backup plan of action—just in case.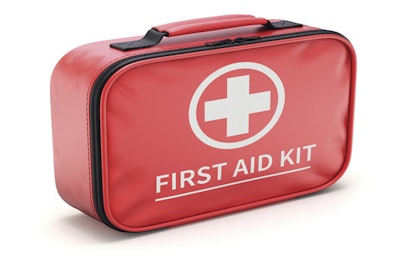 Disaster #1: Natural Disaster

Earthquakes, hurricanes, floods and fires can and do happen—and along with them comes property damage, business disruption and possible injury. Unfortunately, more than 40 percent of businesses never reopen after a major disaster, according to the Federal Emergency Management Agency (FEMA). Even more shocking: Two years later, only 29 percent of those that reopened remain operational. To avoid becoming a statistic, have an emergency response plan in place. According to the Department of Homeland Security's Ready Campaign, you'll first need to conduct a risk assessment to identify potential emergency scenarios, which allows you to develop plans and procedures to prepare staff (think: fire drills, taking shelter for tornados, shelter-in-place for chemical clouds and lockdown for violence). Be sure to have up-to-date emergency contact information (names, cell phone numbers and addresses) for all staff and clients uploaded to a cloud service that you can access no matter where you're displaced, and a first aid kit and fire extinguishers that employees can easily access and know how to operate. Outline an evacuation strategy for staff, appoint an "evacuation leader," hold periodic practice drills and make the plan easily visible to everyone on the premises. Should you need guidance in drafting an evacuation plan and procedures, the U.S. Occupational Safety & Health Administration (OSHA) offers handy online tools at osha.gov. You can also reach out to your local fire and police departments for know-how and to find out what their projected response time is for specific types of disasters.
When Vincent Nguyen's salon, Kingwood Nails & Spa, in Kingwood, Texas, flooded in Hurricane Harvey, his emergency communications plan helped him remotely assess damage from people on site since he was out of the state during the storm. "Once we returned, we immediately had to clean out the salon and see what was salvageable so that we could contact local distributors … to begin the rebuilding process," he says. Delving into the aftermath of the disaster requires a plan, too. Set up protocols for assessing damage, salvaging items, protecting undamaged property and cleanup. If you need help for post-disaster site management, FEMA provides online resources to guide you through the planning process at fema.gov. Though Nguyen didn't have flood insurance due to the salon location not being in a flood zone, he now believes talking through all possible scenarios with an insurance company is vital preparation—and a necessary backup plan component—for natural disasters. "That way, when the unexpected happens, you'll be in a better place," he says.
Disaster #2: Staffing Crisis
Believe it or not, a last-minute sick day request from a team member is preferred to employees spreading illness at work. Why? Sick employees are less productive, less attentive to safety and less likely to produce quality work, all of which can seriously impact your business, according to a 2007 Unscheduled Absence Survey performed by Commerce Clearing House (CCH), a provider of human resources and employment law services. In order to discourage "presenteeism"—employees showing up to work sick—develop a protocol that endorses staying at home when ill, educate staff members about why this benefits the business and then make sure that, if you're the owner or manager, you lead by example.
Of course, when a team member is out sick, instituting client rescheduling procedures—and making these procedures known during the booking process (in person and online)—is imperative. "My staff knows to notify me right away if they're sick so we have the time to call clients," says Somer Adams, owner of La Bella Salon in Glastonbury, Connecticut. "We give clients the option either to book with someone else or reschedule, but nail clients are very loyal, so they'll usually wait until their nail tech returns." But when an illness is last minute (such as the burst appendix one of Adams' employees suffered), clients might not get the message before showing up. In these instances, Adams says, "our plan is to always accommodate. We can do a quick polish change to tide them over until the schedule opens up for a full visit. We offer whatever we can do in the time allotted, and that keeps people happy." But what happens if you're an independent nail artist? "I have no one to rely on if I get sick, which means I have to reschedule all appointments to my day off," says Paola Ponce, owner of Paola Ponce Nails in Glendale, California. In order to ensure
Disaster #3: Client Injury
A fall, an allergic reaction, a cut: Most client injuries can be prevented, but in case they do happen, you'll want to be proactive. First, make sure you have general liability insurance, says Adams. "It's not that expensive—especially for independent contractors, who should really have it, but tend not to invest in this coverage," she says, adding, "It will save you in the end should anything happen."
For first-time clients, ask them to provide emergency contacts as well as fill out a health history card that alerts you to any allergies or medical issues that could be impacted by salon services. Again, make sure employees know where the first aid kit is located and how to use it, and that they can access emergency contact information in the event the salon owner or manager isn't in the salon. The Ready Campaign recommends having a CPR-trained employee (typically the manager) take over in life-threatening incidences. And, though an opioid overdose might not be top of mind for you, Joanne Sorbello, owner of Stone Ridge Salon in Stone Ridge, New York, says she's currently mulling over Narcan training. "Due to a recent incident, I'm thinking (unfortunately), we as business owners/professionals might need to take this type of training in case of an unexpected emergency," she laments.
Disaster #4: Equipment Failure
As nail techs, you're heavily dependent on your tools—think: electric files, pedicure tubs and UV lamps. And when the power goes out—wham!—you're at a standstill. Ponce, who's encountered two power outages in the past two years, admits she wasn't prepared the first time an outage stopped her mid-cure. "I realized then and there that I needed to invest in a set—yes, a whole new kit—of rechargeable, cordless equipment," she says. Ponce suggests having this type of kit handy at all times, as well as having access to your clients' contact information via your cell phone (she suggests taking a picture of a contact sheet, if need be) to reschedule any clients who might be affected.
Burst pipes happen, too, and Sorbello says that although you can't exactly plan for this type of problem, you certainly can mitigate the fallout by knowing ahead of time where to turn off the water, ensuring employees know how to carefully evacuate clients so they don't slip and tasking staff with safely unplugging all electrical items. "Plus, it's extremely important to maintain relationships with plumbers and electricians; you never know when you'll need them," Sorbello suggests.
As for a downed software scheduling system, instate a recovery plan for your data. Ask your software vendor whether it provides a "hot site" for IT disaster recovery, which notifies the vendor of an outage and automatically stores your data until you can restore your system. Two years ago, Adams switched over to web-based system SalonTarget, which allows all employees access to their own schedules from their smartphones. "Owners and receptionists can fully access the complete system from their phones, too, plus we have the main computer and three iPads. We also print a hard copy of the schedule every month—just in case." says Adams. Adams also uses the Square payment system, which offers an offline mode. "Any swiped payments taken offline are automatically queued and processed when your connection comes back," says Square product communications manager Edie Campbell-Union.
But one of the biggest precautions you can take is backing up your salon data daily, either to a cloud service or an external drive. "I have an automatic backup sent to an external hard drive every two hours," says Sorbello. "Plus, I also have an extra laptop that has a version of the scheduling software preloaded to it just in case my main computer melts down—computers will crash with zero warning; this should be expected."
-Karie L. Frost is a New York-based freelance writer with a proclivity for all things beauty and fitness.
[Images: Courtesy of Getty Images]
This article was originally published in the September 2018 issue of NAILPRO.