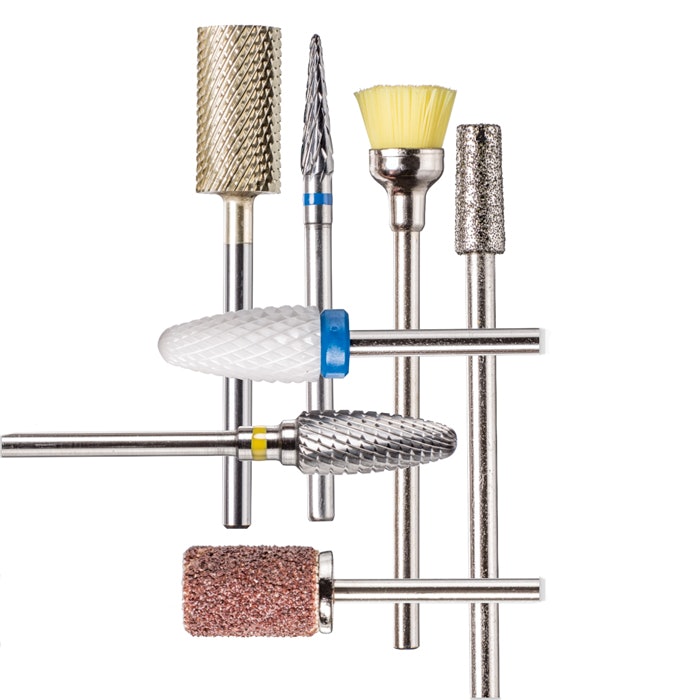 Long gone are the days of limited e-file selection; bits are now available in a large variety of shapes, grits and materials for a near-endless variety of uses. Utilizing the correct e-file bit can save you time during services and ease the strain in your joints from hand-filing. Here are some of our favorite bits to add to your tech toolbox.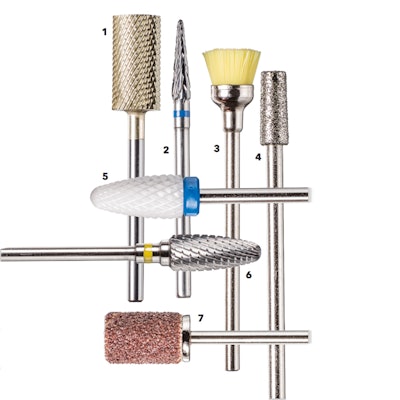 1) Young Nails: X Cut Carbide, Right Handed Bit
Best for: Removing product quickly without heat buildup.
2) Light Elegance: Preppy Z-Bit
Best for: Prepping at the cuticle area to prevent lifting.
RELATED: Veteran Technicians Share Business Advice for Launching a Successful Career
3) Wildflowers: Brushy Bit
Best for: Removing loose dust, glitter and pigment from the cuticle area and sidewalls.
4) Kupa: Diamond Manicure Bit
Best for: Filing acrylic and gel.
5) Medicool: Ceramic Cone Shape Bit
Best for: Cleaning out the underside of a sculptured nail.
RELATED: The Rules of (Social Media) Engagement
6) Atwood Industries: Mellow Yellow Safety Bit
Best for: Working around the cuticle area without cutting the client.
7) SuperNail Professional: Mandrel Bit and Emery Sanding Bands
Best for: Prepping the natural nail.
[Image: Courtesy of Brooks Ayola]
This article was first published in the August 2018 issue of NAILPRO