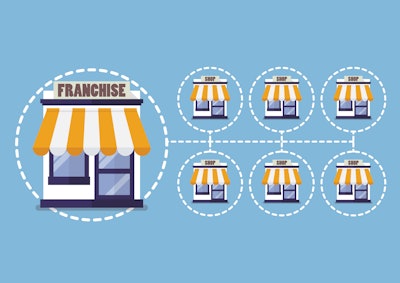 There's no doubt about it; the nail business is booming. According to the NAILPRO Gold Book, in 2017, nearly 70 percent of nail enthusiasts visited the salon one to two times per month and increasingly requested staple services, like soak-off gel polish, as well as re-emerging services, such as acrylic dip. For entrepreneurial techs, opening a salon might seem like the natural next step to take toward capturing a bigger piece of this seemingly recession-proof pie—but going it alone can be daunting. Franchising, on the other hand, can provide a less risky path to ownership, says Reham Bastawros, founder of Nail Garden, which currently operates 15 locations in California and Texas. "A franchise store offers strength in numbers by following the same business model and sharing the same marketing," Bastawros says. "It also provides extra business and marketing resources and industry training that most techs might not have access to."
Nail salons are a great fit for the franchise model. Why? Although nail services are easily repeatable and can be implemented across a number of markets, they can vary greatly between regions, salons and even individual techs. This inconsistency presents missed opportunities to improve upon the guest experience and increase the salon's profitability. Guy Coffey, co-founder of Frenchies Modern Nail Care, a rapidly expanding franchise with current locations in Minnesota and Colorado, says franchising takes the pressure off of owners to develop a business plan, allowing them to focus instead on customer satisfaction and, ultimately, reaping profits. "Franchises exist so that new business owners don't need to recreate the wheel," says Coffey. "We've gone through the learning curve to determine what does and doesn't work, allowing franchisees to have a more narrowed scope with proven practices and guidelines."
Thinking of starting your own salon? Before you jump into the deep end, get the deets on franchising in the nail industry.
The Setup
Opening a franchise is quite different from launching an independent salon or renting booth space. "When opening your own salon, you're obviously free to make a lot of your own choices, from decor to services offered to pricing," says Catherine Fain, co-owner of Paintbase, with three locations in North Carolina. "That can be great for some entrepreneurs, but it also leaves a lot up to chance and can sometimes lead to costly mistakes."
In the franchise model, a party (the franchisee) pays fees to a firm (the franchisor) for the right to conduct business under the firm's name and sell the firm's products and services. Franchisees must operate strictly by the franchisor's "play book," which covers everything from salon design to service procedures, ensuring consistency across all locations. It also ensures that the franchisee will fully realize the benefits of the franchisor's research, lessons learned, experience and networks, as well as protects the brand's reputation, according to David Crisalli, founder and CEO of Prose, which has two locations in Arizona. "A high-quality, well-operated franchise program presents a number of great benefits: a consistent service formula leading to a trusted experience for customers; an organized and rewarding work environment for the franchisee's employees; enormous supply chain paybacks, as opposed to buying one polish at a time; and more locations conveniently located where customers live, work and play so as to meet demand more efficiently," says Crisalli.
What franchisees give up in freedom and flexibility, they gain in tools, systems and support. This is especially valuable in the startup phase. Franchisors will often ensure that franchisees have the necessary licenses and permits, assist with site selection, provide detailed construction drawings and lists of necessary equipment and supplies, set up technology systems, draft budgets and even develop a grand opening marketing plan. Franchisors also provide intensive business training that teaches the franchisee everything she needs to know about running the business. Once the salon is open, franchisors continue to add value through ongoing training and support, new product and service development, national marketing programs and more.
Dollars and Sense
As a service business, nail salon franchises tend to be more affordable to launch than franchises in other industries. "Our equipment, build-out and supply costs are significantly lower, for example, than the fitness or food service industries," says Coffey. An initial franchise  fee will secure a location, set a radius of exclusivity and provide all of the setup and planning benefits discussed above. However, a bulk of the initial investment is related to the site build-out. These costs include the lease and improvements; insurance; initial inventory; and furniture, fixtures and equipment (known as FF&E).
When it comes to recurring costs, franchisees typically pay the franchisor a royalty (usually a percentage of sales). Additional ongoing costs vary by franchisor, but may include technology fees, special supply fees and/or a mandatory contribution to a national advertising fund.
How much can a franchisee expect to make? Per Federal Trade Commission rules, franchisors can't make direct earnings claims—for good reason. "Every situation is different," says Fain. "It depends on so many things, like financing, whether the owner is drawing a salary, initial foot traffic or if the salon is fully staffed." The time it takes to earn a profit is also situational. "We like to see franchisees break even by 6 to 12 months in operation," says Coffey.
Finding the Right Fit
Keep in mind, franchisors only want to sell franchises to individuals they believe can be successful operating their business model, so choosing a franchise is more like dating than buying a house. If you're interested in a specific franchise, first request the Franchise Disclosure Document (FDD), which includes detailed organizational and financial information. Then, consider these other, equally important factors:
Required Skills: Most franchisors look for franchisees with business and leadership experience first; being a licensed tech isn't required. However, don't be discouraged if you're short on corporate know-how. The preferred franchisee skill set and training programs vary among franchisors. Opening a franchise with a business-savvy partner is also an option.
Services Offered: Ensure that the franchise's services align with what you love to do—and do best—says Coffey. If you're passionate about organic ingredients, the franchisor should be, too. Likewise, if acrylics are your wheelhouse, you're likely to be dissatisfied with a franchise that only offers natural nail services.
Name Recognition: An established, recognized brand that delivers consistent service—no matter the location—doesn't have to do a lot of proving in the marketplace. That could mean an instant clientele on day one. Coffey suggests looking online. How are guests talking about their experience? Is there buzz surrounding the brand?
Market Adaptability: Because business is always evolving, it's critical that the franchise has a plan to continually evolve every system, product and process to create better experiences, asserts Crisalli. "Great franchise systems are only as great as their ability to fail fast, learn, update systems efficiently and roll out those best practices quickly to all operators," he says.
Core Values: "At the end of the day, ask yourself if you feel comfortable with and enjoy the people who are part of the organization," says Coffey. Do you value the same things? If you're all about investing in a premium client experience, then you might not fit well with a company culture that strongly encourages cutting costs to impact the bottom line.
Model for Success
See your future in a franchise? Check out what these nail salon franchises have to offer.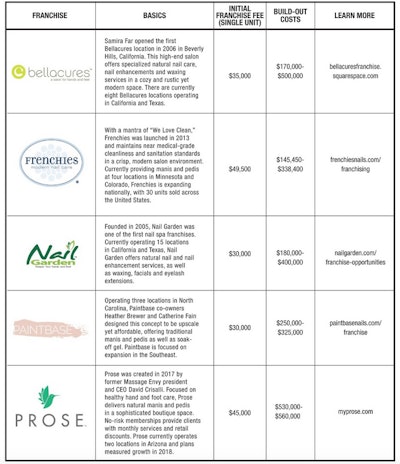 What are your thoughts about opening a nail salon franchise? Let us know in the comments below!
-Leslie Henry is a business development executive, licensed nail technician and the blogger behind workplaypolish.com.
This article was first published in the March 2018 issue of NAILPRO
[Images: Franchise Illustrations: Getty Images/siraanamwong/istock]