There's nothing more fun than helping a client choose the perfect polish for a service. But that fun can quickly turn to frustration—especially if you're overwhelming her with color options. Whether strictly functional or creatively color coordinated, your polish display matters. Here, NAILPRO readers share how they show off and organize their color collections.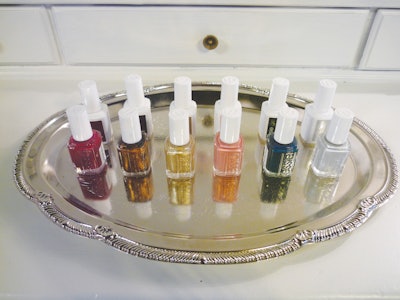 "I absolutely love displaying my new collections on a silver platter. It represents importance, prestige and elegance—and my clients love seeing the trendy new colors!"—Danalynn Stockwood, Fun Fancy Nails Studio, Orange, MA
"I display most of my polishes according to their shade on a shelf, but the most popular colors, or colors of the month or season, I put on a separate bar cart. Clients love it! If they're getting a pedicure, I can push the bar cart to them and it helps to narrow down their options so they can choose a color. Also, I wanted to add a special touch to my products, so I applied a tiny bow to each polish." —Yessie Nojas, Pinkies Up Exclusive Nail Studio, San Luis Obispo, CA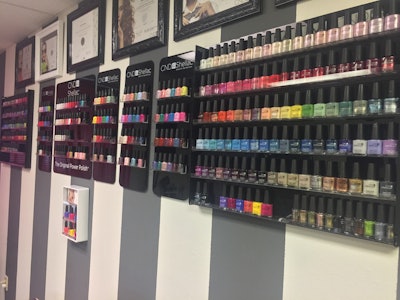 "As a CND-only salon, I have all the collections available in all three lines. Each is separated by color and category."—Alfa Romero, Nail Creations on Broadway, San Antonio, TX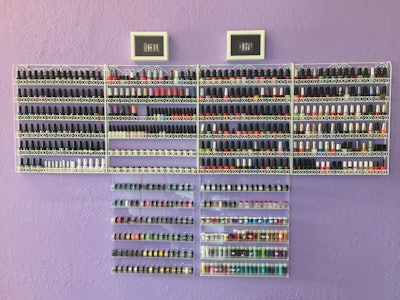 "My polish wall is set up in a way that makes sense to me. Plus, everything is located close to my desk, so I can focus on working rather than searching for products. My first two racks are gel polishes and the next two are regular polishes. I also display all of my glitters, and these are all located on the bottom portion of my lacquer wall. I try to keep them color coordinated, but that can be tough!" —Kelsey McQuay, CoCo Marie's Lacquer Lounge & Beautique, Cocoa, FL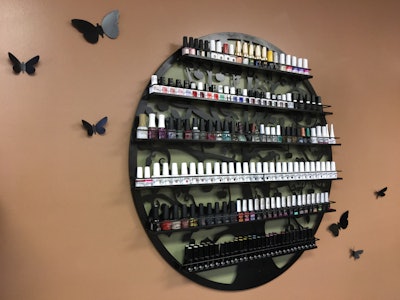 "Bella Dea is a full service day spa with an attached nail college. We have a tall [shelving] tower that proudly displays many designer storage boxes and includes drawers as well as a cabinet full of every nail art supply you can dream of. Plus, our oversized polish rack has a beautiful laser-cut tree in the background and holds a whopping 175 colors!" —Buddy Sims, Bella Dea Day Spa and the College of Nail Design, Omaha, NE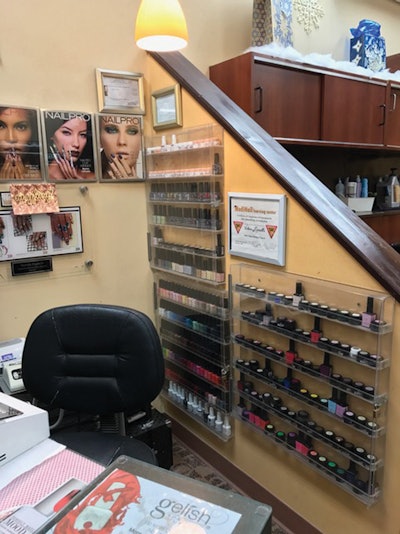 "When gel lamps became available at regular retail stores, like Walmart, my gel polishes began to disappear from my rack. So, I had custom displays made with Lucite doors that lock. (That investment was worth every penny!) My display also reflects my color swatch books, with more than 950 colors to choose from. As much as I'd like to have my polishes organized and color  coded, it's inevitability just like my bedroom closet. My collection is filled with an array of products reflecting my many moods." —Victoria Zegarelli, Nail Bar Lounge, Hauppauge, NY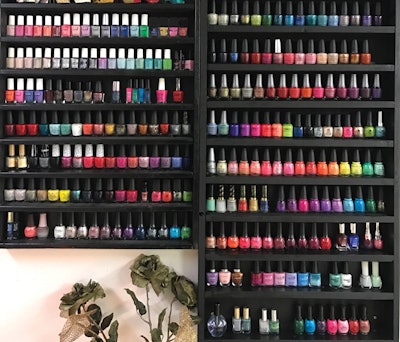 "My coworker's husband made a new rack that could fit all of the tall bottles I own, so we recently put up all of the polishes we had that were hiding away in storage. I love to arrange my collection by brand and color!" —Halley Fortenberry, Miss Exclusive Nails, Fort Walton Beach, FL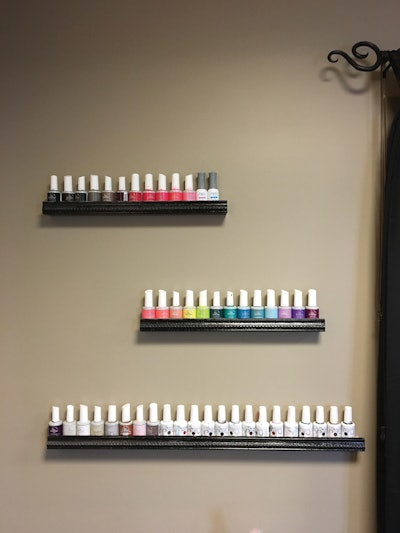 "It was my husband Bryan's idea to make floating shelves to display my polishes. He had custom-painted my manicure table black with sparkles, so he made my shelves to match. I love everything so much, especially since it was created by him." —Dana Cecil, Nail Junkie, Dover, OH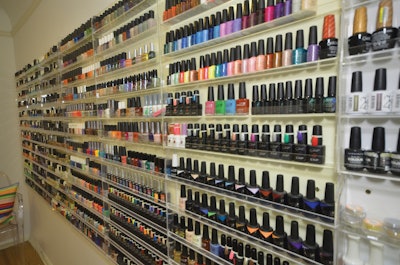 "Clients are always shocked when they first see my polish wall. What started out as a single rack, quickly snowballed into 14. I organized my lacquers by color, from light to dark, and my gel polishes are organized by brand. My collection continues to grow and, hopefully, one day I'll need a ladder to reach the top!" —Merrick Fisher, Beverly Hills, CA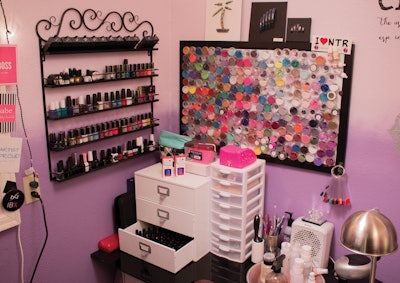 "I have two display areas for my nail polish. The smaller one is the polish I use for my pedicures. The larger one displays the polish I use for art as well as the pigments I use to customize colors. I also have demo fans to show my Shellac collection, which I store in the third drawer of the cabinet on my table. My clients love being able to see all the pigments and glitters, along with the polish." —Stacey Luffy, CKS Nails, Tacoma, WA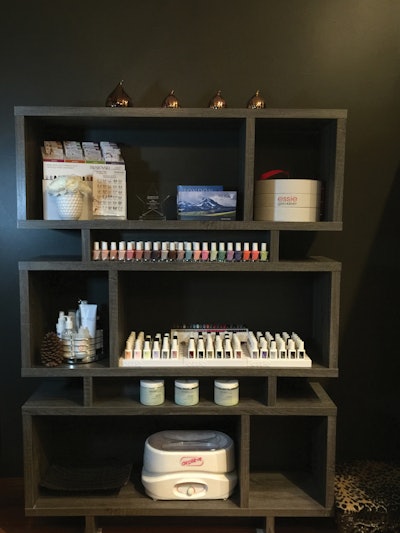 "I use a wooden shelving unit and my gel polishes are displayed on branded trays that are available through distributors. The latest lacquer collections fit perfectly in the center shelving and I like that I have room to add peripheral products, like Swarovski crystals, a paraffin wax warmer and my awards, in the surrounding nooks. The only downside to any display system is trying to keep everything in color order. I have the lacquer under control, but with so many gel polishes, it's hard to keep them organized. I try to laugh off my OCD tendencies and tell myself it's a pretty rainbow no matter what." —Hillary Fry, Scenario Hair Design, Shorewood, WI 
-Sigourney Nuñez
What does your nail polish display look like? Let us know in the comments below or share a photo with us on Instagram using #NAILPRO!