Don't say "No" to kids; even the tiniest tips can boost your biz! Children love to imitate adults, whether they're playing dress up, putting on makeup or pleading to stay up late. So it's no surprise when they want a manicure too—just like mom! Our smallest customers deserve some big consideration when they take a seat across the nail table, legs swinging and eyes wondering. Services are basic and stripped down, but it's important to energize them with other elements to keep kids engaged and, more importantly, relatively still. This month's Workshop details how to perform children's services, from polishing nails to the special touches that make kids beg their parents to bring them back for more.
Mini Manicure
1. Take your client to the nail polish section to pick out a polish before the service begins, then direct her to the sink to wash her hands with soap and water. Tell her to sing the "Happy Birthday" song twice while she's washing her hands to make sure she scrubs for long enough. Once you're back at the nail table, use a file that's no less than 180 grit to softly and slowly file her nails into a basic round shape—you don't need anything too fancy for a child. Note: Children's nails are tiny and delicate, and the same goes for their hands. A new file with sharp edges can easily cut into such young skin, so be sure to smooth the edges of your file before you begin.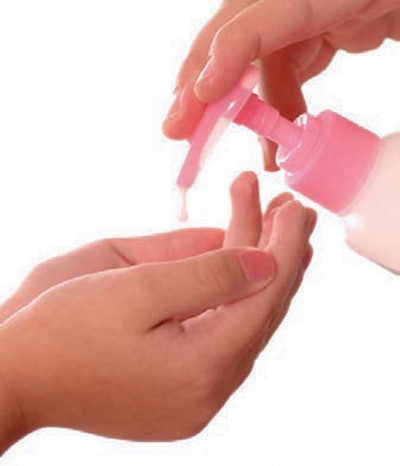 2. Using scented lotion, lightly massage her forearm. Use light strokes; this step of the service is more for fun than it is for tension relief. She'll love this part!
3. Prep for the manicure by swiping a cleanser over the nails to keep the polish from bubbling after the lotion.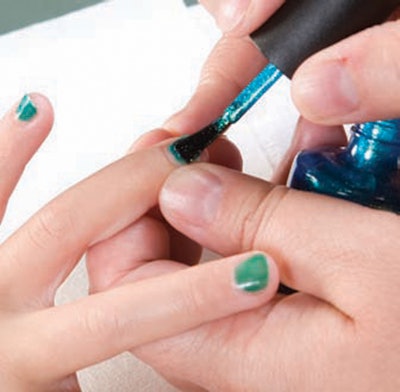 4. Apply base coat to the nails. Then apply two coats of color to the nails. Note: If you're using a glitter color, make it truly pop by applying a solid shade first that complements the glitter. For example, we layered a jade green shade under a shimmering blue glitter polish.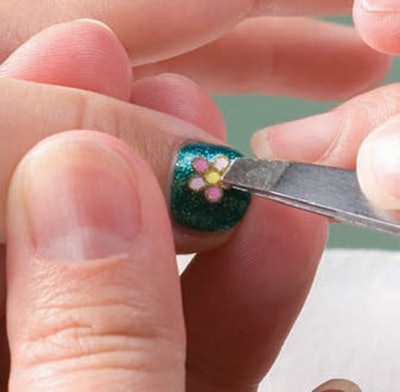 5. Kids love nail art! Decals make it quick and easy to embellish their nails. Keep a wide selection on hand: flowers, hearts, animals, etc. Ask your client to choose what decal she wants on her nails and carefully apply it with tweezers. To avoid smudging the nails, make sure the polish is dry before applying the decal. Apply top coat.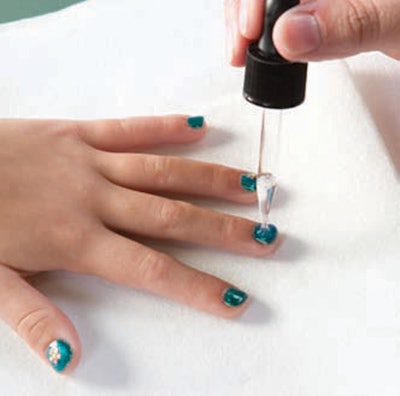 6. Dry nails quickly by using quickdry drops; this will help kids avoid smudges later, and you won't have to worry about touch-ups.

Petite Pedicure
1. Rev up the pedicure spa, beca use your client will love soaking her feet to start the service. As always, make sure you follow your state board's guidelines to clean and disinfect your pedicure spas. Allow your client to soak her feet for a few minutes, then dry them off with a clean terrycloth towel.
2. File and shape her nails with a new or properly disinfected file. Make sure to smooth out the edges on a new file to avoid cutting or scraping her delicate skin.
3. Apply base coat to the nails. Apply two coats of color. Once the polish is dry, add decals to her toes. Finish with a top coat to seal and protect the decals or other nail art.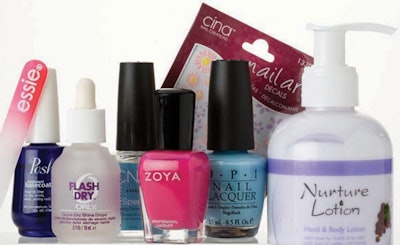 Tool Kit
+ Small, Thin File (no lower than 180 grit)
+ Scented Lotion
+ Top/Base Coat
+ Nail Polish
+ Decals
+ Quick Dry Drops
HELPFUL HINTS
+ Double your client list by promoting services to your clients and their kids! Offer a special Mommy & Me Mani/Pedi spa day, and launch it during special holidays, like Mother's Day.
+ Offer a fun, fruity drink to keep your client's hands busy during her pedicure; think juices with crazy straws, colorful plastic cups and "exotic" drinks, like a Shirley Temple.
+ One small twitch can ruin a perfect polish job, especially with such tiny canvases as children's nails. Hang a flat-screen TV on the wall behind your chair and play cartoons or children's movies to keep kids from getting bored and fidgeting during their services.
+ Keep a wide selection of scented, colorful lotions at your station during a child's manicure. Allow her to choose which one she would like during the hand massage—she'll love making a big-girl decision!
Special thanks to nail technician Mariel Pizarro and Robib Salon in Studio City, CA.
– Courtney Roach
Images: Armando Sanchez; Location: Robib Salon In Studio City, CA.