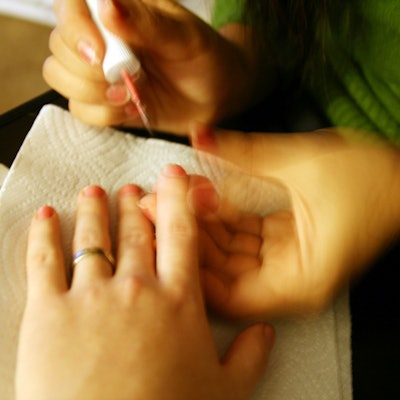 Most nail technicians face at least one pricing predicament in their careers. Making sure you hit the sweet spot of perfect prices—not too high, not too low—can seem like rocket science, and determining when and how often to increase your service prices is just as difficult. The reality: If you don't set your initial prices high enough—and if you don't raise those prices on a regular basis—you'll soon find that your take-home pay starts to shrink. This easy-to-reference guide will help answer any questions that you may have when you find yourself in this inevitable situation.
What should I charge for services?
Many factors go into pricing services. Tangible amounts such as the cost of supplies, rent and utilities should be factored into the equation. However, intangibles—things that don't have a specific monetary value—such as the value of your time and experience also need to be taken into account.
Jaime Schrabeck, owner of Precision Nails in Carmel, California, and a nail tech and salon owner since 1992, has a simple formula for deciding on prices. "Determine how much time it takes to complete the service, and base your pricing on a minimum of one dollar per minute," she suggests. "Factor in product costs and increase the price according to the specialized skills required, ambiance of the salon and demand for your services."
"Check local salons and see how your services compare," suggests Laura Russell from Dolce Salon & Spa in Scottsdale, Arizona. "Take into account all of the amenities you offer, and don't forget to place a value on your time. Consider how much you want to make per hour and factor this into your pricing. Also, know how much your actual service costs (in terms of product use). This will tell you how much profit is being generated from each service."
Nail tech and salon owner Lori Grande from The Gilded Pear Hair & Body Studio in Edmonton, Alberta, Canada, has another idea. "Do a phone survey in your neighborhood to see what other techs in similar types of salons are charging," she says. "From this data, determine an average, and then select a service charge based on how heavily booked you are. If you have a lot of room for new clients, set your prices slightly below average. If your book is nearly full, go with the high side of average."
One thing not to do when deciding on prices is to discount your services. "It's not a good idea to offer bargain-basement prices," explains Louise Wilkinson, nail tech and salon owner of Sunessential in West Yorkshire, England. "This tells clients that you're not proud of your work and they should expect bargain-basement treatments."
Schrabeck has similar advice: "Never discount your services; you can't afford to give away your time. If you want to reward clients, offer them retail products."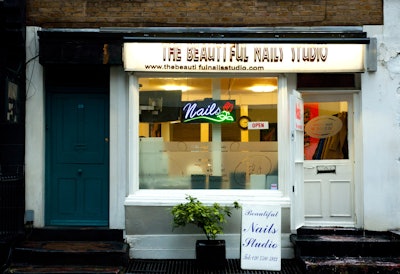 What should I charge when I add a new service?
Figuring out what to charge for a new service is similar to deciding how to price your whole menu. If you spent time and money acquiring a special service skill, that's another factor you should take into account.
It may take trial and error to nail down a satisfactory service price. When nail tech Ellen Marie Del Valle from EM Nails & More in Ponce, Puerto Rico, offers a new service, she quotes a temporary price but leaves herself open to adjusting it later. "If a technique is very difficult, such as new nail art, then I'll charge a certain amount," she says. "However, once I get used to doing the technique, then I'll charge more or less depending on the length of the nail, the materials used, the time required and the specific decoration."
How about moving to a new salon?
When moving to a new salon, it's important to know what other salons and techs in the neighborhood are charging. Paying attention to the socioeconomic level of your new area is a good strategic move. Michelle Piro, a nail tech who works from home in the Northern Territory of Australia, says that figuring out the going rate of nearby salons and then adding a dollar or two to your prices gives clients the curiosity to try you out. "If you charge a bit more, then clients think you must be good," Piro says. "I always value my services for quality, not price, and the client nearly always stays."
Should I raise my prices on a regular basis?
If you haven't changed your price for a full set of nails since the '90s, it's probably time for an increase. Simple factors like the cost of supplies and day-to-day living expenses are always on the rise, making it a must to periodically bump up your prices.
Another reason to increase service fees on a regular basis is to give yourself a hard-earned raise. Continuing your education, earning new certifications and winning awards are all reasons to charge more. "The more you know, the more you have available to service your clientele," says Kristina Baune from Ultimate Imagge in Redwood Falls, Minnesota. "Your prices should therefore increase; education isn't free. You need to cover your costs so that you'll want to continue to grow and expand your opportunities. You'll reap the rewards by being able to raise prices and learning to work smarter, not harder."
I'm afraid that if I raise my prices, my clients will leave. What can I do?
When you raise prices, you may find that a few of your clients will leave for another salon with cheaper services. But if you keep your quality high, you may discover that most of those clients will return to you once they discover that cheaper isn't always better.
Grande says she believes that this is one of the biggest fears nail techs face when pricing their services. "Most techs are afraid that they'll lose clients if they raise their prices and, as a result, their services are often undervalued," Grande explains. "One of the most important lessons I've learned over the years is not to be afraid of raising my prices. Early in my career, I kept my prices too low for too long out of fear of losing clients. When my book became full, I eventually raised my prices and, to my surprise, only lost a few clients. Most often, when these individuals went somewhere else and couldn't find the same quality of services that I provided, they quickly came back without complaints."
"The good news is that a lot of the clients who leave me after I raise prices return about a month later," says salon owner and nail tech Beatriz Hernandez from Freehand Nail Art Studio in Taylors, South Carolina.  "And not only do they come back, but they tip me better than they did before."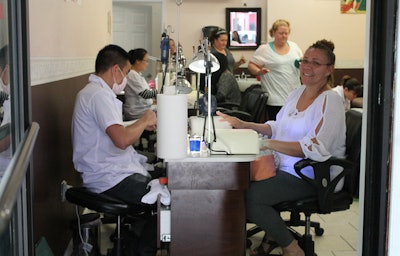 How often should I increase my prices?
When and how often to raise your prices can be determined by a number of factors, but the key is to remain consistent. Once a year should be the minimum to keep up with the cost of doing business. Some techs choose a specific time of the year to increase their prices, such as right before the holidays. Schrabeck raises her prices yearly, but alternates which services get the price hike. "One year, it's natural nail services, manicures and pedicures, and the next year it's enhancement services," she notes.
Russell has a similar system. "Our prices don't go up across the board," she explains. "We adjust specific service prices according to industry changes and product costs when necessary."
Some technicians implement a service price increase when they feel their qualifications have increased. Wilkinson tries to tie her yearly price increase to her continuing education. "I increase prices when I gain more qualifications," she says. "So the better my services get, the more I'm able to increase my prices."
Grande has found that a yearly adjustment makes her clients most comfortable, but also notes that once you have a full book, the only way to make more money—besides selling more retail—is to increase prices. In addition, she has observed a very unexpected and positive outcome of consistently raising her prices. "I no longer attract bargain-hunting clients," she says. "Now my clientele consists of people who can afford more expensive services, tip better and buy more retail."
How much should my prices go up?
The amount by which you increase your prices is entirely up to you and can depend on a number of factors, including how often you implement a price increase. The less frequently you raise your prices, the greater the percentage they should go up—and vice versa. For example, if you only raise your prices once every two years, a 15- or 20-percent jump isn't out of the question.
Price hikes can also be calculated by how much the cost of your overhead has gone up, or if you're planning on giving yourself a raise, you can figure out how much of a raise you want and divide the increase among your services.
You can also increase prices by specific dollar amounts rather than percentages to keep it simple. Schrabeck has an easy way to settle on her new service fees. "Our prices increase by $5," she says.
Should I inform my clients of price increases and, if so, how?
Most nail techs agree that informing your clients of a price hike is a must. Luckily, informing them can be as simple as a sign displayed on the reception desk, your workstation or a bulletin board. Just make sure that the notice is given with enough time to let the client get used to the change; a minimum of four weeks is ideal. "I post a notice early enough for all clients to see it at least once," Grande says. "People tend to respond better to a price raise when it's not a surprise."
Schrabeck says she believes that there's no need to give a reason when notifying a client of a raise in prices. "I suggest that you announce the increase, but don't explain it," she says. "No explanation is necessary when it's nonnegotiable. We display a notice at the reception desk beginning November 1 for a January 1 increase. The notice remains in place through the end of January in case there are questions. We also announce the increase in our e-newsletter and post the new prices on our website."
To gently break the news, Hernandez offers a special discount to clients who acknowledge the price hike. "I display a letter explaining the increase on my nail table," Hernandez explains. "I then give a same-day $3 discount to each client who reads the notice and signs the back of it. They love it!"
Piro has a similar approach to informing her clients. "I always set a date for the increase to happen," she says. "It's usually at the beginning of a new tax year. But I warn my clients a couple of months in advance and then give them a grace period of one visit, so they think I'm doing them a favor."  
 
– Victoria J. Schoenke
[Images: Flickr via Quinn Dombrowski, Will Temple, Elvert Barnes]