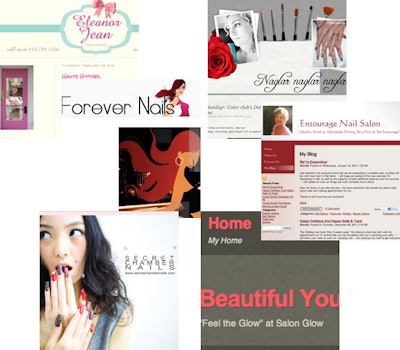 A successful salon blog generates engaging comments, keeps you up to date on nail trends and attracts new visitors while calling attention to your business—daily. 
Glenda Walker, nail tech and owner of Entourage Nail Salon in Glendale, Arizona, believes in creating an online presence for your business. "Being present online is one of the best ways I have found to grow my business, and grow it faster than traditional methods … the more presence you have, the easier you can be found online, and BLOGGING is one very effective way to create more [notice for your business]," Walker shares. Her efforts at Web blogging have paid off. "I'm very new to blogging, but somehow people have found me. Many, many times I am told, 'I found you online.'"
Established Web logs like Walker's and others from your Web savvy peers are provided as examples of buoyant blogs! Follow their lead and reap the many benefits of blogging.
Eleanor Jean Boutique Sherman Oaks, CA
Entourage Nail Salon Glendale, AZ
Forever Nails Dallas
Langer Nails Sweden
Secret Chamber Nails Singapore
Salon Glow Reno, NV. 
Related Manicure Apps | Booth Renting | Define Your Space | Friendly vs. Friendship | Get Shellac Certified | Millie's Marketing Tips: Internal Marketing | Millie's Marketing Tips: Mentors | Remote Control